Grants and Matching Contributions Will Benefit Hundreds of Bird Species Across Fifteen Countries.
USA – -(AmmoLand.com)- Every summer, backyards across America fill with the color and sound of millions of migratory birds. Many of these birds depend on wintering grounds across the Americas to survive. These long-distance travelers will benefit from $20 million in federal and matching funds from the Neotropical Migratory Bird Conservation Act (NMBCA).
The NMBCA provides critical funding each year for bird conservation and research throughout the Western Hemisphere and is the only source of federal funding solely dedicated to the conservation of our shared migratory bird heritage. This year, more than $3.8 million in federal funds will be matched by more than $16.2 million in partner contributions going to 24 collaborative conservation projects in 15 countries across the Americas.
"The Neotropical Migratory Bird Conservation Act grants will fund projects to conserve migratory bird habitat, engage local communities in bird habitat protection and strengthen international relations while raising awareness of the importance of bird conservation," said U.S. Secretary of the Interior David Bernhardt.
There are 386 species of neotropical migratory birds that migrate to and from the United States each year, including songbirds, shorebirds and birds of prey. In addition to their role as pollinators, seed dispersers, and pest controllers, they also provide early warnings of environmental contamination.
"Our migratory birds are international treasures," said Service Principal Deputy Director Margaret Everson. "These projects will improve habitats for neotropical migrants, whether they are wintering in Panama or breeding in Pennsylvania."
The NMBCA program is specifically designed to send at least 75% of its funding to projects in Latin America and the Caribbean, where habitat loss and other threats to migratory birds that spend part of their lives in the United States are significant and conservation funding is scarce. Because the program works throughout the Western Hemisphere, it is able to support the full life-cycle needs of the birds. For instance, the NMBCA funds work for Canada warbler and wood thrush on their breeding grounds as well as key stopover and wintering sites in Central America and South America.
Since 2002, the NMBCA has provided $70 million in grants to support nearly 600 projects in 36 countries. These projects have positively affected more than 4.5 million acres of bird habitat and spurred partnerships on multiple levels contributing an additional $266 million. This year's project highlights include:
Cerulean Warbler Habitat Acquisition in Iowa
The Iowa Department of Natural Resources and partners will conserve over 300 acres of key cerulean warbler habitat in the Driftless Area of northeast Iowa through the acquisition of three tracts.
Advancing Conservation and Management of Key Shorebird Sites in Panama
The Upper Bay of Panama is an Important Bird Area of continental significance. This project will help protect Western sandpipers and other species through research and the development of a conservation plan that will guide future efforts, including addressing pollution from plastics.
Protecting East Andean Subtropical Forests in Ecuador
This project addresses crucial threats on 91,428 acres of key winter habitat for cerulean warbler, Canada warbler and olive-sided flycatcher in southeastern Ecuador. Working with local communities, grant work will include reforestation on shade-grown coffee farms, as well as monitoring, research and the promotion of bird-friendly coffee certification.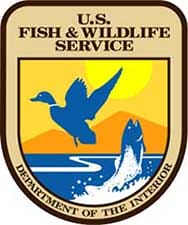 For more information on the 2019 funded projects and previous years, please visit: https://www.fws.gov/birds/grants/neotropical-migratory-bird-conservation-act.php.
The mission of the U.S. Fish and Wildlife Service is working with others to conserve, protect, and enhance fish, wildlife, plants, and their habitats for the continuing benefit of the American people. We are both a leader and trusted partner in fish and wildlife conservation, known for our scientific excellence, stewardship of lands and natural resources, dedicated professionals, and commitment to public service. For more information on our work and the people who make it happen, visit www.fws.gov.
For more information on our work and the people who make it happen, visit http://www.fws.gov/. Connect with our Facebook page, follow our tweets, watch our YouTube Channel and download photos from our Flickr page.