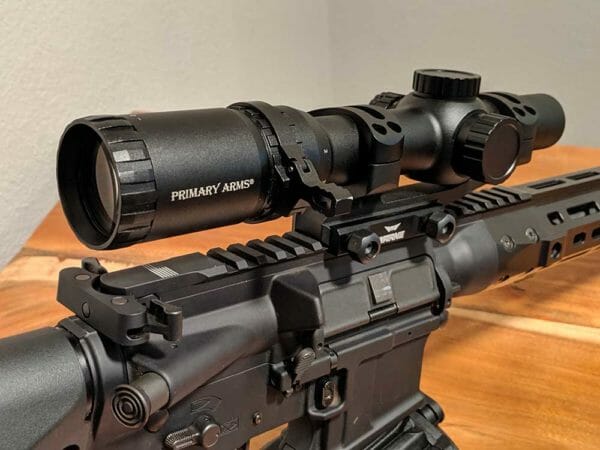 U.S.A. –-(Ammoland.com)- Right now low variable power optics in the 1-6 magnification range are extremely popular, and for good reason: they provide that best of both worlds situation, a close to mid range optic.
While there are more than a few options on the market right now most see you paying a hefty price tag for good quality, while the other budget options leave you with what you paid for. Actually, that was my experience with low variable power optics (from here on LVPOs), until Primary Arms sent me their new Silver Series 1-6x24mm FFP Rifle Scope with an Illuminated ACSS-RAPTOR reticle for 5.56/.308.
Primary Arms Silver Series 1-6x24mm FFP Rifle Scope w/ Illuminated ACSS-RAPTOR
Battery Type – CR2032 3V Lithium Coin
Brand – Primary Arms
Click Value – 1/4 MOA
Exit Pupil Diameter – Low: 9.00 mm / High: 4.00 mm
Eye Relief – Low: 4.30 in / High: 4.00 in
Field View 100 – Low: 110.00 ft / High: 19.80 ft
Focal Plane – First Focal Plane
Illuminated – Illuminated
Maximum Magnification – 6
Minimum Magnification – 1
Night Vision Compatible – Non-Compatible
Objective Diameter – 24mm
Reticle – ACSS Raptor 5.56 FFP
Total Elevation Adjustment – 50 MOA
Total Windage Adjustment – 50 MOA
Tube Diameter – 30mm
Turret Features – Capped Turrets, Low Profile, Finger Adjustable
Type – Variable Magnification
Weight – 17.6 Oz
General specs aside, once holding the scope in my hands out of the box I was impressed most with the reticle. Glass clarity throughout each magnification was good, and on the range targets at 300 yards were well defined and hits were visible through the scope.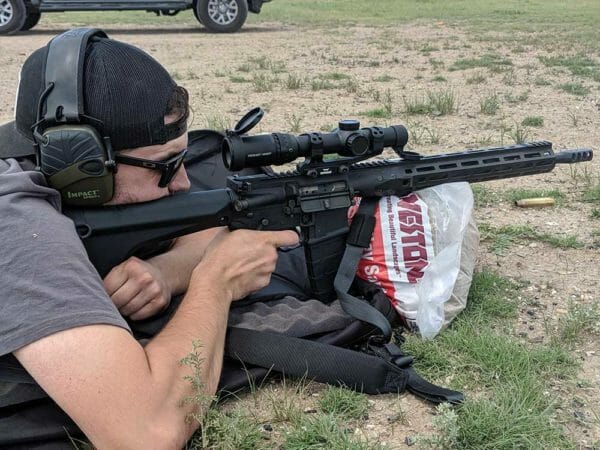 One thing that I found tough to deal with was the actual magnification throw, which was very tight. Primary Arms does sell a quick throw lever for the scope, which is only $25. It is well worth the money for the leverage it gives you in changing the magnification quickly. Other than that solvable issue this scopes greatest strength is its reticle.
Zeroing the scope at 100 yards and using the top of the chevron as the point of aim it became very clear the benefits this scope offered over competitors. As a first focal plane scope the size of reticle grows as you increase magnification. At 6x magnification, the reticle is large enough and visible without being obstructive of the target, and at 1x it is small enough that it is comparable to that of an EOTech reticle picture. The reticle, especially when using one of the 11 illumination settings, makes for rapid acquisition of targets at both long and short ranges.
When using .223/5.56 ammunition the ACSS-Raptor reticle has ballistic drop marks out to 600 yards. Those drop marks can also be used as a range finding tool, a man-sized target's shoulder width (avg. center mass = 18" shoulder to shoulder) will fit in the correct corresponding drop mark. An 18" target @ 300 yards will fit within the bottom of the chevron, an 18" target @ 400 yards will fit within the first drop mark, and so on. Simple and effective, but also extremely accurate. At 300 yards placing the top of the post on a man-sized target led to easy repeatable shots.
Besides an excellent ranging tool the ACSS-Raptor includes holdover points for 5 & 10 mph winds. The horseshoe surrounding the chevron also acts as a lead for targets moving at an average speed of 8.6 mph on a 90-degree path across the plane of the shooter's scope.
While you are pondering how all of that is fit inside such a clear and simple to use reticle I am going to continue with how awesome this scope is.
Not only are you getting one of the best reticles for fast acquisition and precision shots but you are also paying a bargain price for a first focal plane riflescope with an impressive first magnification setting that is very close to a true 1x power. Low variable optics, both high dollar end and budget alike, struggle to achieve a crisp 1x magnification. Primary Arms has delivered a 1x setting that is very close to true one power.  This means there is little distortion between your natural eyesight and the riflescope when it's on 1x, making two eyes open shooting much easier in this setting.
At 6x magnification, the reticle grows considerably but still does not obscure targets. A good example of that would be the five shot sub-moa group in the picture below, I don't have a measurement for you but that orange square is 1″ x 1″. During a recent 3 gun match, I was able to get easy hits on small popper targets (skinny sammy targets) at 50 yards. Using the scope on 4x made this task easy as it left the eye box open and provided an accurate aim point
Last and most important when discussing scopes, the warranty. Now I've not read anything about this or any Primary Arms Optics having consistent or recurring issues, but I have heard about their lifetime warranty. From the product page:
This scope is protected by our lifetime warranty. If a defect due to materials or workmanship, or even normal wear and tear, has caused your product to malfunction, Primary Arms will either repair or replace your product.
Now, for myself, something like this rifle scope is going to be used on a 3 gun rifle or even just my everyday range -beater rifle. The security of a lifetime warranty is paramount when you are throwing a rifle into a garbage bin as you sprint by at full tilt, or throwing your rifle in the bed of a truck every weekend.
View this post on Instagram
As it stands, I have only held a few LPVO at this price that has impressed me as much as the Primary Arms Silver Series 1-6x24mm FFP Rifle Scope with an illuminated ACSS Reticle. At a price point of $399.99 on Primary Arms' website, this is easily one of the best budget low power variable optics available, beyond that this rifle scope even rivals some high-end competition.
---
About Duncan Johnson: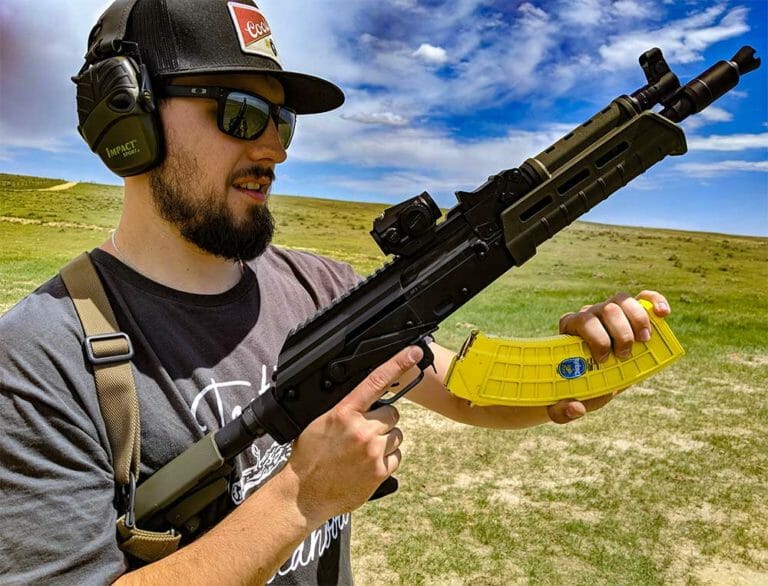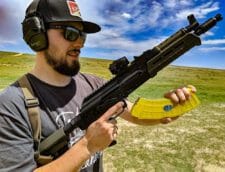 Duncan is a firm believer in the Second Amendment and that "shall not be infringed", means exactly that. A life-long firearms enthusiast and a graduate of George Mason University, now competing regularly in 3 gun competitions, Duncan is always looking to improve his shooting skills. Duncan is a regular contributor to AmmoLand and assists in the everyday gun-news publishing as an assistant editor.