U.S.A. –-(Ammoland.com)- Back in May I posted an article about putting together a QC-5 Builder's Kit from Quarter Circle 10.  This side charging, MP5 magazine compatible, AR-15 based pistol caliber carbine (PCC) is a unique little beast.  Now that it's been tested at the range, it's time to pore over the resulting data.
First let us quickly recap the QC-5's tech specs, as provided by QC10.
Engineered for 9x19mm MP5 magazines
Milled billet 7075-T6 Aluminum lower receiver
QC10 Milled billet 7075-T6 Aluminum side-charging upper receiver
Type III hard coat anodizing
Made For The AR Platform- not modified
5.5″ barrel
I headed to the range with plans to test the QC-5 at both 25 and 50 yards.  I brought two different ammo loads, a 108 gr monolithic hollow point (MHP) from Norma and Ammo Inc's 85 gr Hollow Point Frangible (HPF).  I also made sure to bring my chronograph and my Caldwell Stinger shooting rest.  The Stinger is not a great fit for this pistol, as the brace doesn't fit the rear saddle well, but is more stable than kneeling.  I did all testing with the AAC TiRant 45 suppressor on, as I followed QC10's build recommendations regarding adjustable buffer weight for suppressed builds.
For the target at the 25 yard line, I mounted a Primary Arms Microdot.  When I moved the target back to 50 yards, I tossed on a Trijicon ACOG with Primary Arms' ACSS reticle.  Neither optic is optimal for shooting "benchrest" groups, but both are very likely to be used (or comparable to what most will use) on such a gun.
When I ran both ammunition types through the chronograph, here's what I got.
Norma 108 gr averaged 1255 fps, for 377 ft/lbs of energy at the muzzle
OPS 85 gr averaged 1410 fps, for 375 ft/lbs of energy at the muzzle.
5-round groups at 25 yards looked like this:
Norma: .79″ (1.81″ with called flyer), 1.13″, 1.13″.  Average: 1.01″.
OPS: 1″, 1.13″, .55″ (3-round group, cut short as another shooter headed downrange).  Average: .89″
So far, so good.  Dropped the target back to 50 yards and replaced the Primary Arms red dot with the Trijicon ACOG.  Started with Norma,which produced a .95″ 5-round group out of the gate.
I switched to the OPS and then this happened.
The OPS continued to display erratic accuracy at 50 yards (and past), despite showing pretty well at 25 yards.  Not only that, but the only malfunctions with this pistol were with OPS rounds showing back into the case.  Without lubing or changing anything else, I ran a fast mag full of Norma's ammo to great effect.  The OPS rounds were just starting to flop while the Norma round just kept cruising.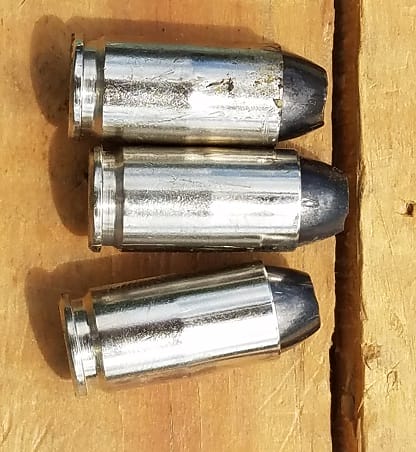 I felt like I had enough to go on for baseline accuracy testing.  I set out some reactive polymer targets at 15 yards and spent a few mags working on CQB drills to get more of a feel for how the QC-5 handles.  I really like the balance on this pistol.  Doing it all over again, I'd likely go with a different brace than the PDW brace, something a bit lighter as the beefcake hind end on this particular build felt a little out of place.
Clearly, I went with the most Mp5-ish options QC10 offers, as the HK roller guns that have been in my collection have always been among my favorites.  The QC-5 handles the Mp5/AR15 mashup well, though there's a couple small hangups.  The first one is only an issue for those like me with a lot of Mp5 paddle lever magazine release muscle memory.  Nearly every time I went to drop an empty mag I went for the paddle release before catching myself and correcting to the button.  It's a testament to the QC-5 that it should imitate the gold standard of PCC/subguns so well.  The second issue I ran into is using the side-charging handle with the bolt stop/release.  The Mp5 has a detent in the charging handle path, which allows you to open and lock back the bolt in one smooth movement.  With an AR based receiver (and side-charger), I'd pull the bolt back with my left hand, then need to twist and contort my hand to hit the bolt stop to lock it to the rear.  The remedies to this are either building in ambi-controls (difficult), or using an aftermarket device like the Magpul BAD lever so you can manipulate the bolt stop/release with your right hand.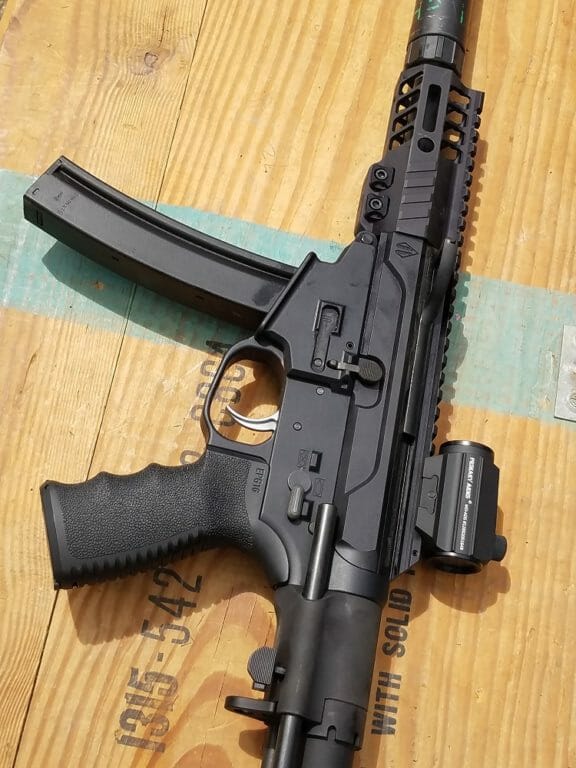 While I was actively shooting though, the QC-5 felt like the best of both the HK and AR worlds.  The QC-5 handles really well, is accurate and (when not using the OPS ammo) reliable.  The ergonomics of the AR grip, manipulation of the AR safety lever and quality of trigger options are all superior to the German wundergun.  The QC-5 is a fun shooter!
PCC's are very popular right now, both for competitors and casual shooters alike.  Quarter Circle 10 is offering up a slew of options for custom DIY PCC builds.  The QC-5 builders kit runs $929.95, with some finishing touches still needing to come on top of that number.  Yes, Quarter Circle 10's builds don't come cheap.  They add up to a really good time though, producing a gun that runs smooth, shoots well and handles like a dream.  I'm hopefully going to get a wider variety of ammo for my last article on the QC-5, to include a video with some shooting drills.  Stay tuned!
Use coupon code AMMOLAND for 15% off!
---
About Rex Nanorum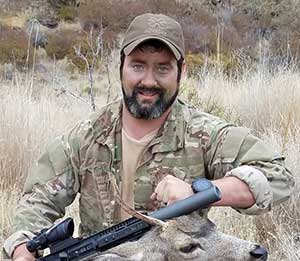 Rex Nanorum is an Alaskan Expatriate living in Oregon with his wife and kids. Growing up on commercial fishing vessels, he found his next adventure with the 2nd Bn, 75th Ranger Regt. After 5 tours to Afghanistan and Iraq, he adventured about the west coast becoming a commercial fisheries and salvage SCUBA diver, rated helicopter pilot instructor (CFII) and personal trainer, before becoming a gear reviewer and writer."