Opinion: This time out, I took a look at the black Blade Spyderco Efficient knife and Wazoo Gear's Viking Whetstone tool.
USA – -(AmmoLand.com)- If Spyderco Knives are one thing, they are efficient. So, it came as no surprise when I saw one of their newer knives carry this moniker.  The Spyderco Efficient debuted a few years ago and was designed from the ground up to be an affordably priced, performance-oriented folding knife. Never one to rest on their laurels, the team at Spyderco decided to release the Spyderco Efficient in an all-black configuration featuring a non-reflective black oxide blade coating and matching black liners and handle hardware.
The stainless-steel blade is flat ground and is available in both Plain Edge and partially serrated Combination Edge configurations.  An index-finger choil provides an extra measure of safety should the lock ever malfunction and gives a purchase point for you to choke up on the grip for extra control if you are doing any delicate or intricate cutting.
Spyderco's trademarked Round Hole ensures swift one-handed opening and the pocket clip is reversible for left or right-hand users. It should be noted that the pocket clip on a knife was invented by Spyderco decades ago and in an exciting twist, the knife is set up for tip-up carry as opposed to tip-down.
The earliest Spyderco knives were tip-down as a safety measure because there is less of a chance of the knife opening up in the pocket and causing injury to the user. The tactical trend in knives has created a demand for tip-up carry, and while many Spyderco designs allow for both modes based on user preference, this one is purely designed for tip-up carry.
I found the handle very simple but extremely ergonomic.  The scales on the Efficient are textured G-10 and incorporate a lined lanyard hole. Liners are constructed from stainless steel, and the lock on this one is a Walker LinerLock mechanism.
As a reformed steel snob, I used to look down on steel liners, because I thought they were just used for economics instead of the lighter, stronger, and pricier ones made of titanium. However, I had a realization supported by real-world testing over ten years ago. Steel liners, especially in a Walker liner lock will often outlast the titanium ones.
You might see mention in knife discussion forums about liner lock failure or lock bars moving out of alignment or suffering early wear. Some of this has been chalked up to makers and manufacturers not understanding the intricacies of the liner lock, but often it simply has to do with titanium being softer than the steel blade and wearing out sooner.
As for the blade steel, 8Cr13MoV Stainless Steel is Chinese-made steel that is similar to AUS-8, but probably not as good. It is budget steel, and the black finish should help it from a corrosion resistance standpoint. As a side-note, when looking at steels with this particular naming convention ("8Cr", "9Cr", etc.), the number represents the amount of carbon in the steel. 8 is the lowest number you want to go with to have a decent blade steel. Nine is better seven is not worth spending money on.
Whether it was opening boxes, cutting food, shaping a 1X2 to fit in my target stand or trimming a hangnail, the Efficient performed well. I probably would not use it to dress out a hog or hack my way out of a downed aircraft, but this knife was not intended for those purposes.
I had been turned off from some of the knives manufactured overseas below a certain price point, but this knife represents a solid value. Let's face it; there are times when you may not want to bolt out with an expensive or otherwise cherished knife and need to rely on a less expensive "beater." This is one of the more efficient designs I have found.
Specifications
Blade steel: 8Cr13MoV Stainless Steel
Blade grind: Flat
Blade Style: Drop Point
Finish: Black
Locking mechanism: Walker LinerLock
Handle material: Black Textured G-10
Carry mode: Left/Right Tip-Up Hourglass Pocket Clip
Overall length: 7.04″
Blade length: 3.00″
Blade thickness: 0.12″
Handle length:4.04″
MSRP: $69.95
Website: www.spyderco.com
There is probably nothing more dangerous and inherently useless as a dull knife. A dull blade, especially in an emergency situation, requires more force from the user while attempting to cut. This can cause the knife to jump or slip, and when used with more force than necessary, it can cause serious injury.
While testing the Spyderco Efficient, I had an opportunity to play with a unique type of sharpening stone based on an idea that goes back 1000 years.
Wazoo Gear wanted to put a modern twist on the Viking whetstone pendant by making them in the USA from US quarried stone. They chose genuine Arkansas Novaculite (99% pure silica), the rarest and finest abrasive stone in existence. They offer a medium fineness between a 600-800 relative grit size.
These whetstones are carved out of large quarried boulders that are culled and examined for type and flaws. The boulders are cut via diamond bladed saw and other machines to get them to a workable size where they are lapped, drilled, shaped and ground into the final product.
There is even a line cut into it for any anglers who may need to sharpen their fish hooks.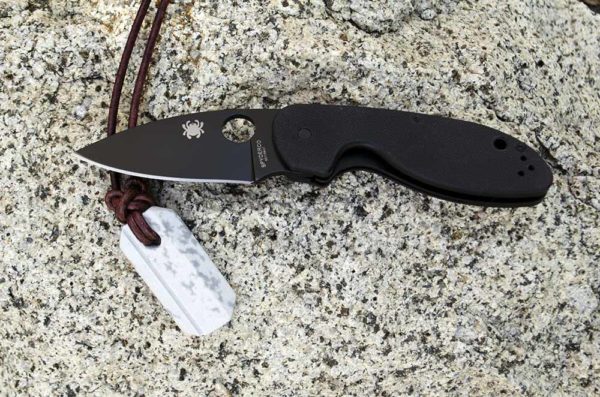 It is believed that Vikings suspended these knife sharpening tools from their belts. Wazoo Gear laced theirs with a versatile, adjustable high-quality leather cord and packed it in a USA-made muslin pouch, so you get to choose how to wear it or carry it.
I wear mine around my neck just for the ease of carry. Some people like to cinch the knot down and clip it to their belt or pack.
How to use a whetstone:
Use light pressure.
Start at the tip of the blade. Pull the blade over the stone through to the middle and down to the base of the edge.
After a few strokes, a fine edge will have developed.
Count the number of strokes and keep track of how many.
Turn the knife over and work on the other side of the blade in the same manner for the same number of strokes. (If you forgot to count you will end up with an uneven grind.
Repeat this process several times as necessary.
Important: Always maintain the same angle.
Priced at $30, they are available from Wazoo Gear: www.wazoosurvivalgear.com
---
About Mike Searson
Mike Searson's career as a shooter began as a Marine Rifleman at age 17. He has worked in the firearms industry his entire adult life as a Gunsmith, Ballistician, Consultant, Salesman, Author and was first certified to teach firearms safety in 1989.
Mike has written over 2000 articles for several magazines, websites and newsletters including Blade, RECOIL, OFF-GRID, Tactical Officer, SWAT, Tactical World, Gun Digest, Examiner.com and the US Concealed Carry Association as well as AmmoLand Shooting Sports News.
Home page: www.mikesearson.com
FB: www.facebook.com/mike.searson
TWITTER: www.twitter.com/mikesearson