U.S.A. –-(Ammoland.com)- 22 LR shotshells are at the bottom of the totem pole when it comes to power, but this niche item has its uses. Nominally, 22 LR shot loads comprise a capsule of small pellets inserted into a 22 LR case in place of a single projectile. The shot size is very small, #9 or #12–far smaller than conventional #7.5 target loads you might find in a conventional shotgun shell. We are also dealing with a small case that supports only a small amount of powder and shot. The purpose of these loads is often described by its nicknames: rat shot, snake shot, etc. Rat shot allows you to turn your 22 LR rifle or pistol into a very-short range shotgun so as to kill pests without much noise or damage beyond the target.
Kill the pest without putting holes in things you don't want holes in.
Beyond pest control, 22 LR rat shot is pretty common in my neck of the woods. Until a few years ago, the Louisiana Department of Wildlife and Fisheries allowed hunters–particularly bow hunters–to carry a 22 caliber pistol as a sidearm, provided that it was loaded with rat shot. That makes sense given the abundance of venomous snakes, but I doubt it would do much to a larger animal like a coyote or cougar. So I got to wondering how effective is rat shot? I just happened to have all I needed for a fun little test–some rat shot, left-over 10% ballistic gelatin, and a beat-up Heritage Rough Rider.
22 shotshells come in two different configurations. Some, like Federal's offering, consists of a capsule of shot with an elongated brass casing crimped over it. CCI's shotshells use a thin blue plastic case–sorta like a pill–with the rodent medicine inside and the capsule seated like a conventional bullet. The CCI load uses #12 shot and comes at a theoretical bullet weight of 31 grains.
You can fire shotshells from either a rifle or a handgun, but I found handguns produce denser patterns. Out of my Rough Rider's 6.5-inch barrel, the majority of the pellets are hitting in an easy six-inch pattern at a distance of eight feet.
I set up an unused portion of my 10% gelatin block and tagged it with the Heritage from the same eight-foot distance. The front of the block was entirely peppered with pellets, small pieces of the plastic capsule still stuck in the block.
No pellet penetrated more than 3.5 inches, with the majority stopping between the 2-3 inch mark. This was better than I expected and the results seem to be perfectly adequate for the assigned task.
What do you think?
---
About Terril Hebert: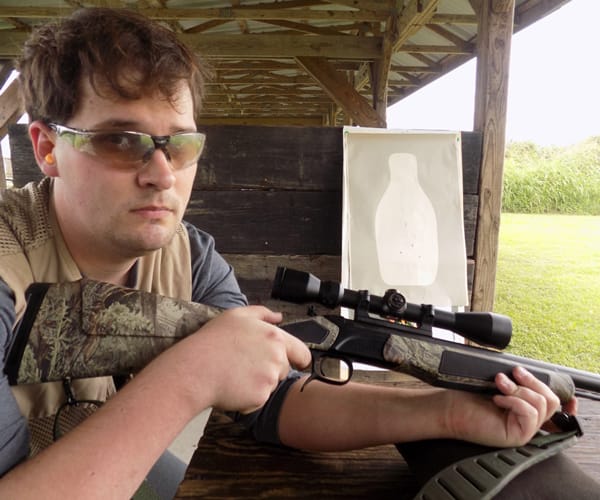 Terril Hebert is a firearm writer native to south Louisiana. Under his motto-Guns, Never Politics-he tackles firearm and reloading topics both in print and on his Mark3smle YouTube channel, where he got his start. Terril has a soft spot for ballistics testing, pocket pistols, and French rifles. When he is not burning ammo, he is indulging his unhealthy wildlife photography obsession or working on his latest novel. Scourge of God, published in 2017. See more from Terril on youtube under Mark3smle