Nashville, TN -(AmmoLand.com)-  Garry Mason has announced the Board of Directors of the Legends of the Outdoors Hall of Fame has selected John Scoutten, son of Outdoor Legend, Jim Scoutten, for the 2019 Legacy Award. The Legacy Award recognizes significant achievement by generational family members who achieve distinction in continuing the family business.
In John Scoutten's case, he's been contributing his talent and effort for all 26 years of production of the family-owned gun sports show, Shooting USA on Outdoor Channel.
John's immersion into television at a young age fueled his passion for Special Interest Broadcast Journalism. For more than a decade, John has both hosted Shooting USA and produced Emmy-nominated stories through his reports on the practical disciplines of the shooting sports, new products, and home gunsmithing projects. John utilizes his wide knowledge of firearms and the industry in his reporting. And he both tests new products and his own shooting skills in matches across the country.
John began what would become a career while still in High School, hired as a part-time Production Assistant for the first version of the long running gun sports series, then titled American Shooter. He was the muscle then, carrying equipment and setting up gear for the videographers. He would work his way up in the company to become the director of one of the motor sports series before leaving to be a part of the gun series under the new title Shooting USA. With his years of TV experience and family background, it was an easy transition to on-air reporting and hosting for Shooting USA as a partner in the new production company, Tier One Media, LLC.
Now, as host, producer, and competitive shooter, for America's Most Watched Firearms Show, John is continuing the family tradition, sharing his knowledge and passion for firearms with the audience, and leading by example to welcome new shooters into competition.
John says that, "Taking the time to develop friendships with the top professional shooters in the game has given me access to their knowledge and a better understanding of how they compete at their level.  Presenting what I've learned to the television audience helps give the viewers a sense that they can get out to the range and join the competition."
John continues his work as the second generation of Scouttens reporting the stories of the Shooting Sports and the Firearms Industry for a National Audience every week on Outdoor Channel.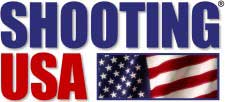 The Legends of the Outdoors Legacy Award will be formally presented August 17th in Nashville during the annual awards banquet.  The public is invited to attend with tickets available at www.legendsoftheoutdoors.com