Opinion
Idaho –  -(AmmoLand.com)- Ok, I'm a whiner. And it's gotten worse as I get smarter (i.e.-older). While backpacking I am always in a running battle with and trying to minimize the two enemies of all backpackers.
I recently conducted six seminars at The Great Northwest Outdoor Expo and as is my custom, I checked out the booths between seminars. I stopped by the Klymit booth and talked to Adam Nicosia. What caught my eye was that he had a sleeping pad called the Klymit Insulated V Ultralite SL Sleeping Pad that compacted down into the carrying bag and only bulked out at 8" long by 5" wide.
Wow, this pad is a game changer. My other go-to pad up until this time is 8" x 12" and weighs a whopping 1 lb. 10 oz. The Klymit Insulated V Ultralite SL Sleeping Pad as stated above squeezes down to 5" x 8" and it only weighs 15.2 oz. With that weight/bulk reduction I'll be skipping down the trail singing Skippity Do-Da.
I have been fishing, hunting, conducting seminars and working non-stop since I received a pad to test. And there is no break in sight. Right now, I'm setting in an airport enroute to the historic Plummer's Lodge up in The Northwest Territories.
But I did get to go up to the mountains on a short camping trip right after the 4th. We rode horses, fourwheelers, shot our bows, flyfished, shot trap and tested out the new Ruger 10/22 CO2 Airgun. It was a lowkey, kicked back trip but it did give me a chance to test out the Klymit Insulated V Ultralite SL Sleeping Pad. I liked the Klymit. It padded me against the hard ground and as advertised, their patented V-shaped design delivers support and comfort no matter how I slept. They claim this is true whether you sleep on your side, stomach or back.
If you're new to backpacking let me briefly cover why you'll want a sleeping pad. I remember when I first moved to Colorado over 30 years ago and we were up in the high country on an early spring bear hunt. That was before they deleted their spring bear hunts due to the lies and false propaganda of the anti's.
Where we threw up our tent there had to have been 1 ½-ft. of snow. We scooped aside what we could and set-up the tent. My buddy, Jerome Lawler threw out his pad and asked me where mine was. I didn't have a clue. I threw my sleeping bag on the frozen, hard floor and froze all night. Jerome explained to me how a pad not only padded you from the hard ground but it also shielded you with a layer of air from basically sleeping on a block of ice. Since those days of long ago, I have also learned that if your tent floods or snow in the tent melts that a pad will lift you up and help to keep your bag drier.
I like to use two pads. While backpacking I'll put one of the old Army green pads under my good pad. When possible, I like to throw up my tent on a grassy spot to add a little more cushion. Decades ago, people cut small pine boughs and laid like shingles for padding but that is now an ecological no-no, somewhat as detrimental as global warming.
So if you're in the market for a new sleeping pad for your backpacking trips, you need to check out the Klymit Insulated Ultralite SL Sleeping Pad. All of these features for an MSRP for only $95.96 (less $$ online.)
SPECS:
WT. 15.2 OZ.
DIMENSIONS 72"x20"x25"
R-VALUE 4.4
INFLATION 7-10 BREATHS (It took me more than this).
FABRIC 20D POLYESTER
WARRANTY KLYMIT LIFETIME WARRANTY
IT UTILIZES A UNIQUE TWIST-PULL VALVE
INCLUDES A PATCH KIT FOR EMERGENCY REPAIRS (This is a good feature since stuff does happen in the backcountry).
---
About Tom Claycomb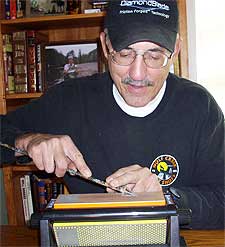 Tom Claycomb has been an avid hunter/fisherman throughout his life as well as an outdoors writer with outdoor columns in the magazine Hunt Alaska, Bass Pro Shops, Bowhunter.net and freelances for numerous magazines and newspapers. "To properly skin your animal you will need a sharp knife. I have an e-article on Amazon Kindle titled Knife Sharpening for $.99 if you're having trouble."
Disclosure: Some of the links below are affiliate links, meaning at no additional cost to you, Ammoland will earn a commission if you click through and make a purchase.