Opinion
Winnipeg, MB CA – -(AmmoLand.com)- My daughter and I just got back from an excellent fishing trip at Plummer's Lodge up in the Northwest Territories. Lorane Poersch introduced me to Chummy Plummer 4-5 years ago when I was conducting some seminars at the SCI Convention in Vegas. I liked Chummy right away. He seemed like a decent guy. Lorane wanted me to interview with him and produce a few articles. So that is how I met him.
Readers have to realize, this fishing isn't on your friendly neighborhood crappie fishing lake. It is up in The Northwest Territories which as you can imagine, can be some rough country.
Chummy started guiding when he was 13 years old. Chummy's grandad Chummy and dad Warren owned several businesses in Flin Flon, Manitoba. (Uniquely, my father-in-law fished north of Flin Flon for over 20 years, and took my wife there every summer as a kid. They later took me there as well.) Then they happened to fish on Great Slave Lake. They got there by traveling in a canoe and a 2 ½ hp motor and camped out in tents. They fell in love with the spot and later built the Plummer's Great Slave Lake Lodge which is where we fished this week.
They soon expanded until now they own the Plummer's Great Bear Lake Lodge, Plummer's Great Slave Lake Lodge, Plummer's Trophy Lodge, Plummer's Tree River Outpost and the Plummer's Artic Circle Outpost which is a self-guided lodge. The Tree River Outpost is home to the most abundant Arctic Char on the planet and flows into the Arctic Ocean.
So, there's a little history & facts. Now for the fun stuff. You'll fly into Yellow Knife, which is the capitol of the NWT. Chummy has someone meet you at the airport, and they'll load your luggage and run you to the motel. The next morning they'll pick you back up, get you on a plane and it's off for the lodge.
We got to the lodge in time for a hot breakfast. Bought fishing licenses, met our guide, and took off fishing. The whole organization is super-efficient, and the staff is over the top friendly. Kolby and I drew Darrel Smith for our guide which turned out to be a great guide.
Chummy is creative and had built a nice runway to land on. Fredy, Brian of AmmoLand News and I landed last year on a grassy/rocky runway in the Frank Church which was a downhill run on top of a 1,000 ft. drop-off. When we took off, I thought it might be our last one. You won't encounter that on runways that Chummy builds.
Our main target was lake trout, which is what the lake is famous for but there were plenty of Graylings, and you can also find some Northerns, which I love to fish for. Of course, Kolby caught the largest Northern and Lake Trout.
Big spoons are popular and work well up there. I took some jigs and plastics, but they weren't big enough for up there. We also had good luck on a lure that Darrel called a Bondy.
The lake trout fishing was unbelievable, as stated above. I do not know how many we caught and at least three times had double hook-ups. Needless to say, the fishing was everything you could hope for.
The week before it had been cold which I would have expected for being up near the Arctic but for us there was nearly zero wind and we got sunburned every day! I did not expect that but was pleasantly surprised. Of course, the mornings and evenings were cool and especially when zipping out 15 miles to our fishing holes. I'm glad we had our Frogg Togg Pilot Pro Jacket and Pilot Pro Bib which worked great to block the wind. Then to keep warm under the Frogg Toggs we wore XGO base layers. We had originally taken some Fish Monkey Pro 365 Guide Gloves to protect our hands while fighting and handling big fish but a side blessing was that they also helped keep our hands warm while zipping around in the boat and protecting us from sun burning (Retail $29.95).
Canadian shore lunches are legendary. In case you're not familiar with a Canadian shore lunch here's how it works. We threw back all our fish, but we would keep one every day to cook for lunch. At noon we'd pull up on an island, and in a hot second, Darrel would have the cooking gear unloaded. He'd build a fire ring out of rocks, build a fire and lay a metal grate on top. He had a big skillet and would pour in the oil and fry some precut potatoes and onions.
Next, he'd cook the fish. A couple of days we had fried fish. The third day we had a baker. He cooked it in foil after pouring on a tub of salsa. When it was done, he put grated cheese on top and let that melt while heating up a cans of beans and corn.
He even had two camp chairs for Kolby and I. We kicked back and ate like kings and queens. Darrel's shore lunches are worth flying up for. They were the best meals you can ever imagine. They say it gets dark two hours/day, but that was long after I went to bed. I never saw it. So needless to say, you could fish yourself to death. The kids caught plenty of graylings off the dock. In fact, one kid was fighting a grayling, and a lake trout crashed the party and spooled him.
I could talk about the trip forever. Seeing a big grey wolf on the bank that looked at us and then sprawled out or one of the other groups saw some musk ox. But let's finish on what knives to take. For our EDC I threw in the Smith's Consumer Products Furrow folder (a bargain at $17.99). It is what I would classify as a mid-sized folder and worked perfect for our everyday tasks while on the boat.
To fillet our shore lunch everyday I had thrown in a Smith's Lawai 7" Fillet Coated Blade (Retail $28.77) and thought that would be the perfect knife. And it is a great fillet knife but for the big fish that we were eating us up, Darrel preferred a bigger knife. So luckily I'd also thrown in a Smith's Lawai 9" Fillet Coated Blade (Retail $32.99) which Darrel really liked. So there you have the list of knives that we used and that worked great for us on this trip.
If you want to catch a boatload of fish, check out any of the Plummer's Lodges. It is a great location to take your kids if they like to fish.
---
About Tom Claycomb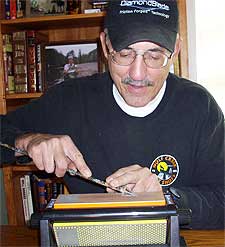 Tom Claycomb has been an avid hunter/fisherman throughout his life as well as an outdoors writer with outdoor columns in the magazine Hunt Alaska, Bass Pro Shops, Bowhunter.net and freelances for numerous magazines and newspapers. "To properly skin your animal, you will need a sharp knife. I have an e-article on Amazon Kindle titled Knife Sharpening for $.99 if you're having trouble."
Some of the links on this page are affiliate links, meaning at no additional cost to you, Ammoland will earn a commission if you click through and make a purchase.