U.S.A. –-(Ammoland.com)- An estimated 15,000 people turned out Sunday to see visiting Democratic presidential candidate Sen. Elizabeth Warren in Seattle; a candidate who recently announced a sweeping gun control scheme only days after a Tacoma City Council member reveal his proposed tax on firearms and ammunition to force gun owners in that city to pay for "gun violence education."
Senator Warren's visit also coincided with massive pro-democracy demonstrations in Hong Kong, where an estimated 1.7 million people marched in the streets last week in defense of a concept represented by the American flags that showed up, as reported by the Wall Street Journal.
And in Bellevue, Wash.—a city said to be "behind enemy lines"—Alan Gottlieb, chairman of the Citizens Committee for the Right to Keep and Bear Arms, and one of the most recognized leaders in the Second Amendment community, suggested how impressive it would be for that many gun owners to march for their rights, especially in the Northwest.
Washington has become a test tube for gun control extremism. Three billionaire-backed initiatives have been passed since 2014. A state that once had reasonable gun laws is now billed as having some of the most restrictive, and the smart money would bet that virtually everyone who showed up at Sunday's Warren rally voted for all three measures. Neighboring Oregon is not far behind, as Willamette Valley anti-gunners from Portland to Salem and Eugene have their own extremist agenda that was barely derailed earlier this year by Senate Republicans.
Warren wasted little time in visiting the Evergreen State just days after Gov. Jay Inslee dropped his campaign for the White House in deference for a third run at the governorship. His climate change campaign never got traction and his polling numbers cratered almost from the start.
Now comes Tacoma Councilman Ryan Mello with a desire, according to KCPQ News, the local Fox affiliate, to encumber his constituents with a tax on firearms and ammunition similar to the one adopted in 2015 in Seattle. He wants the same $25 fee on each gun sale, the same 5-cent tax on every centerfire cartridge and 2-cent fee on every rimfire round sold. He also wants something else that gun owners are still trying to figure out.
According to the Tacoma News Tribune, Mello wants "a higher tax on high-velocity ammunition, or more military-style ammunition such as 'hollow point bullets.'"
Clearly, either the newspaper or Mello, or both, haven't got a clue what they're talking about, say alarmed gun rights activists. Ammoland News checked with the newspaper and was assured by the reporter that it was an accurate quote.
Gottlieb has seen this before. When the City of Seattle hastily adopted a similar tax in 2015, he led the Second Amendment Foundation, which he founded and now serves as its executive vice president, in a lawsuit to oppose the tax. SAF was joined by the National Rifle Association and National Shooting Sports Foundation, and two local gun retailers. The State Supreme Court upheld the tax, despite the language in state statute that appears to specifically prohibit such a local gun law:
"The state of Washington hereby fully occupies and preempts the entire field of firearms regulation within the boundaries of the state, including the registration, licensing, possession, purchase, sale, acquisition, transfer, discharge, and transportation of firearms, or any other element relating to firearms or parts thereof, including ammunition and reloader components. Cities, towns, and counties or other municipalities may enact only those laws and ordinances relating to firearms that are specifically authorized by state law, as in RCW 9.41.300, and are consistent with this chapter. Such local ordinances shall have the same penalty as provided for by state law. Local laws and ordinances that are inconsistent with, more restrictive than, or exceed the requirements of state law shall not be enacted and are preempted and repealed, regardless of the nature of the code, charter, or home rule status of such city, town, county, or municipality."
The Tacoma City Council meets every Tuesday, although the Sept. 3 session is cancelled, according to a notice online. The first meeting in September is on the 10th.
While Evergreen State gun owners have their hands full with local political anti-gunners, Warren's agenda is alarming. According to NPR, she wants "stricter background checks," and the creation of "a federal licensing system, limiting the number of firearms someone could buy, raising the minimum age to 21 for purchasing a gun, holding gun manufacturers liable (and, in some cases, even holding gun industry CEOs personally liable)."
Additionally, she "wants to raise taxes for gun manufacturers (from 10% to 30% on guns and from 11% to 50% on ammunition)," NPR reported.
So, where are Washington's estimated 1.5-2 million gun owners? A fraction of them appear to be activists, and some even continue to vote straight Democrat tickets, sending anti-gunners back to Washington, D.C. or the state capitol in Olympia, where a handful of strong pro-gun Democrats try to bring some moderation to counter their far left Seattle-area colleagues.
But the activists are fired up, thanks to the announced gubernatorial candidacies of two strong Republicans, Republic Police Chief Loren Culp and State Sen. Phil Fortunato, both profiled by Ammoland News earlier.
Washington has one of the strongest state constitutional right-to-bear-arms provisions in the country, adopted in November 1889 and copied word-for-word by the Arizona state constitution in 1912. It simply states that the right of the individual citizen to bear arms in defense of himself, or the state, shall not be impaired.
Coupled with the language of the Second Amendment, which prohibits infringement of the right to keep and bear arms, one might presume Washingtonians would never face the daunting attacks on their rights as they do now.
It's a challenge they will have to meet in November 2020, an in the meantime fend off in Olympia come January.
RELATED:
---
About Dave Workman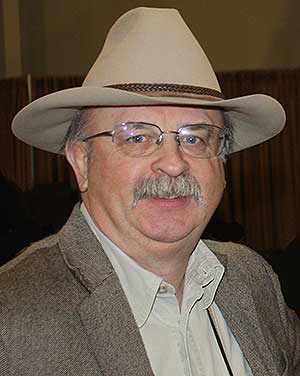 Dave Workman is a senior editor at TheGunMag.com and Liberty Park Press, author of multiple books on the Right to Keep & Bear Arms and formerly an NRA-certified firearms instructor.