Opinion: Tom reviews the CMMG Mk10 Banshee Pistol in 10mm!

USA – -(AmmoLand.com)- When we looked at the then-new CMMG Banshee chambered in .45 ACP way, way back in May 2018 one of the very first comments by GRNC's Paul Valone was this one.
"10mm please."
Actually, anytime a company releases a new pistol caliber carbine, there's an immediate ask for the same, but in 10mm. Well, folks, your time is now with the launch of the new CMMG Banshee Mk10. We've had one for a while to test, and I must say, those 10mm ammunition aficionados are spot on. Beefy 10mm ammo and a pistol carbine do make a great combination.
I guess lots of folks like the mix of a powerful handgun round and a heavier carbine as opposed to a pistol. The combination makes a lot of sense. Recoil and muzzle flip are subject to the laws of physics, so the bigger and heavier the gun, the less you have to deal with during recoil — Ipso facto e. Pluribus Unum, you can shoot a bigger caliber with no downside.
Let's consider an example. I'm testing a Springfield Armory 1911 Range Officer Elite Operator chambered in 10mm. Empty, it weighs 2.75 pounds. The new CMMG Banshee Mk10 shown here, also empty, and with an Aimpoint PRO installed for sighting, weighs 6.5 pounds give or take. If you're a math geek, you can calculate what that means in terms of recoil energy. If you think math sucks, I'll do it for you. Shooting a 200-grain Federal HST through the 1911, you'll have to deal with 6.31 foot-pounds of recoil energy. Shooting the CMMG Banshee Mk10, you'll only get about two-thirds that with 4.15 foot-pounds. Plus, you usually control an AR-type pistol with two hands or one hand and a brace, so that provides even more control.
Let's take a look at this new 10mm beast, and I mean that in a loving and compassionate way.
CMMG Mk10 Banshee Pistol – How it Works
First, like all the other Banshee models in all the other calibers, this is an AR-like pistol. It's also available in short-barrel rifle configurations if you want to send $200 and a bunch of highly personal information to Uncle Spendy. It also comes in three "classes" of upgrades defined by Series 100, 200, and 300. For reference, the one shown here is a 300 model with all the spiffiness included, so it costs more.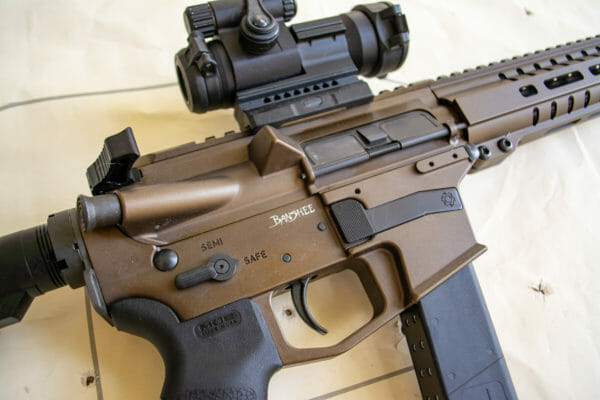 Like other Banshees, you'll notice that it looks like an AR. It is, at least on the surface. The new Mk10 10mm uses a custom lower receiver so important things like the magazine well are machined specifically for Glock-compatible magazines. Oh, that lower has a flared and beveled magazine well custom fit for the 10mm magazines. Controls are where you would expect on a standard AR-type pistol. The magazine release looks a little different, but you still press your finger in the same place to drop it. I think it's actually better as the "button" is larger and easier to operate with your trigger finger.
There is a significant internal difference between Banshee models based on their native caliber. While all "look" like standard direct impingement AR pistols, the pistol caliber ones are not. Rather than operating by redirected gas from a barrel port and gas tube, they function using the company's Radial Delayed Blowback system. The bolt carrier group looks mostly standard, but the gas key is plugged, so the carrier operates via a form of blowback. To time the system and keep things locked up until pressure drops to safe levels, the bolt lugs are beveled at the back end. The blowback action turns the bolt and releases it from the barrel chamber at the same time that pressure has dropped to a safe level. All of this allows the system to work with lower bolt and buffer weights while cycling at rational speeds. That means less recoil for you as there's no extra-heavy straight blowback bolt thumping back and forth. It's a nifty design that makes a big difference on the range.
Since 10mm ammo operates at different power factors, and because some people may want to suppress the Banshee Mk10, you can tune the system using buffers of different weight. The standard H3 buffer installed in the pistol works with a broad array of 10mm ammo. The company also includes a lighter carbine buffer if you want to tune it for lighter loads. For suppressor use, you'll want to order the optional eight-ounce buffer available from CMMG.
Banshee Mk10 Features
The Banshee Mk10 operates like an AR pistol, so it shares many of the same features including pinned upper and lower receivers, buffer tube, forward assist, and the same operating controls including safety, bolt catch/release, and charging handle. The magazine release is different as Glock-compatible 10mm magazines have the catch in the front as opposed to the rear like AR magazines. The button is in the same location, but the mechanism is more like a lever, and it extends to the forward end of the magazine well.
The upper receiver features an M-LOK handguard with attachment slots in the three, six, and nine o'clock positions. The top of the entire handguard is a continuation of the receiver rail so that you can add flip-up irons as the primary or backup sighting system.
Both upper and lower receivers are Cerakote-finished. You can order one of ten different finish colors, including graphite black if you want to stay traditional. The model shown here is finished with CMMG's Midnight Bronze.
The Banshee Mk10 features an eight-inch barrel with a 1:16-inch twist rate. It's tipped with a muzzle brake with generous side ports and two gas outlets directly on the top to help discourage muzzle flip.
The Banshee Mk10 ships with one 30-round magazine. The pistol uses Glock-compatible magazines, but the one included in the box is made by SGM Tactical. One problem with earlier Glock magazine Banshees that could appear with use was wearing of the magazine catch area. Given that an extended magazine will be exposed to hands and random objects and not contained entirely in a pistol grip, it tends to get knocked around a bit. This continual wear can muck up the plastic notch in the magazine itself, leading to magazine retention troubles. The SGM Tactical magazine uses steel reinforcement in the notch area. It's snug and solid, so I have no worries about using it longer term.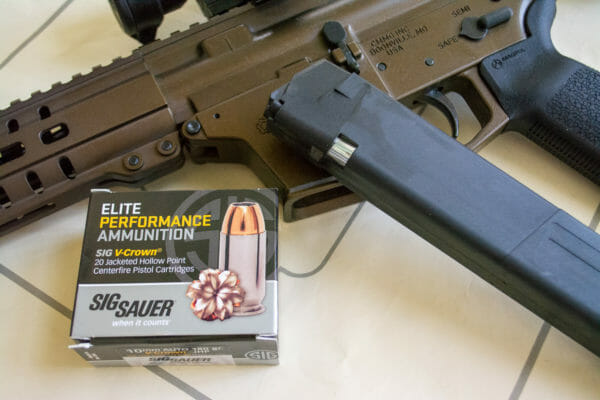 This 300 Series Mk10 is fully decked-out, and that's why it carries an MSRP of $1,649.95 as compared to $1,299.95 for the 100 Series base model. Here are some extras included:
RipBrace: The pistol brace is a CMMG part that offers four-position adjustment. The difference between fully collapsed and extended is two-and-a-half inches. That shifts overall length between 24 1/2 and 27 inches. It's got a side top surface for good cheek weld, a Velcro strap to tighten, and a quick-detach sling swivel point.
Dual receiver plate: Connecting the buffer tube and receiver extension tube is a plate with sling attachment points on either side.
Upgraded charging handle: This CMMG part is oversized with generous grab points on both sides. The release latch function is also ambidextrous. I love it.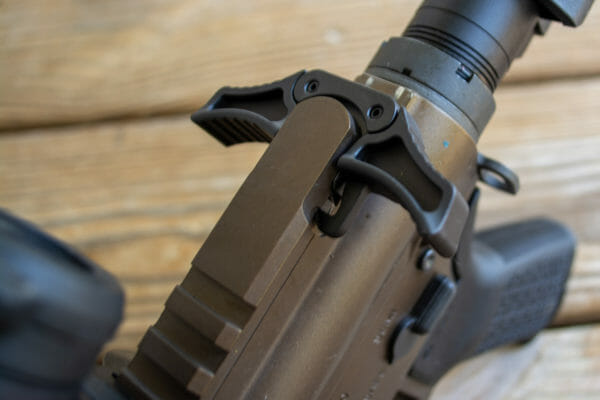 Ambidextrous safety: The safety lever is truly ambidextrous as well.
Grip: The pistol grip is a Magpul MOE model complete with an internal storage compartment for important stuff like batteries, spare parts, and beef jerky.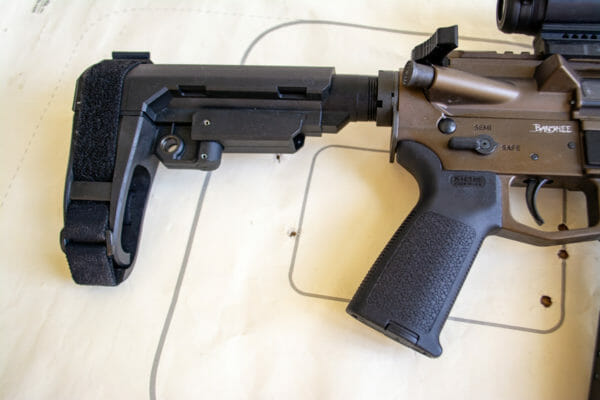 Shooting the Banshee Pistol
Step one for field testing the Banshee Mk10 was to mount an optic. This configuration and choice of 10mm chambering seemed perfect for a zero magnification, always-on red dot sight, so I mounted an Aimpoint PRO. For any reasonable use, which will mostly be inside of 100 yards, this sighting option was perfect. Sure, you can use the Aimpoint to double that distance, but I don't foresee much use at that range even with the 10mm option.
Handling was a breeze. I find 10mm recoil to feel only slightly more stout than that from .45 ACP in a similar pistol and the math bears that out. Firing a variety of 10mm loads from the CMMG Banshee Mk10, recoil becomes a non-issue. The weight of the pistol and normal two-handed operation make it tame by comparison to a 10mm 1911 platform.
For accuracy testing, I swapped out the red dot optic in favor of a low magnification scope, so I could be sure of absolute sight picture precision. After shooting the Mk10 offhand with the red dot, I quickly figured out that this pistol was going to be accurate, so I decided to test it for groups at 50 yards. I mounted a Steiner P4Xi 1-4x scope and proceeded to shoot groups with a handful of premium 10mm ammo brands.
Summing it Up
This is a nifty pistol carbine pistol. Yes, I meant to write it that way. It's a pistol that handles like a mini carbine that fires a powerful pistol caliber. I originally intended to test it with a suppressor but what quickly became apparent was its value for being short, light, and compact. It would work great with a pistol suppressor, but it seems a shame to add length and weight to this handy firearm. It's small and maneuverable, perfect for home and vehicle use. And it's a heck of a lot of fun on the range.
About
Tom McHale is the author of the Practical Guides book series that guides new and experienced shooters alike in a fun, approachable, and practical way. His books are available in print and eBook format on Amazon. You can also find him on Facebook, Twitter, Instagram, and Pinterest.