U.S.A. –-(Ammoland.com)- Right now the Palmetto State Armory KS-47 G2 pistol with a SBA3 Adjustable brace is on sale for $699.99! This deal saves you nearly $250 on an AR platform rifle chambered in the potent 7.62x39mm cartridge commonly used in AK rifles.
The Palmetto State Armory KS-47 G2 is based on the AR-15 and combines the modular construction, accuracy, and precision of the AR platform with the stopping power and the magazine options of the AK. The KS-47 G2 lets the AK shooter capitalize on their inventory of AK magazines and AK ammo with an AR-style platform. Unlike the AK, where the barrel is permanently pressed into the receiver, the KS-47 G2 features an AR-style modular configuration which consists of a barreled upper receiver, and a lower receiver that houses the fire control group and magazine. The modular configuration allows customers to have several different barrel configurations with one lower receiver, just by releasing two pins.
PSA Gen2 KS-47 10.5″ Carbine-Length 7.62×39 Nitride 9″ Lightweight M-Lok MOE EPT SBA3 Pistol
SKU: 5165450182
UPC: 5165450182
MFR#: 5165450182
PSA Gen2 KS-47 10.5″ Carbine-Length 7.62×39 Nitride 9″ Lightweight M-Lok MOE EPT SBA3 Pistol – 5165450182
Barrel Length: 10.5″
Barrel Profile: Heavy
Barrel Steel: 4150
Barrel Finish: Nitride
Chrome Lining: No
Muzzle Thread: 5/8-24
Chamber: 7.62x39mm
Twist Rate: 1 in 10″
Barrel Extension: KS47 Gen2 Single-Large Feed Ramp
Gas System Length: Carbine
Diameter at Gas Block: .750″
Gas Block Type: Low Profile
Muzzle Device: A2-Style
Receiver Material: Forged 7075 T6
Receiver Type: KS-47
Handguard Type: PSA 9″ Lightweight M-Lok Free Float Rail
Bolt Steel: 9310
Bolt Carrier Profile: Semi-Auto
Fire Control Group: PSA Enhanced Polished Trigger (EPT)
Grip: Magpul Grip, Black
Brace: SBA3 Adjustable Pistol Brace
Buffer Tube Length: Carbine
Buffer Tube Diameter: Mil-spec
Daily Gun Deals are short-term deals that will often expire or sell out! The AmmoLand News Team publishes these deals that are available from our trusted partners and well-known industry retailers. AmmoLand does not stock inventory or have a shopping cart, we simply bring you up-to-date information on deals as a way to help you the reader get the most bang for your buck.
If you are looking to purchase this item CLICK THIS LINK, it will bring you to the retailer or manufacturer carrying this item.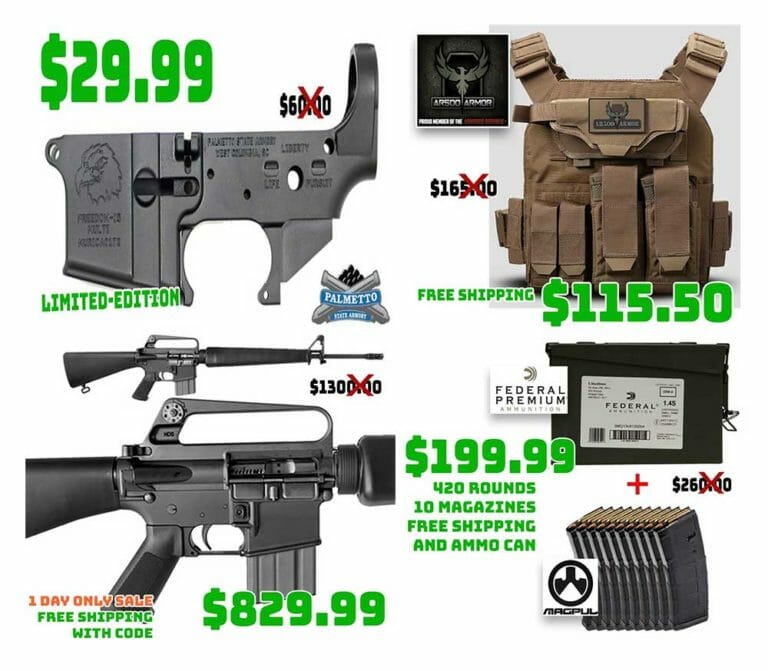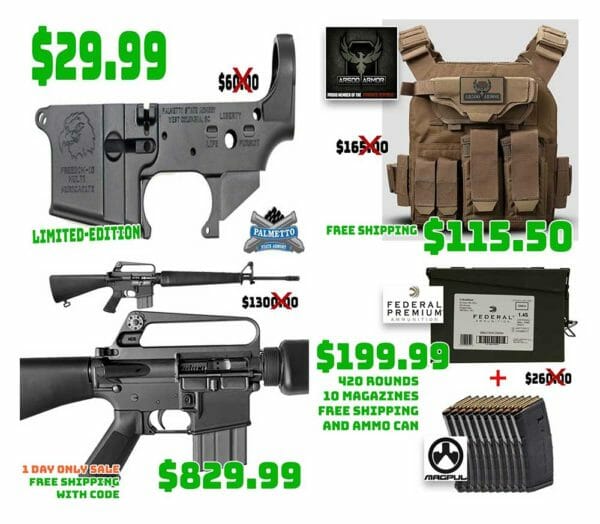 Remember, these deals are short term and often have limited quantities so move on it while they are in stock now! 
Consider checking our Gun Deals Coupon page and our past featured Daily GunDeals page for additional savings from your favorite industry partners.