TACCOM, International Centre, Hall 1, Mississauga, Canada, September 6-8, Stand 337.
Canada – -(AmmoLand.com)- IWI – Israel Weapon Industries, an SK Group Member – a leader in the production of combat-proven small arms for law enforcement agencies, governments, and armies around the world – will present its latest offerings to the Canadian market at TACCOM 2019.
Regarding this significant market, Ariel Yonathan, VP marketing & sales North America, remarked, "The Canadian market is an important and valued market for us. In recent weeks we have already sold a variety of products from the extensive selection of weapons we offer. Among those proven the most popular in this area are the TAVOR-X95 along with the MASADA."
"We adapt our solutions to a wide range of different audiences and types of users," he continued. "Our weapons are suited to a variety of sights developed by Meprolight, an SK sister company of IWI, including: the NYX 200, MEPRO M5, MEPRO X4 ‒ and the MEPRO FT Bullseye."
Among the products that will be highlighted at the exhibition are the new JERICHO II Pistol, the MASADA Pistol, and the TAVOR 7 Bullpup Assault Rifle.
The JERICHO II Pistol
The JERICHO II is the next generation of the popular JERICHO pistol that has been sold in Canada for the last 10 years. The upgraded JERICHO has a polymer body, an ergonomically-designed pistol grip, and an interchangeable back-strap to accommodate different types of users. With either a traditional double action or single action only, it features fixed front and rear sights, right- and left-handed user magazine release, and front and rear cocking grooves on the slide. The 9×19 mm caliber pistol has a barrel length of 112 mm, a total length of 206 mm, and a 10-round magazine.
The MASADA Pistol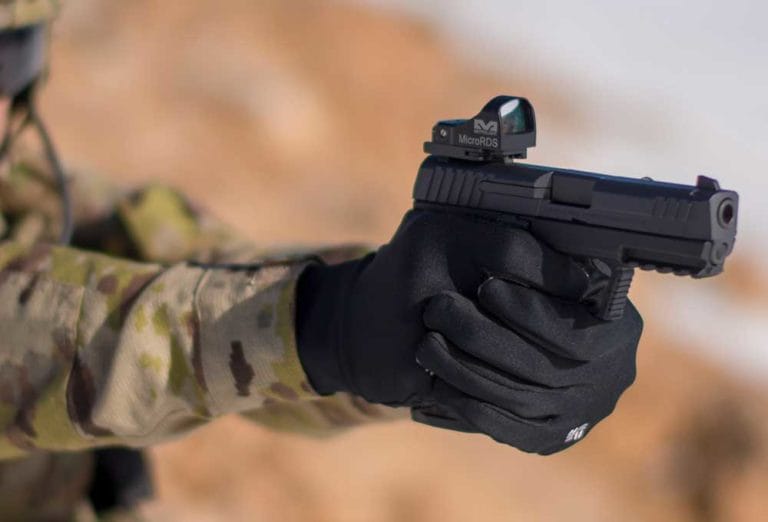 The MASADA pistol, with its composite trigger, has had great success in the US market. It features several advanced safety mechanisms including a firing pin block safety, a clean and crisp trigger reset with a built-in trigger safety, and a fast, easy and safe takedown – with no need to pull the trigger. The pistol can be provided with or without manual safety. It has an easy racked slide with improved front and rear cocking serrations, enhanced ergonomics with the IWI grip angle, and a low barrel axis for reduced recoil. The body has a glass-reinforced polymer frame as well as a polygonal cold hammer forged barrel with a 1:10RH twist rate. Additional features include fully ambidextrous operating controls. It offers 100% interchangeability with a compatible trigger mechanism housing, reducing maintenance and life cycle costs. The pistol has an overall length of 6.6″ (186.4mm) and a weight of 650 gr. MASADA is offered on a popular platform suitable for all types of sights.
The TAVOR 7 Bullpup Assault Rifle
The TAVOR 7 is a short assault rifle with a high hit capability. It has an ergonomic design and a fully ambidextrous platform on which the ejection side and the charging handle can be switched quickly and easily from side to side by the user. The TAVOR 7 also includes an M-LOK fore-end (2 M-LOK slots at 3 and 9 o'clock) as well as MIL-STD 1913 Picatinny rail. Additional features include a rotating bolt system that ensures maximum safety for the user, and a pistol grip that can be changed or modified. Reducing maintenance costs through 100% interchangeability, the rifle has replaceable barrels available in two lengths – 17″ (432 mm) and 20″ (508 mm), an overall length of 28.4″ (723 mm) and a weight without a magazine of 9lbs (4.1 Kg).
---
ABOUT IWI
Israel Weapon Industries (IWI), located in the center of Israel, is a world leader in small arms for over 80 years. IWI is a member of SK Group, which comprises companies that develop and manufacture a wide array of defense products for governmental entities, armies, and law enforcement agencies around the world. IWI's best-known products include the TAVOR and the new TAVOR 7 in 7.62X51mm caliber, X95 (Micro TAVOR), and GALIL ACE Assault Rifles, the CARMEL 5.56X45mm caliber Assault Rifles, the GALIL SNIPER S.A. Rifle, the DAN.338 Bolt Action Sniper Rifle, the NEGEV Light Machine Gun 5.56 & 7.62mm, the legendary UZI SMG in its latest evolution – UZI PRO, the JERICHO pistols, and the new MASADA striker fired pistols. The company's firearms are developed in close collaboration with the Israel Defense Forces (IDF): IWI and the IDF join forces in developing these weapons, whose final configurations are the product of ongoing interaction, field tests, and modifications, resulting from combat requirements and experience. All IWI weapon systems comply with the most stringent military standards (MIL-STD) and ISO 9001 standards.
ABOUT SK GROUP
SK Group is a privately held technology and innovation holding company specializing in global frontline defense, law enforcement solutions, marine infrastructures, and property development. SK Group provides small arms systems, electro-optic and laser solutions, imaging systems, naval solutions, and more. Drawing on Israel's innovation and field-proven solutions, SK's companies offer a powerful track record of technology, experience and excellence.
For more information on IWI, please visit: http://www.iwi.net. Further information about SK Group is available at www.sk-g.net and at https://www.instagram.com/iwi.il/