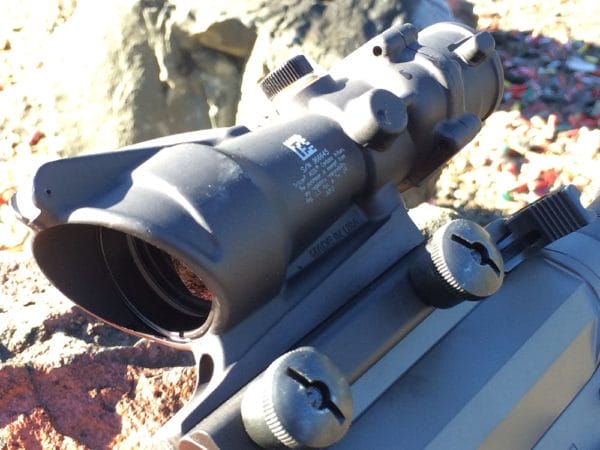 U.S.A. –-(Ammoland.com)–  Trijicon has been a supplier of optics for the US military since 1987, when the TA01 ACOG (Advanced Combat Optical Gunsite) 4x prismatic scope was adopted.  That optic quickly distinguished itself as a durable, effective force-multiplier for the troops using it. 1987 was a long time ago in the optics industry, with improvements and generation updates happening almost yearly for most companies.  How has Trijicon kept with the times?  Has the technology behind low-magnification prismatic optics been rendered obsolete by low-power variable optics (LPVO's)?  Let's take a look at the Trijicon TA31 ACOG, featuring the Primary Arms patented ACSS reticle.
Here's the tech specs, as per Primary Arms and Trijicon's websites:
Brand:

Trijicon

Click Value:

1/2 MOA

Exit Pupil Diameter:

8.00 mm

Eye Relief:

1.50 in

Field of View @ 100 yards:

36.80 ft

Focal Plane:

Prism Scope

Illuminated: Yes.  Via tritium and fiber optic cable

Magnification: 4x

Night Vision Compatible:

Non-Compatible

Objective Diameter:

32mm

Reticle:

ACSS 5.56

Turret Features:

Capped Turrets, Finger Adjustable

Type:

Fixed Magnification

Waterproof:  Up to 11 meters
Bindon Aiming Concept: Yes

Weight:

9.9 Oz
There's a lot to unpack here, feature-wise.  First, let's cover the "Bindon Aiming Concept".  This basically boils down to shooting with both eyes open, something very familiar to most red-dot users.  The ACOG is capable of being shot this way as well, despite having 4x magnification.  The brain picks up the red chevron atop the blurred background and superimposes it on the focused view from the other eyeball.  When you hold the rifle still, your brain switches over to using the magnified view.  Yes, it works, and yes it takes some practice to get fast with.  It can end up being nearly as fast as shooting with a red dot at close ranges.
The ACSS reticle in this TA31 ACOG is illuminated, but not by battery power.  A tritium insert provides some juice to the reticle, while a fiber optic cable brightens the glow when you're out in the sun.  This setup works well, sometimes a little too well if I'm shooting for groups.  But for competition or combat shooting, this dual-illumination mechanism grabs the eye's attention quickly.  On those bright range days when I need to tone the intensity down a little, I have a little piece of electrical tape to partially obscure the fiber-optic cable.  No batteries needed.  No electrical connections to corrode, no worrying whether or not your optic is ready when you need it.
Now is a good time to address the difference between a fixed power optic like this and the low-power variable optics that are gaining such popularity these days.  There are three major contrasts.  First, weight.  Many LPVO's are between 12 oz and 20 oz, not including the mount.  The ACOG is 9.9 oz, as shown.  The second consideration is that moving parts are generally more susceptible to damage than fixed parts.  If durability is a major concern (hello, Winter Strike), simple is tougher.  Finally, there is consistency of view.  I have some Nikon LPVO's and love them.  That being said, when I pull up on a target in a hurry, there's a little part of my brain dedicated to making sure the optic is on the magnification setting that I remember.  With the ACOG and its fixed 4x, every time I "ready, up" it's the same point of view.  Four power fixed magnification might not be the best for every circumstance, but it's a really good jack-of-all trades.
The ACSS (Advanced Combined Sighting System) reticle itself could warrant an entire article.  Without dedicating at least three paragraphs, I don't know that I'll be able to specify how impressive it is.  This reticle combines bullet drop, wind holds (5 mph), running-target leads and two methods for rangefinding (height of ~5'10 or center-mass width of 18″).  That's a whole lot of data, but none of it gets in the way of simply using this optic.
In proof of the above, I mounted this ACOG on an SBR, using a V7 6.5″ barrel to launch Federal 120gr Powr-Shock rounds in .300 Blackout.  I had planned on using the reticle's features to range a buck and compare my estimation to a rangefinder.
When it came down to it, the only buck I ended up seeing was moving quick.  I spotted him at around 250 yards out, moving through brush.  Old habits kicked in, I hit the deck behind concealment and used my backpack as a rifle rest.  His trail bent closer to me, I'd estimated 200 yards out.  The first second I had a shot where he stopped at the same time there was a pause in the gusty wind, I took it.  First round hit, I could see the blood spurting out as the buck spun for a few short seconds.  Later my GPS showed from point of fire to point of impact was 192 yards.
This isn't an amazing hunting story by any stretch, but what I took away from it in the aftermath was how seamlessly I was able to use the ACOG with ACSS reticle.  It was natural, unobtrusive and effective.  For a precision rifle optic, there are options better suited to the task.  For a shot taken quickly and with a drastic improvement to first-round hit percentage over red dots, the ACOG is king.
Moving back to the optic itself, I'd like to point out some of the nice touches worked in by Trijicon.  The turret caps are retained by a couple of wires, and the turrets themselves are finger adjustable.  Straightforward and simple, as it should be.
There's a reason the ACOG line has such a reputation for durability.  The military is an abusive environment for equipment.  Being used in Infantry and Special Operations environments can be an order of magnitude more entropic.  If an optic can survive the nightmare that is a Ranger fire team, it is impressive.  If it can survive being handed down from one rifleman to the next for years during a sustained train-deploy-repeat cycle, it becomes a legend.  The Trijicon ACOG and Aimpoint Comp M series have both been vaulted to that hallowed ground.  The Trijicon TA31 ACOG with ACSS reticle runs $1099 at Primary Arms.  For a range toy, a cheaper optic will certainly suffice.  For heavy-duty use where only the best will work, here it is.
---
About Rex Nanorum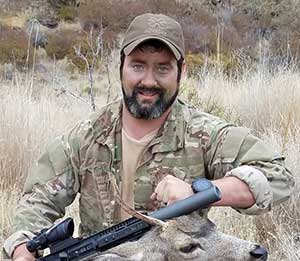 Rex Nanorum is an Alaskan Expatriate living in Oregon with his wife and kids. Growing up on commercial fishing vessels, he found his next adventure with the 2nd Bn, 75th Ranger Regt. After 5 tours to Afghanistan and Iraq, he adventured about the west coast becoming a commercial fisheries and salvage SCUBA diver, rated helicopter pilot instructor (CFII) and personal trainer, before becoming a gear reviewer and writer."