Idaho – -(AmmoLand.com)- Everyone in the shooting world has heard about a Caldwell Lead Sled haven't they? They're great for sighting in heavy bore rifles, testing out a lot of ammo in one setting or just to keep you from flinching so you can see how your rifle and ammo can actually perform without your flinch factor. Well, Caldwell has taken their ole tried and true Lead Sled and made it even better with the advent of their new Caldwell HYDROSLED.
Don't get me wrong, I still love the old Caldwell Lead Sled but the HYDROSLED is a step ahead. Here's why I say this. Sure, we all know it reduces recoil is we put lead bags or sand-filled bags on the Lead Sled. But think about it a minute. If your rifle gives a good kick it only stands to reason the sled will slide some under the bags thereby transferring that movement into a kick in your shoulder. With the new Caldwell HYDROSLED, the recoil has no choice but to be buffered by also pushing all the weight of the water. Make sense?
Here's some background as to why I automatically fell in love with the Caldwell HYDROSLED. As I get older, I find myself caring less about impressing people and acting tough and more into staying alive or at least comfortable. So, with that preface, I was tickled to test out the new Caldwell Hydrosled.
I first started using a Caldwell Lead Sled years ago after conducting a turkey loads test for Bass Pro Shop. After testing a plethora of turkey loads from the major manufacturers and ending up on the HEVI-Shot 3 ½ mags I was ready to cry, uncle.
Since then on heavy shooting days when I'm testing out numerous rifles and ammo, I always use a Caldwell Lead Sled. A couple of years ago I was doing a Product Review on various 30-06 ammo manufacturers in the Mossberg Patriot Revere with a Riton Optics Scope. If I remember correctly I had over 14 different blends of ammo to test. There's no way that I could do a fair test for the ammo/rifle/ scope without a sled. Otherwise, by the end, I would be flinching and skew the test results.
So to me, the Caldwell HYDROSLED is the next step in the evolution of the original Lead Sled. I count it as an upgrade for multiple reasons. First, you don't have to carry around multiple sandbags which after a few years always end up dribbling sand in your truck and garage.
I love that the Caldwell HYDROSLED can be filled with water. Yes, you can also fill it with sand or pebbles but why not just take two water jugs and fill it up quickly and easily at the range?
The HYDROSLED appears to be sturdily constructed and sells for an MSRP of $259.99. It may surprise you but even without lead bags that many people use on the Lead Sled, California still has a warning for their residents of the dangers of the HYDROSLED. See the warning below. After further investigation, I believe they're warning that if you use the HYDROSLED your kids will be born naked. But you might want to get legal advice before you embrace my interpretation.
⚠ WARNING: Cancer and Reproductive Harm – www.P65Warnings.ca.gov

The Caldwell® HYDROSLED™ is the most innovative shooting rest on the market today, eliminating 95% of felt recoil. The HYDROSLED™ has the ability to fill an onboard reservoir with your choice of media. There is no longer the need to carry heavy lead bags or weights to the range. Simply fill the 2-gallon reservoir with water, sand or pebbles, and you are good to go. The HYDROSLED™ is adjustable to accommodate nearly all rifles and shotguns including lever-action rifles and AR platforms with detachable magazines. This shooting rest utilizes a proven rack and pinion elevation ram for precise adjustments, along with fine windage and elevation adjustment knobs. An advanced rear recoil pad protects the firearm and shooter while the front retention strap eliminates muzzle jump (Not sure I'd use this as this could change the impact point of the bullet. I'll have to test out this theory). Caldwell's proprietary HYDROSLED™ is specifically engineered to eliminate the variables that make you miss.
And as is the norm, we will close with the Caldwell Hydrosled specs:
Most advanced recoil reducing shooting rest on the market delivering up to 95% felt recoil reduction.
2 ¾ inches of horizontal gun fitment adjustment to accommodate most rifles and shotguns.
2 ½ inches of elevation adjustment, 1 ¾ inches of fine elevation adjustment and 1 3/8 inches of windage adjustment
Dry weight: 17Lbs, water added: 35Lbs, dry sand: 45Lbs, pebbles: 60Lbs.
Designed to clear detachable magazines; advanced rear recoil absorbing pad, protecting the firearm and shooter; elastic front retention strap to eliminate muzzle jump; overall
Length: 33 ½ Inches, overall width: 16 Inches, overall height 10 inches (with front rest all the way down).
Dimensions: 33.5" L And Weighs Approximately 16 Pounds Dry, 35 Lbs. With Water, 45 Lbs. With Dry Sand And 60 Lbs. With Pebbles Added.
Accuracy: With Windage Adjustment, 3" Of Front Elevation Adjustment, Rear Elevation Adjustment, Elastic Front Retention Strap, Advanced Shock Eliminating Rear Cradle and A Reservoir For Your Choice Of Media, This Rest Is Solid During And After Every Shot.
Non-Destructive: This Rest Features A Skeletonized Front Rest, A Rear Cradle And No-Skid Rubber Feet All With Non-Marring Material That Securely Holds Your Gun without Damaging Any Point Of Contact.
Ease Of Use: Adjustment Knobs Are Conveniently Placed To Allow For Easy Adjustments That Do Not Require Removing The Gun From The Rest And Is Extremely Portable When Empty.
Versatility: With 2.75 Inches Of Horizontal Adjustment This Rest Can Fit Rifles And Shotguns Of Virtually Any Size.
---
About Tom Claycomb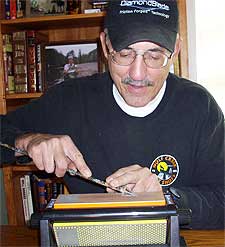 Tom Claycomb has been an avid hunter/fisherman throughout his life as well as an outdoors writer with outdoor columns in the magazine Hunt Alaska, Bass Pro Shops, Bowhunter.net, and freelances for numerous magazines and newspapers. "To properly skin your animal, you will need a sharp knife. I have an e-article on Amazon Kindle titled Knife Sharpening for $.99 if you're having trouble."
Disclosure: Some of the links below are affiliate links, meaning at no additional cost to you, Ammoland will earn a commission if you click through and make a purchase.