Help Us Prevent Leftist Assault of Trump Rally-Goers in Mississippi and Kentucky!
Friday, November 1st, and Monday, November 4th, 2019.
USA – -(AmmoLand.com)- Oath Keepers is stepping up for the fourth time to protect Trump supporters from radical leftist assault. Please step up and help us get it done!
Antifa and similar leftist groups continue to assault and spit on Trump supporters as they leave rallies. Here, in America, no American should have to be concerned for their personal safety due to their political beliefs and who they support for political office. That is why the retired police and military veterans of Oath Keepers, along with our biker and patriot allies, have protected rally attendees at three Trump rallies so far: Rio Rancho, NM; Minneapolis, MN; and Dallas, TX. All who were escorted by our volunteer security teams were kept 100% safe, and not a hair on their heads was touched.
But we need more boots on the ground at future rallies to provide better security coverage, and our volunteers need your support.
We will face the same situation again on Friday, November 1, at the Trump rally in Tupelo, MS, and in Lexington, KY on November 4. We will have volunteer security teams out at both rallies.
A red fabric hat should not trigger an attack of any kind, especially physical. What happened to the land of the free? What gives anyone the right to dictate that particular political views are unacceptable and, therefore cause for unprovoked violence? No one has that right, especially in this country. Then why is this tolerated by anyone?
President Trump has a right to speak to his supporters. Trump supporters have the right to assemble and listen to his speeches. There are those in this country who desperately want to control both the speakers and the listeners. This is completely and totally unacceptable!
We, as Oath Keepers, are doing all we can to keep rally-goers safe as they park and walk to the rally, and then as they head back to their cars to go home. We deploy four and eight-man escort teams led by some of our most experienced police and military veterans.
We will be in Tupelo, Mississippi on Friday, Nov. 1 and then in Lexington, Kentucky, on the 4th. We ask for donations, so we can help support our vetted volunteers who are willing to protect their fellow citizens. Many are coming in from other states. If you can donate to this cause, we would greatly appreciate it.
If you can, please help us support our volunteers who are willing to come to Mississippi and Kentucky to protect fellow Americans. None of the rally-goers we protected in New Mexico, Minnesota, or Texas were attacked or injured. We will help as many Trump supporters as we can in Mississippi and Kentucky, as well. The more support we have, the more we can do.
Aert! Security Volunteers Needed to Protect Trump Supporters at Tupelo, MS Rally! (and in Lexington, KY)
You do NOT have to be an Oath Keeper member to volunteer. Nor do you need to be prior service police or military. While most of our volunteers are prior service, we also accept volunteers who are simply patriotic Americans who are physically capable and effective at protecting people. In the past, we have worked very well with bikers, three percenters, and other patriotic groups. What counts is that you are cool under pressure and capable of protecting people against assault. We also need medical and communications personnel. Even if you don't feel you are suitable for a security escort, please still volunteer. We will find something for you to do. Many hands make light work!
To volunteer for either Tupelo, Mississippi, on Nov. 1, or Lexington, Kentucky, on Nov. 4, please email us at [email protected]
Please go here to learn more about what you need to do when volunteering.
NOTE: Despite our presence in Minneapolis, there we still some Trump supporters assaulted there. The reality is we didn't have enough volunteers to protect everyone. All those we did escort were kept entirely safe, but we, unfortunately, couldn't be everywhere in the very dispersed urban environment in Minneapolis with tens of thousands of Trump supporters being let out of the venue from many different exit points. It is frustrating for us not to be able to keep them all safe, despite our best efforts. The answer is, we need more volunteers. We will also be adjusting our tactics to provide more mobility to our security teams and to thwart otherwise the plans of any gangs of leftist thugs who will be looking for targets of opportunity. At Dallas, the only known assault was of a veteran who was walking alone back to his vehicle parked 1.5 miles from the venue. He was struck from behind with a hard object and knocked unconscious. Our security teams were not operating that far out from the venue. That is something we will change in the future, provided we have enough volunteers.
Oath Keepers in Dallas, Texas – Photo by Grant Kauffman, 12 Rounds Media
We need more men! Remember, you DO NOT have to be an Oath Keepers member, or even prior service to volunteer. If you are physically capable and can handle yourself, step up, and help. We will pair you up with our more experienced police and military veterans, and together you can keep people safe. It is time for all patriotic men to step up and stop this pattern of radical leftist assault that is aimed at suppressing free speech and assembly. It's time for YOU to step up. And if you can't be there in person, then support those who can with a donation. This will help us reimburse the expenses of our vetted volunteers.
For the Republic,
Stewart Rhodes
Founder of Oath Keepers
For more video and photos, see the article on our website here:
Help Us Prevent Leftist Assault of Trump Rally-Goers in MS and KY!
---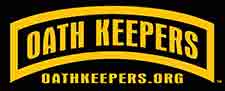 About Oath Keepers:
Oath Keepers is a non-partisan association of current and formerly serving military, reserves, National Guard, veterans, Peace Officers, and Fire Fighters who will fulfill the Oath we swore, with the support of like-minded citizens who take an Oath to stand with us, to support and defend the Constitution against all enemies, foreign and domestic, so help us, God. Our Oath is to the Constitution.
For more information, visit www.oathkeepers.org.