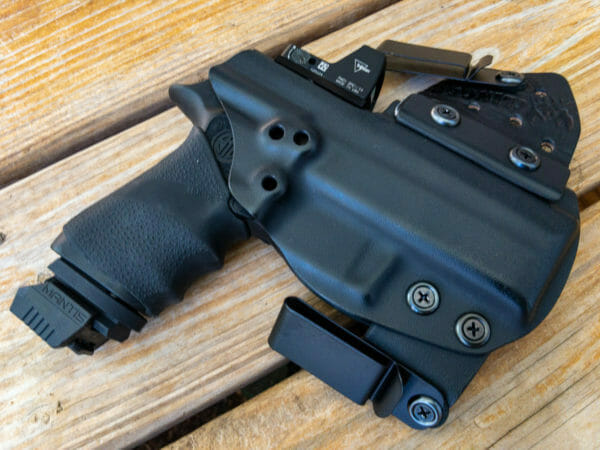 U.S.A. –-(Ammoland.com)- The Mantis X10 was named the "Best New Accessory of 2019" by the National Association of Sporting Goods Wholesalers (NASGW) and Professional Outdoor Media Association (POMA). Mantis Tech was presented with the award at the annual NASGW meeting on Tuesday, Oct. 22 in Orlando.
The Third Annual NASGW-POMA Caliber Awards honor the highest caliber new products in six product categories. The winners for each category are chosen by an independent panel of 18 industry professionals. The Caliber Awards offer a unique, unbiased approach to recognizing and honoring new innovative products. The voting panel is comprised of the people who buy and sell these products on a daily basis as well as the media members who review and report on these products in the field. Judges were asked to consider the uniqueness, market need, the value of the product, the ingenuity and presentation.
The all-new Mantis X10 attaches to any firearm and provides detailed analytics and feedback on shooting performance, including trigger control, shot timing, recoil control, holster draw analysis, and many other dimensions of dynamic shooting. The X10 provides analysis for pistols, rifles, and shotguns and works in dry fire, live fire, and simulated shooting environments.
"We're grateful to the efforts of NASGW and POMA in recognizing and rewarding innovation in the industry," says President Austin Allgaier. "We can't rely on political winds to blow the industry forward – we can only rely on innovative products that meet the needs of the evolving shooter. We're thrilled to play a small role in changing the way the industry works."

"With the pending public launch of 4 new products at SHOT Show 2019, our pace of innovation is only accelerating. Combining powerful electronics with complex software and big data, we're making tremendous breakthroughs in changing how we all shoot," says Allgaier.
---
About Mantis Tech
Founded in 2014, Mantis Tech has a singular mission: help all shooters suck less. Combining patented technology with mind-numbing algorithms, Mantis Tech is a self-declared innovation leader in an industry that declares a color change as revolutionary. With tens of thousands of shooters using Mantis products, including extensive law enforcement and military adoption, then trend is clear: shooters improve faster when using MantisX. Learn more at mantisx.com.