Opinion: Tom puts the Irish Setter Wingshooter Boots, Style 838 to work in the Idaho outback.
Idaho – -(AmmoLand.com)- When Katy and I first got married 35 yrs. ago she bought me a pair of Browning ostrich leather boots. The old forest green ones. I haven't had a pair of Wingshooter boots since then. They are great for pheasant hunting in Nebraska, South Dakota and Kansas but where I live in Idaho everyone wears hiking boots.
Maybe I got nostalgic or something but I'm going to the 2019 Annual Minnesota Governor's Deer Opener in a few weeks and thought the Irish Setter Wingshooters would work great there. They'd also work great to run over to my buddy's ranch in SE Idaho and hunt sharp-tail grouse.
I imagine on the Minnesota hunt they'll have me hunt with a landowner and he'll put me in a blind but if we go walking the fields and woodlands the Irish Setter Wingshooters will fit right into that scenario perfectly too. Anyway, for whatever reason, I thought I had to have a pair. After getting a pair I know that I'm going to find myself wearing them around town for casual wear a lot too and even to Church on snowy days. They're going to work great for bird hunting but are comfortable, nice looking and will also be good in snow/inclement weather when in town.
There are a lot of boot companies out there nowadays but I find myself the last few years only wearing Irish Setters. They fit my feet great, they're well-made boots and they look nice. What else can you ask for? Look cool and have functional gear!
The last few decades all that I've worn other than intermittently are hiking boot. When I lived in Colorado and then the last 20 yrs. in Idaho, I put on a lot of miles scrambling up and down mountains elk hunting and backpacking. I don't want some big clunky boot dragging me down. Thus, the switch over to wearing a mid-size hiking boot which usually has about a 6-inch top.
The Irish Setter Wingshooter Boots are advertised as being 7" tall. I'm not a boot connoisseur but if you measure them from the bottom of the sole, they're 7 ½" and from the top of the sole 6 ½". So no matter how you measure them, they're about 1" taller tops than most of my hiking boots.
I'm not saying the taller tops are a bad thing. In fact, I like them. They are a little safer in rattlesnake country (or at least makes me think so) and we for sure have plenty on the high desert here in Idaho. But they also provide better ankle support. Another thing is that when the deep snows hit, regardless of if you wear gaiters or not the snow always comes in over the top of my hiking boots. 7" tall boots are a minimum for deep snow.
As stated above I haven't worn tall lace-up boots much in the last 20 yrs. so I must admit, when I first put them on, they seemed a little restrictive but I soon got used to them and liked them. If you're strictly a hiking boot kind of guy and it freaks you out too bad, then you can not use the top lace and that will let the boot bend as you walk and will feel like you only have on mid-height hiking boots.
So as we come to a close, if you're a bird hunter and are in the market for a good wing shooting boot, check out the Irish Setter Wingshooter Boots. For an MSRP of only $179.99 they're a good deal. What I didn't realize until just now is that this is the boot that put Irish Setter on the map.
And as is usual, we will close with the specs.
Irish Setter Wingshooter Boots, Style 838 SPECS:
Upper Leather Full Grain, Waterproof
Footbed Removable Polyurethane
Construction Goodyear Leather Welt
Shank Steel
Waterproof UltraDry™ Waterproofing System
Insulation Non-Insulated
Outsole Prairie – White
Last 325
Height 7-inch
Counter Heel-Molded
Lining Moisture Wicking Nylon
---
About Tom Claycomb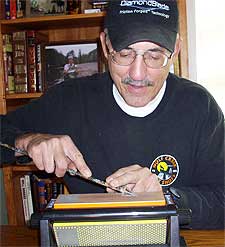 Tom Claycomb has been an avid hunter/fisherman throughout his life as well as an outdoors writer with outdoor columns in the magazine Hunt Alaska, Bass Pro Shops, Bowhunter.net, and freelances for numerous magazines and newspapers. "To properly skin your animal, you will need a sharp knife. I have an e-article on Amazon Kindle titled Knife Sharpening for $.99 if you're having trouble."
Disclosure: Some of the links below are affiliate links, meaning at no additional cost to you, Ammoland will earn a commission if you click through and make a purchase.