Idaho – -(AmmoLand.com)- If you read my recent Product Review on the Pachmayr Blacktail then you know that I was commenting on having a good but hectic life and that I have been traveling a bit lately. If you talk to my lovely wife though she might bring up that four days after getting home from the latest trip that I'm planning a backpacking trip into the Frank Church River of No Return Wilderness Area. For that trip, I plan on carrying the new Pachmayr Griffin folder.
Of course, before going on a backcountry excursion it is smart to first semi test out new products at home whenever possible. The backcountry is no place to experience a product failure. That can be all the way from inconvenient to life-threatening. Especially if you're by yourself which I plan on being during this trip.
Upon removing the Pachmayr Griffin from the package I was struck with its good looks. It has an attractive renegade wood handle. I wasn't sure what Renegade wood was so I checked out the Lyman website. It appears that they make a Pachmayr Renegade Wood Laminate pistol grips. So I assume it is made along the same lines and is polished laminated wood.
I know a lot of the new composite handles are more durable but to me, nothing is as pretty as a wood handle other than maybe a stag horned handle knife. Same with a rifle. Sure, I've got plenty of plastic stocked rifles but I still think a nice walnut stock is the ultimate for looks. And if you want a wood stock that is really sporty, check out Boyds Gunstocks. So, when I saw the rosewood handle, I automatically gave it a good grade.
The Pachmayr Griffin utilizes a liner lock. The liner lock on the Pachmayr Griffin flares out on the end to provide for more contact surface which further ensures a good lock.
As with the Pachmayr Blacktail that I recently reviewed, the Pachmayr Griffin also came from the factory pretty sharp. In fact, a hair sharper than the Blacktail. Or maybe I had just used the Blacktail a little before doing a comparison test.
The Pachmayr Griffin fits my hand. The handle is just long enough to fill my hand and with the wood handles, I feel like that I have a firm grip. The handle has a slight finger groove and if your pointer finger did slide up, it would hit the flipper. The spine has thumb grooves that are a little aggressive so they firmly hold my thumb in place.
It comes with a reversible pocket clip and a hole if you like lanyards. So, if you are in the market for what I would classify as a larger profile, good looking EDC folder then you ought to take a look at the Pachmayr Griffin. With an MSRP of only $27.98, it is a good deal for such a functional, good looking knife.
Pachmayr Griffin Folding Knife SPECS:

Open length 7.80"
Blade length 3.45"
Renegade wood handle
Blade design. Drop point style blade. But the spine is ground down enough so that it has a sharp point which will make if functional for all of your stabbing jobs.
Overall weight is 4.3 oz
5Cr14Mov steel folding knife with a satin finish

DESCRIPTION FROM THE PACHMAYR WEBSITE: The Griffin is a master class workman's knife. The classic renegade wood handle and clean satin finish give this knife a very sophisticated look. This knife is the perfect addition to your everyday carry items and will hold up to the test of your everyday needs.
---
About Tom Claycomb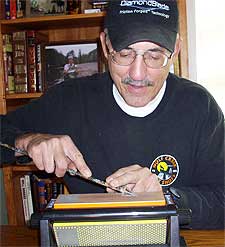 Tom Claycomb has been an avid hunter/fisherman throughout his life as well as an outdoors writer with outdoor columns in the magazine Hunt Alaska, Bass Pro Shops, Bowhunter.net, and freelances for numerous magazines and newspapers. "To properly skin your animal, you will need a sharp knife. I have an e-article on Amazon Kindle titled Knife Sharpening #Ad for $.99 if you're having trouble."
Disclosure: Some of the links below are affiliate links, meaning at no additional cost to you, Ammoland will earn a commission if you click through and make a purchase.