Comer, Ga. (Ammoland.com) – MasterPiece Arms (MPA), manufacturers of the MPA BA Rifles and Chassis Systems, was recently surveyed to be the number one chassis/stock system used by Precision Rifle Series (PRS) members in the PRS Gear Survey. MPA was also surveyed as the number two scope mount and number three brake. The results are generated from the gear that PRS members select in their shooter profile.
"We are honored to have been named the most used chassis and the second most used scope mount amongst our fellow PRS members. We are continuously improving our designs based on the feedback we receive at matches and our own experience using our products. Without these important interactions at matches and events throughout the year, we wouldn't be where we are today, so we thank the PRS community for continuing to believe in us and our products. We look forward to developing even more revolutionary products with the long-range precision shooter in mind," commented Phil Cashin, MPA President.
The MPA BA Competition Chassis is the competition version of MPA's highly successful MPA BA Chassis System. It has been named the number one chassis in the PRS every year since 2016. It is designed to give shooters a competitive advantage when shooting in long-range tactical rifle competitions, such as the PRS. In addition to the standard chassis features, it has been enhanced with the Spigot Mount V4 Design that attaches to the front of the forend to give the shooter additional space to mount their bipod and the Ultra Bag Rider attachment for better rear bag recoil management. MSRP ranges from $999 – $1,150.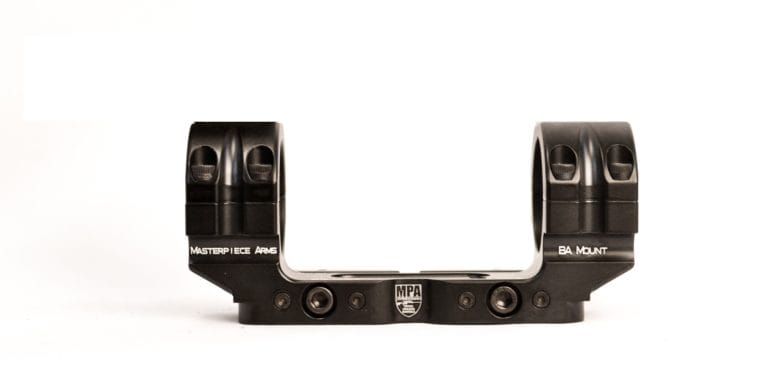 The MPA BA Bolt Action Mount is made for mounting high-performance optics onto bolt action rifles with Picatinny rail scope bases. This mounting system provides the shooter with the ability to confidently move the optic/mount to multiple rifles with simple windage and elevation adjustments. It is precision machined from 6061 T6 aluminum and finished in hard coat T3 Mil-Spec anodize. The interface ensures positive engagement for both in spec and out of spec rail systems and provides an absolute return to zero via multiple locking lugs located on the bottom of the rail interface. MPA's NATO spec rail interface system pulls the mount onto the top of the Picatinny rail, providing over 200 percent more rail contact than other competitive mounting systems that pinch the rail. MSRP $249.00 – $249.99.
The PRS is the preeminent rifle organization in the world, structuring a yearly point race for both the PRS Bolt Gun Series and the PRS Regional Series. The PRS Championship Shooting Series is synonymous with precision rifle shooting. The PRS is home to countless competitors, including 5,000 active PRS shooters with scores being tracked. The PRS unites the 40 most renowned national pro series precision rifle competitions and continues to expand the PRS Regional Series, which hosts hundreds of one-day matches from coast to coast. The PRS is recognized as the leading organizing body for local, regional and national matches, tracking of scores and the growth of the practical, long-range rifle discipline. The PRS is committed to working alongside its partners to deliver a world-class PRS Organization.
For more information on MasterPiece Arms and their product line of rifles, chassis systems, and accessories, visit www.masterpiecearms.com.
---
About MasterPiece Arms:
MasterPiece Arms main offices, located in Comer, Georgia, combines quality engineering and state-of-the-art manufacturing to design and produce firearms, such as highly successful BA Rifles and Chassis Systems. Masterpiece Arms uses high accuracy CNC machining, turning, barrel making, laser cutting and bending in its manufacturing process controlled by their ISO9002/TS16949 Registered Quality System.
MPA engineers test and retest our weapons to provide customers with one of the most enjoyable guns available. With versatile uses, such as personal and home protection, long-range shooting, hunting, and tactical interests, MPA products are one of a kind and backed by a lifetime warranty for original owners. Learn more about MasterPiece Arms products at www.masterpiecearms.com or call 866.803.0000.
MasterPiece Arms is on Facebook at www.facebook.com/MasterPieceArms.