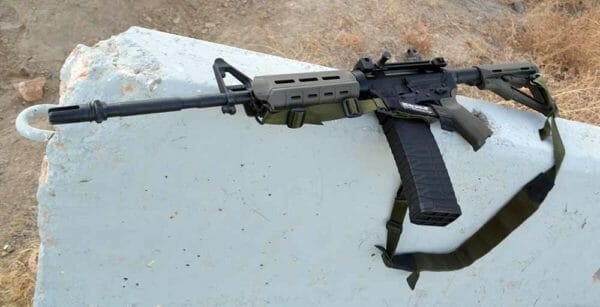 U.S.A. –-(Ammoland.com)- In 2018, Palmetto State Armory sent me one of their PSA-15 MOE Freedom rifles chambered in 5.56, and between my initial testing and many range sessions, I found this rifle to be an exceptional bargain. Earlier this year I converted it to a piston gun with a side-charging upper conversion and the rifle continues to be my go-to rifle when testing new products.
I decided to try it out with two accessories I happened upon recently: A CMC Curved trigger and a Schmeisser magazine imported by ATI. And one I have been running for close to a year on a variety of rifles, a Sly Tactical two-point sling. Let's talk slings, first.
One of the most essential pieces of gear for a long gun is the sling. Unfortunately, most shooters often neglect this component or use a cheap "carrying strap". From the beginning of my shooting career I have searched high and low for "the perfect sling" and I think I may have found it in the slings made by Sly Tactical.
Properly Using a Sling
When most of us think of a rifle sling, we call to mind leather or nylon straps that attach at two points so that the rifle can be carried on the shoulder for hunting trips. In many cases, this is a necessity as you might be returning from a hunt and hauling a dressed game animal or maybe skiing while hunting in certain areas and otherwise have your hands full. If you are a police officer, security guard or servicemember. You may have to "sling arms" because you are on your feet with a long gun for 14 hours at a clip. For these reasons most people rightfully think of the $20 "carry strap".
The other purpose of the sling is to help stabilize the rifle for a more accurate shooting platform. Bipods becoming more commonplace on rifles has pushed this to the side but if you have ever watched a long-distance match with military rifles and iron sights (DCM, CMP, Camp Perry, etc.) you have probably seen thick leather military-type slings in use with the rear end of the sling tightened on the shooter's bicep. These slings work as shooter's aids and hold the rifle rigid with tension and greatly aid with accuracy.
Unfortunately, it does not help in transporting the rifle and the set-up time is a bit lengthy and involved.
One compromise is to rig a "hasty sling" where the sling is attached to the rifle in a normal fashion and the shooter shortens the slack and wraps the forward "loop" around their non-shooting arm for more stability. It's not as ideal as a Turner Saddlery National match sling with the rear loop cuffed on the bicep, but it's often enough to make a noticeable difference. The slings of Sly Tactical excel in this role.
Sly Tactical's Story
Like much of the successful companies in the tactical arena, Sly Tactical was born out of necessity. Company founder and president, Kevin McCarthy, was a law enforcement officer in California assigned to both a SWAT team and a specialized unit that was responsible for the majority of high-risk operations.
He founded the company because he grew tired of purchasing numerous pieces of equipment to find the right piece that suited his needs. While working, he made numerous modifications to most of the equipment he purchased and used to address the shortcomings he encountered. Upon retiring, he took those ideas and started producing his own slings and sling attachments.
The Sly Tactical Quick Conversion Sling gives the user the option to run the sling as a single-point or two-point system. You can quickly and easily transition from shoulder to shoulder with the single-point or quickly convert to a two-point if necessary.
This is largely due to a thumb tab near the front mount and a single-point buckle on the rear. To convert to a single-point sling, you disconnect the front of the sling from the rifle and attach it to a single-point buckle near the stock.
The placement of the Sly Tactical thumb tab allows the shooter's thumb to ride alongside the gate as opposed to underneath it, thus allowing the user to fully and easily open the gate without having to worry about the thumb interfering or glove tips getting caught in between the gate and the hook.
You can easily tighten up or give slack as needed.
If you're looking for a nice tactical sling, check them out here. Their HK-style hook attachments are unbelievable, too.
The heart of a rifle might be its barrel, but the trigger is definitely its soul. CMC has been making quality AR triggers for years. Unfortunately, I stayed away from them.
I was probably against the straight flat-faced trigger they made for so long because I like the comfortable muscle memory of a curved trigger on my AR. Having shot ARs, M16s, and M4s for 33 years now, my trigger finger placement is second nature to me on these rifles.
So when I was given one to test out at a Blue August Media event in October, I was pretty enthusiastic about it.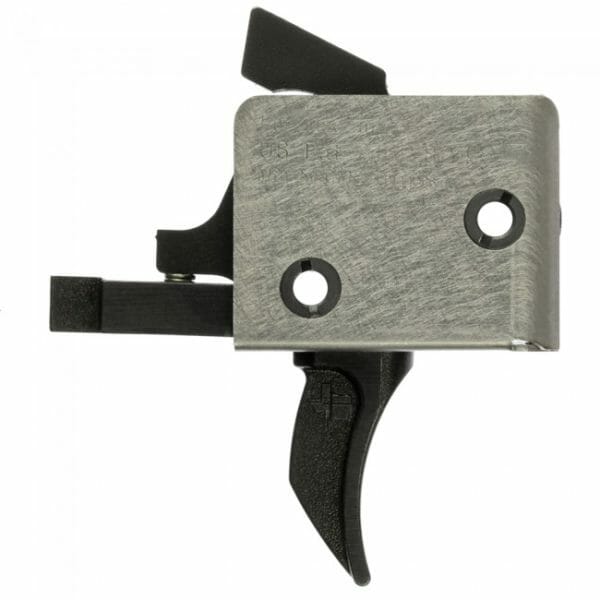 Installation is easy and requires CMC's hammer and trigger anti-walk pins with screw caps (included). Go slow and easy when setting the pins as they are a tight fit and are threaded internally. I capped the sides I was tapping on with the hammer and pin so as not to wreck anything.
The CCT is a Single Stage Match Trigger with a fixed pull weight of 3.5 pounds. It is very crisp with no feel of any sort of creep prior to hammer release and breaks like glass with no grittiness. The reset is positive and quick allowing quick follow up shots.
Minimal lock time is designed into the assembly using controlled hammer weight and balance activated by a rocket wire hammer spring, assuring repeatable function with either commercial or military-grade ammunition.
It is hand-assembled and hand-tested in a completely self-contained one-piece drop-in assembly.
It is one of the better feeling triggers I have tried in a rifle as far as a single-stage goes.  I have been to the range at least six times with it since I installed it and kind of regret not giving their "flatties" a better shake in the past.
The MSRP is $195. For more information check out their website.
American Tactical has partnered with German arms manufacturer Schmeisser GmbH to exclusively import and distribute the Schemisser S60 60-round AR-15 magazine.  The glass-reinforced polymer magazine features a unique follower system that allows for double capacity from a normal AR magazine without being bulky or cumbersome.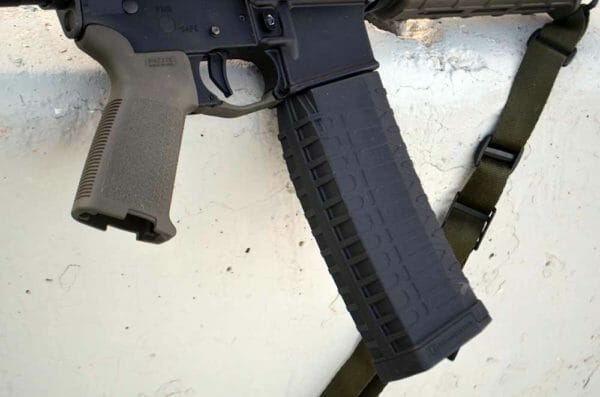 I was a bit skeptical as I typically find AR magazines holding more than 30 rounds to end up being problematic. After shooting one flawlessly at the previously mentioned Blue August media event, I asked ATI to send me one for further evaluation.
In both full auto and semi-auto the mag functions flawlessly with every type of 5.56 we have tried in it. I have tried it in other rifles, too.
It does get heavy and if I were using one as a police officer or serviceman, I would definitely keep it in a magazine pouch if I found myself standing for long periods of time but it's the first one I would want in the rifle if I was in a firefight.
300 Blackout will not work in these magazines. A failure with the magazine and 300 BO will void the warranty, so don't do it. The magazine springs are under a huge amount of tension, so be careful when disassembling one of them as there is a risk for parts launching and potential injury.
Aside from that, this magazine will make you go out and invest in a magazine loader. My old GI stripper clip zipper does not quite fit on the rear of the magazine as it does on GI mags and after about the 40th round it gets a bit tiring.
For more information see ATI's website. For you last-minute Christmas shoppers, this one retails for $69.95 from ATI.
---
About Mike Searson
Mike Searson's career as a shooter began as a Marine Rifleman at age 17. He has worked in the firearms industry his entire adult life as a Gunsmith, Ballistician, Consultant, Salesman, Author, and was first certified to teach firearms safety in 1989.
Mike has written over 2000 articles for several magazines, websites, and newsletters, including Blade, RECOIL, OFF-GRID, Tactical Officer, SWAT, Tactical World, Gun Digest, Examiner.com and the US Concealed Carry Association as well as AmmoLand Shooting Sports News.
Home page: www.mikesearson.com
FB: www.facebook.com/mike.searson
TWITTER: www.twitter.com/mikesearson
Some of the links on this page are affiliate links, meaning at no additional cost to you, Ammoland will earn a commission if you click through and make a purchase.