U.S.A. –-(Ammoland.com)- You'd think bow hunting would be pretty simple, wouldn't you? I mean how complicated can it be. All that you have is a stick, a string and a handful of arrows. Well, that statement might have been true back in the caveman days but with the advent of the compound bows that we have nowadays, things have gotten a lot more complicated. Many times you need to make adjustments while out hunting in the mountains or even at the range. That's where the Buck Bow TRX comes in.
As finicky as bows are it's smart to carry a few tools to rectify any problems you may encounter. The Buck Bow TRX has all the tools that I am competent enough to use while working on my bow. You can see below in the "Specs" all the options it provides.
If you've bow hunted for any length of time then you know what I'm talking about. On a high-country deer hunt in Colorado 40 yrs. ago the rest fell off my bow. Needless to say, that caused shooting issues.
Then about 8-10 yrs. ago we had Joe White on an elk hunt here in Idaho. I was up there for a week or so. One day I looked down and noticed that the clasp had fallen off of my Little Bitty Goose release. Luckily I met another bowhunter that owned an archery shop down in the valley. His kid was coming up hunting the next day. He called him and told him to bring me one up. What a lifesaver. Thanks, Archery Central.
But before the new release got delivered, we had a bull coming in from both ways while calling that afternoon. One of them was at about 25 yards.
Then another time on a Colorado antelope hunt I dropped my bow and unbeknownst to me until I missed an antelope at 20 yds. by 1 ½ foot that I had knocked out of whack my pins.
A lot of breakdowns you might not be able to fix. Like a buddy of mine. His mom dropped him off on a ranch for an all-day bow hunt. As she was driving off, he sliced his bowstring in half while crawling through a barb wire fence. He had to watch deer all day and not be able to even take a shot. That's why it's smart to carry two bows. But a lot of disasters you can fix yourself if you have the right tools. Carrying a Buck Bow TRX is just one more item that slants the odds in your favor. Don't leave home without it.
For an MRSP of $33.00, you can buy a Buck Bow TRX and eliminate a few problems out of your bowhunting equation. And as is the norm, we will close on the specs.
Buck's Bow TRX puts 17 archery tools in the palm of your hand. It utilizes a folding design with locking scissors and 2″ blade. Stow and carry in the included heavy-duty nylon pouch.
Buck Knives 738 Bow TRX Components:
Plain edge knife blade
Scissors
Torx bits: T6, T8, T9, T10, T15, T20, T25, T30
Phillips #2 screwdriver (PH2)
Flat head #2 screwdriver
Buck Knives 738 Bow TRX Specs:
Tools:17
Closed Length:3.125″
Thickness:1.85″
Color: Green
Blade Length:2.00″
Weight:8.19 oz.
Locking Blade: Yes
Sheath: Nylon
Brand: Buck
---
About Tom Claycomb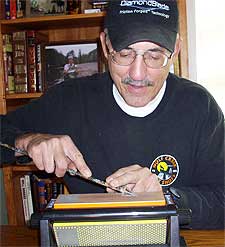 Tom Claycomb has been an avid hunter/fisherman throughout his life as well as an outdoors writer with outdoor columns in the magazine Hunt Alaska, Bass Pro Shops, Bowhunter.net, and freelances for numerous magazines and newspapers. "To properly skin your animal, you will need a sharp knife. I have an e-article on Amazon Kindle titled Knife Sharpening for $.99 if you're having trouble."