Opinion
USA – -(AmmoLand.com)- Uniformly characterizing themselves as concerned citizens working together "to end gun violence," gun prohibition lobbying groups from the Commonwealth of Virginia to the Cascades of Washington and Oregon are using the holidays to raise funds for what promises to be a combative new year in their efforts to reduce the right to keep and bear arms to a government-regulated privilege.
At least, that's how Second Amendment activists from the Potomac River to Puget Sound and Portland look at it, and they only need point to the proposed agendas of organizations including anti-gun billionaire Michael Bloomberg's Everytown for Gun Safety to Seattle's Alliance for Gun Responsibility and Portland's Lift Every Voice Oregon for proof. The latter group, a self-described "coalition of faith-based communities" has just launched a new effort to regulate so-called "assault-style weapons," according to KGW News.
The report says this group "will embark on a two-pronged initiative effort targeting the sale of assault-style rifles and magazine sizes. If successful, they would be on the November 2020 ballot."
They plan a pair of initiatives, one to require background checks (that are already required), plus training, a five-day waiting period and no sales of such firearms to anyone under age 21. A second measure will limit magazine capacity to ten rounds of less for so-called "assault-style rifles."
AmmoLand News previously exposed the sweeping gun control agenda of the Alliance for Gun Responsibility aimed at Washington residents.
And now Everytown, which Bloomberg helped found and bankroll, has launched the Everytown Victory Fund to match what it fears will be multi-million-dollar spending by the National Rifle Association to "re-elect Donald Trump and keep control over the Senate."
The fund-raising sales pitches from all of these groups may read differently but say the same thing. They are looking to pass more restrictive laws that will essentially discourage Americans from exercising their state and federal firearms rights. As noted in the recent money beg from the billionaire-backed Alliance in Seattle—looking ahead to January's legislative session in the state capitol at Olympia—"we have the opportunity to enact more innovative policies that will close deadly loopholes, keep guns out of dangerous hands, and ensure our existing laws are effectively implemented."
Everytown's message tells potential donors, "The Victory Fund exists for one single reason: To destroy the NRA's stranglehold on politics in Washington by electing Gun Sense Candidates and defeating gun lobby-backed politicians." Nothing could be plainer than that.
In Virginia, Culpepper County Sheriff Scott Jenkins has promised to deputize citizens in his county if Democrats now controlling the Assembly move forward on threatened gun control legislation.
Meanwhile, out in Colorado, CPR News is reporting that Democrats in Denver are "poised to make a bid for stricter gun policies during the 2020 legislative session" as well.
It is as if Democrats believe their last stand could be coming with the new year, and they want to make the most of it. This is happening after "at least a dozen Colorado counties have designated themselves 'Second Amendment Sanctuaries' and said they will not enforce…red flag laws because it violates the Constitution."
Through it all, gun control crusaders portray themselves as defenders of public safety, while continuing to demonize anyone or any entity that stands in their way, be it the NRA or any other Second Amendment organization.
The Centennial State situation might best be summed up in the words of Dick Wadhams, former chair of the Colorado State Republican Party. Quoted by CPR News, he said about gun control efforts, "Just like red flag, these bills sound good on the surface but underneath there could be an extraordinary abuse of gun rights with no increase of public safety."
This has long been the position of Alan Gottlieb, chairman of the Citizens Committee for the Right to Keep and Bear Arms and founder of the Second Amendment Foundation. Often he has cautioned that "the Devil is always in the details," and rarely has that advice been wrong.
The next 11 months leading up to the 2020 elections will be politically brutal, that much appears certain. Gun rights activists seem at times to be fighting an uphill battle in their efforts to rouse gun owners out of their lethargy. Legislative sessions begin in January, and that's when Second Amendment advocates will get the full measure of what they will face if Democrats take control of Congress and the White House.
The proverbial writing is not only on the walls, it's on the front page of every newspaper, in the headlines found online from major news agencies and in the language of legislation both state and federal that the gun prohibition lobby hopes to make law either this year or in 2021 when they hope there will no longer be any barriers to their agenda.
---
About Dave Workman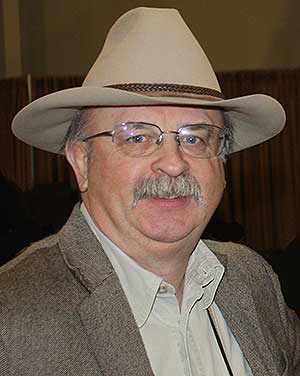 Dave Workman is a senior editor at TheGunMag.com and Liberty Park Press, author of multiple books on the Right to Keep & Bear Arms and formerly an NRA-certified firearms instructor.