U.S.A. –-(Ammoland.com)- Over the summer Palmetto State Armory sent me an AKP to review, which you can read here. Then Ammoland writer and YouTuber GB Guns purchased and reviewed a redwood AKP with the new side-folding triangle brace from PSA, which you can also read here. The AKP for those who do not know is a 10.5" AK-47 pistol that was nothing short of impressive during my time with it.
Lead Star Arms has taken Palmetto's AKP and given it just about every cosmetic and functional upgrade the platform could manage. The end result is the Lead Star Arms Barrage.
Lead Star Arms Barrage AK-47 7.62X39MM Pistol
At a glance you can tell the Barrage is most certainly not your classic wood furniture Kalashnikov you are familiar with. You may be equally unfamiliar with Lead Star Arms, so here is a background: they specialize in customizing firearms, mainly for competitions like PCC. The Barrage is Lead Star's first venture into upgrading AK pattern firearms from Palmetto State Armory.
Lead Star Arms Barrage Features:
Proprietary Patent Pending Combloc+ blended Hammer Forged 4340 Aircraft Quality Steel Trunnion
Ravage AR / AK Stock Adapter w/ 2 QD Mounts
Fixed Front Sight/Gas Block Combo and Integrated Rear Dovetail Sight
SB Tactical SBA4 Pistol Brace
LSA Ravage M-Lok Compatible Handguard – Picatinny at 12 o'clock, M-Lok slots at the 3,6, & 9 o'clock positions
Ravage Receiver Endplate with QD Mount
"Return to Zero" Picatinny Pivoting Top Cover
Muzzle Device: Lead Star ZHIR Compensator
Safety: LSA Enhanced Notched Safety Selector
Trigger: ALG Enhanced AK w/ Lighting Bow
Lead Star Arms Specs:
Caliber: 7.62x39mm
Receiver Material: 4130 Steel
Barrel Length: 10.5″
Barrel Material: 4150 CrMoV
Barrel Finish: Nitride
Bolt: 4140 Hammer Forged Steel
Carrier: 4140 Hammer Forged Steel with Stainless Steel Piston
Thread pitch on the barrel: M14 x 1 1/2 LH.
Comparing the Barrage to the PSA's AKP is a little bit nuanced given both pistols are built around the same receiver and barrel. My favorite upgrade featured on the Barrage is the ALG Enhanced AK trigger which completely changes an AK trigger and makes it immeasurably better than the standard. LeadStar also went the extra mile by including an Enhanced Safety selector, which makes activating the safety possible without shifting your grip hand. Perhaps one difference easily overlooked by the other obvious upgrades is the Combloc hammer forged 4340 Steel Trunion. The trunnions on PSA's AK rifles and pistols are notoriously strong, but Lead Star has added strength to that by using aircraft quality steel.
Perhaps the only cosmetic upgrade the Barrage really needs is the triangle folding brace from PSA! Although SB Tactical's SBA4 Adjustable Brace is one of the best options on the market today, the new side-folding triangle brace from PSA is by far my favorite option for AK pistols. PSA has developed this brace and has started to include it on some of their AKP models that AmmoLand has reviewed here.
---
About Duncan Johnson: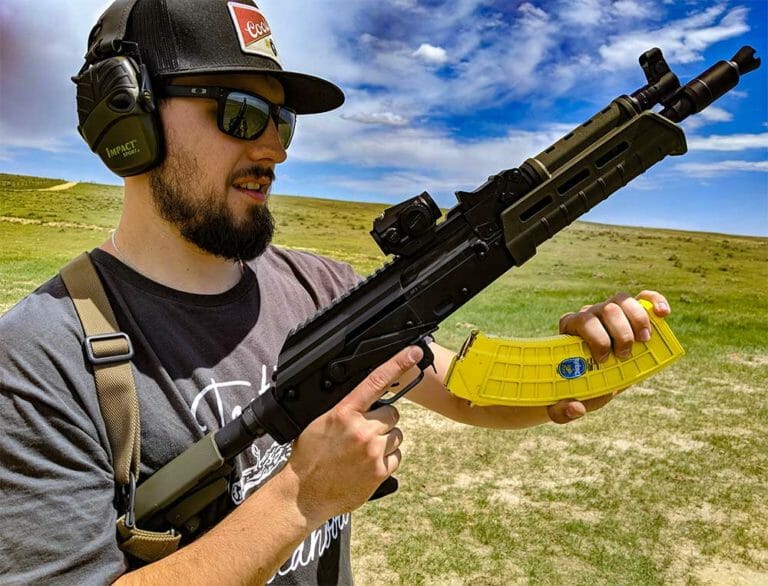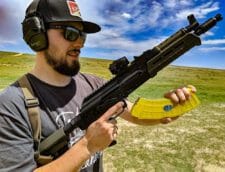 Duncan is a firm believer in the Second Amendment and that "shall not be infringed", means exactly that. A life-long firearms enthusiast and a graduate of George Mason University, now competing regularly in 3 gun competitions, Duncan is always looking to improve his shooting skills. Duncan is a regular contributor to AmmoLand and assists in the everyday gun-news publishing as an assistant editor.