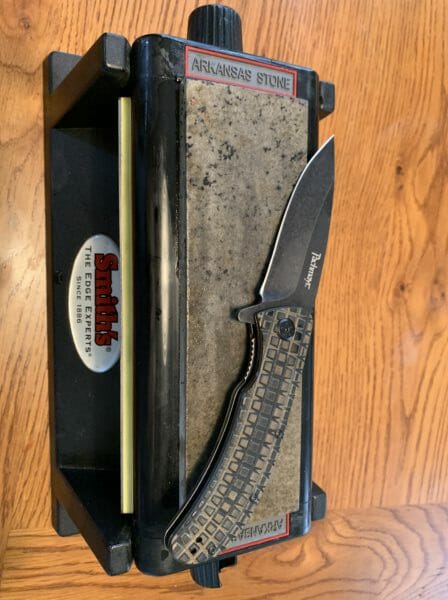 U.S.A. –-(Ammoland.com)- I recently received a Pachmayr Grappler locking folder to test. As soon as I pulled it out of the package, I liked it. It has a good stout feel to it. I love the feel of the handle. It is a G10 handle with an aggressive pattern cut to help secure your grip.
I'd classify it as a larger folder. Closed it is 4 7/8" long. It has a drop point blade but the spine is angled down towards the tip starting at about the middle of the spine so it has a definite point which you need for stabbing cuts on your EDC. The blade is semi-wide measuring in at 1 1/8".
As I've alluded to above, when you grab it you will have a firm grip due to the thumb grooves on the back of the spine, the flipper that also acts as a finger guard, a finger groove for you pointer finger and then the scale pattern cut into the G10 handle. It is a little bigger knife than a lot of folders on the market so it should fit people with larger hands.
Other features: It has a reversible pocket clip but it doesn't have a hole for a lanyard. I think lanyards look cool on knives but I don't ever tie one on because I'm afraid that they'll hang on something and pull the knife out of my pocket thereby causing me to lose it. So even though I think a leather thong lanyard looks cool, I never use one.
It came from the factory pretty sharp, in fact, I was able to shave with it but you know me, I had to touch it up a little to get it razor sharp so I grabbed my Smith's Consumer Products 8" Diamond Tri-hone out of the garage and set it up on the dining room table.
I ran the Pachmayr Grappler backwards a few strokes on the fine diamond stone and then oiled up the Arkansas stone and finished it up. Good, now it was razor-sharp. So, that answers the question. Can it be easily sharpened? The answer, yes.
So, if you're looking for a stout looking, larger locking folder you need to check out the Pachmayr Grappler. It comes in two color options. Grey/Black or Green/Black. I find the Green/Black color very attractive and went with that.
The Pachmayr Grappler is a nice looking, stoutly built locking folder knife for an MSRP or only $27.98. And as usual, we'll close with the specs.
SPECS:
Size: OAL: 8" BL: 3.40" BT: .13"
G10 handle, drop point style blade
Overall weight is 4.6 oz
8Cr14Mov steel folding knife with a black stonewash finish
The Grappler is your everyday tactical carry. From its drop point blade and satin finish to its uniquely textured G10 handle this knife will perform for all your EDC needs. As a pocket carry or full kit addition this blade will stand out as a must have for any situation.
---
About Tom Claycomb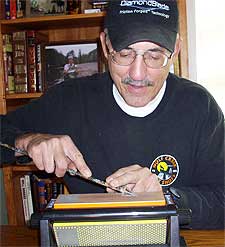 Tom Claycomb has been an avid hunter/fisherman throughout his life as well as an outdoors writer with outdoor columns in the magazine Hunt Alaska, Bass Pro Shops, Bowhunter.net, and freelances for numerous magazines and newspapers. "To properly skin your animal, you will need a sharp knife. I have an e-article on Amazon Kindle titled Knife Sharpening for $.99 if you're having trouble."