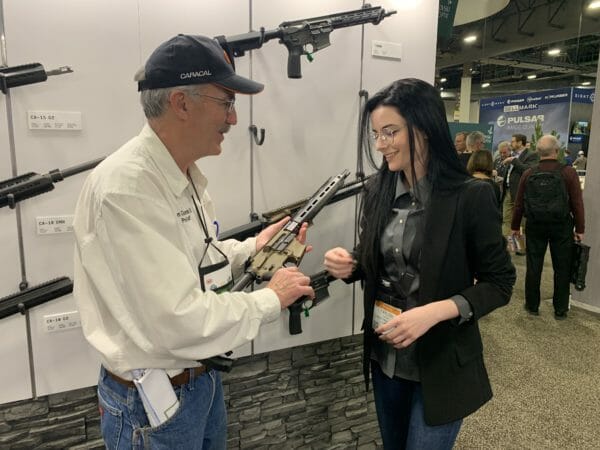 U.S.A. –-(Ammoland.com)- The first day of SHOT 2020 kicked off with a breakfast with the AmmoLand News crew. It was good to get to see everyone and catch up. AmmoLand is a huge success story. As soon as we left the breakfast it was full bore ahead.
My day was packed with meeting various companies. I'll cover a few of the highlights of interesting products that I saw and will soon be testing.
ADVENTURE MEDICAL KITS
They own the market on first aid kits and have branched out and have some new water filtration systems which I will soon be testing.
Universal Intrepid Bottle
Pioneer system
They also have some pepper spray options.
Tick repellent. With the rise in Lyme's disease, I want to test this out.
The next booth that I hit was the Case Knives booth. As you know, they are an old-school well-established knife company. A few things that caught my eye was the Winkler Pack Axe as well as a lot of cool knives.
RIFLE AMMO
Next was Rifle Ammo which produces an unbelievable number of pellets. I do a lot with airguns so I am interested in testing out some of their new pellets which they boast will compete in accuracy with JSB, which is the leading pellet manufacturer in accurate pellets.
OTIS
I've worked with Otis for years and as you know, they make superb gun cleaning products. They have a Long-Term Storage Kit which I want to review and write a Product Review on. Another interesting product is the Lead Remover Hand Wipes. As stated above, I do a lot with airguns and as you know, you get a lot of lead on your hands while shooting airguns. In the breakfast this morning Fredy talked about a well-known outdoor writer that had recently died from lead complications from shooting so much.
KENT
It is always good to talk to marketing guru Kevin Howard which is one of the most respected names in the outdoors. Figuring out how to include Kent in some dove, varmint and duck hunts this year. More to follow.
BENCHMADE
For all of you Benchmade fans, they have some new offerings this year in:
Everyday Carry
Limited knives
Black Class
I looked at a lot of cool offerings but I for sure want top check out their Bug-out knife. It has a CF handle (Carbon Fiber) and is a thin profile knife that is comfortable to carry. My daughter and I will test it out on our backpacking trips this summer. Their pocket clips are about half the size as other manufacturers which helps make them more streamlined.
SMITH CONSUMER PRODUCTS
I have worked with Smith's for years. They have the best knife sharpening gear on the market. I love their 8-inch Tri-hone system and them 6-inch fine diamond stone. For sharpening serrated edges use their diamond pen steel. They also came out with a line of knives and have many offerings. I have Knife Sharpening seminars at their booth # 12515 Tuesday, Wednesday, and Thursday. Drop by and say hi.
SAFE SHOOT
This is an Israeli company and they have a unique SafeShoot system. I wrote articles on their product a few years ago and will do more in the near future. Be keeping watch for upcoming articles.
TUFFY PACKS
They make bulletproof plates to insert in your backpack. Interesting. I am going to have to test them.
ELEY AMMO
Hands down, Eley makes the best .22 ammo on the market. In the near future, I will be tricking out a
Ruger 10/22. I'll put on a Boyd's Stock, Ruger trigger, Riton Optics scope and using Eley ammo to obtain optimum groups.
HKS
They make great speedloaders for revolvers. I know semi-auto pistols are the rage, but when you're in the backcountry and it is life-threatening, I carry a revolver. Check out HKS speedloaders.
CHRISTENSEN ARMS
I finally met up with Taylor at Christensen Arms. They have a lot of cool rifle. I want to test their bolt action .22 rifle on my spring ground squirrel hunts. I'll mount on a Riton Optics scope and put the hurt of them. Then I'd like to test out one of their AR's on a Texas hog hunt.
PYRAMID AIR/AIR VENTURA
I love Kristen at Air Ventura and have dealt with her for years. I am about to test their portable PCP air compressor (if I can ever get home!). They have a cool M1 Garand airgun, Ruger 10/22 and even an M1 carbine airgun. If it is airgun related, they have the coolest.
After trying to get out of the American version of Siberia for five days (South Dakota) I am ragged out and going to bed so I can hit it hard again tomorrow Zzzzzzzzzzzzzzzz.
---
About Tom Claycomb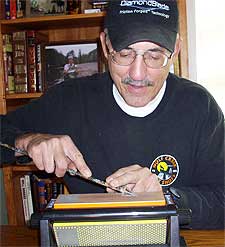 Tom Claycomb has been an avid hunter/fisherman throughout his life as well as an outdoors writer with outdoor columns in the magazine Hunt Alaska, Bass Pro Shops, Bowhunter.net and freelances for numerous magazines and newspapers. "To properly skin your animal, you will need a sharp knife. I have an e-article on Amazon Kindle titled Knife Sharpening #ad for $.99 if you're having trouble."