U.S.A. –-(Ammoland.com)- Today started off with a meeting with 5.11. As you know, they are the premier leader in tactical wear. They had too numerous to count items that caught my eye. But here are a few that I am going to test out.
VR Hexgrid – this is a cool item. It hangs on back of your truck seat. It is basically a bug-out bag that you can have all of your necessary items stored in and you can transfer it to whichever rig you are driving.
RUSH100 – This will be a great backpack for me to use in traveling and carrying my gear into venues to conduct my seminars. I can carry all of my seminar props in it.
Apex/ABR/Icon/Stryke/Capital pants – as you well know, 5.11 is an industry leader in tactical pants. They are great for our outdoor adventures.
WOOX – They make some unique stocks which I am going to have to test out. They also have some knives that I will have to test out as well.
MOJO – I've dealt with Mojo for years. As you know, they revolutionized duck decoying. I love crow hunting and use their crow decoys as well as their dove decoys. What I didn't realize is that they also make a pigeon decoy. Here in Idaho there are some fanatic pigeon hunters. The leader of these fanatics owns Soar No More. I've hunted with a couple of young guys and we got 90-100 in just a few hours. It is a blast. I'm going to have to test some of their pigeon decoys.
Beeman Airguns – there are a lot of airgun companies and a lot of the old established ones are getting stale. I am interested in learning more about Beeman.
Spyderco – Their marketing guru, Joyce is like the best PR girl in the world. Everyone loves her. Joyce went over some of their new items which are too numerous to list. They have counter puppies which have prongs on the handle so they can be set so the blade edge is elevated off the counter to eliminate cross contamination. They also have a new Murry Carter culinary line. A huge percentage of their knives are made in Golden, Colorado. I met the owner, Vic. Someday I have to write an article on their humble beginnings.
Bushnell – They have a simple and yet functional range finder. Many of the ones on the market are wayyyyyy too complex for me. I'm going to be checking out their Prime 1,700 model. Also they have some cool shooting sticks which I'll be using on my spring ground squirrel hunts as well as their lightweight turkey decoys and calls.
Federal – They worked with Henry's to develop some Hammer Down ammo made specifically to be used in Henry's lever actions. I can't wait to test some out on a Texas hog hunt.
Savage – I plan on jumping in with Savage and testing their 110 Ultralight, their A17, Renegade Waterfowl and one of their AR's this year. Look for upcoming articles on them.
Riton Optics – At the end of the day I was able to set down and talk to Jeremiah about the ins/outs of the reticles that he designed for Riton Optics. He has some interesting concepts of which I am anxious to learn more about.
SOLEDIER SOCKS – For the past 4-yrs. I have dealt with one sock company but recently all of my buddies have left there. While walking the aisles I met the guys at Soledier Socks. They gave me a couple of pairs to test. I wore them the next day while working the SHOT and they seemed very comfortable. More testing to come on them.
Time to get to bed and get ready to hit the final day of SHOT with both barrels tomorrow.
---
About Tom Claycomb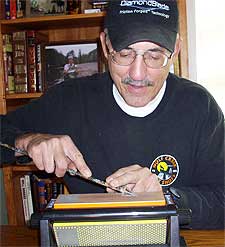 Tom Claycomb has been an avid hunter/fisherman throughout his life as well as an outdoors writer with outdoor columns in the magazine Hunt Alaska, Bass Pro Shops, Bowhunter.net and freelances for numerous magazines and newspapers. "To properly skin your animal, you will need a sharp knife. I have an e-article on Amazon Kindle titled Knife Sharpening #ad for $.99 if you're having trouble."