U.S.A. – -(Ammoland.com)- "Will Mitch McConnell get re-elected to the Senate?" International Business Times asked Monday. "Kentucky Republican poll numbers are dismal ahead of 2020."
This comes on the heels of Kentucky voters turning out GOP Governor Matt Bevin for Democrat Andy Beshear by a slim 5,100 vote margin. Insufferable "former Republican" Joe Scarborough, carrying water for the Democrats as is his media mission, gleefully blamed it on President Trump. That's a meme the left wants the Republicans to be dumb enough to believe—that if they want to win, they need to abandon their core constituencies and turn to the left.
In fact, statewide sweeps for other GOP candidates give credence to other reasons for Bevin's loss, including personal unpopularity. Add to that high-population urban islands surrounded by a sea of red as we saw happen in Virginia. That only 42% of 3.4M registered voters bothered to do so (and that was considered high!) also tells us much.
The question becomes, what of McConnell's popularity, and what incentives has he given Bluegrass State gun owners to not just vote for him, but to be enthused about it?
And will it be enough to work around the perception that a guy who has been in the Senate since 1985 is the epitome of "the swamp"?
Let's start with guns. NRA has consistently endorsed McConnell with an "A+" rating. I assume he's OK with GOA, but a site redesign makes drawing a conclusion from "+" and "-" symbols on key votes that further need to be explained in footnotes confusing. WTH, guys.
Where he runs into problems is on immigration, where Numbers USA gives him a "B" for "Recent", but an "F-" for "This Congress" and a "C+" for "Career." This comes with a history of supporting Chuck Schumer's immigration/amnesty and "praising the Gang of Eight."
Contrary to some voices in the gun owner rights advocacy community who caution us to only focus on the "single issue," deliberately infusing the population with tens of millions of foreign nationals who overwhelmingly support Democrats and citizen disarmament will undo all the "good" votes Republicans who support us on guns but betray us on the "pathway to citizenship" cast. We've seen it in California and most recently in Virginia. Cheap labor Republicans, either through self-interested intent or moron-level stupidity, are helping usher in the day when legislatures, the courts, and the executive become irreversibly Democrat, with the power to pass and uphold whatever gun bans they wish.
So what will we get if McConnell mirrors Bevin and gets turned out because his Chamber of Commerce-style "conservative" swampiness has doused the fire in too many bellies?
Meet former Marine pilot Amy McGrath, about as much a Democrat dream candidate a mostly-rural state could ask for. She comes off as concerned, patriotic and disciplined, not all wild-eyed and overtly Marxist, like some Democrats we know.
"I am a gun owner and pro-Second Amendment," McGrath declares on her campaign website. "I went to combat with a 9 millimeter strapped to my chest and a 20-millimeter cannon on the front of my jet."
Is this where gun owners who look no deeper will shout "Ooh-Rah"?
"We need leaders with the courage to stand for secure borders, but also who will enforce it in a humane way in accordance with our American values," she advocates on her "Immigration" page. Sound reasonable?
It's actually full of crap. This is a professional website produced by the finest political propagandists and illusionists money can hire, and McGrath's "solutions" are professionally weasel-worded to appear considered and responsible while masking what she'll really go after if given the power.
"There are some commonsense things that most gun owners and most non-gun owners actually agree on, and we haven't been able to get it done," she adds on her "Guns" page. Those are terms right out of the gun-grabbers playbook. She wants what they want – believe it. Mentioning strapping a 9 millimeter and deploying with a cannon to make her seem like "one of us" is pure deception. If being good with guns meant being an ideological ally, we'd have no better pal than Lon Horiuchi. Elect her and McGrath'll be a vote for citizen disarmament that can actually do what Bloomberg only dreams of.
"We will only solve this problem if Congress is willing to act on meaningful immigration reform," she says on that "other" issue, intentionally not fleshing out what she means by that. Allow me to translate: McGrath wants to establish an unchallengeable Democrat supermajority through a "pathway" to citizenship.
And if she helps flip the Senate and Trump retains the Oval Office, she'll be able to join in blocking the most important achievements of his administration: seating nominees in federal courts and on the Supreme Court.
Democrats know this. That's why McGrath currently leads McConnell in fundraising. And when it comes to cash flowing in from high-rolling Dem donors who smell blood, we ain't seen nothin' yet.
So who does McConnell have to blame for a lack of boisterous enthusiasm among core constituents? Elections are more than votes. You need people willing to help finance them. You need bodies willing to volunteer, walk precincts, man phone banks, amplify messages.
What's the answer, especially with "Molon Labe!" and "TINVOWOOT" comments being the prevalent gun owner "contributions" to the cause? I don't know, magic? I'm just recounting what is. It'll fall on Kentucky gun owners, Mitch McConnell, and the Republican party to find common ground in goals that aren't always mutual. It'll be up to all gun owners to get informed and to see the destructive cycle we entered into by accepting "lesser of two evils" candidates and rewarding betrayals instead of making examples with heads on pikes. Maybe if that had been done 30 years ago, we wouldn't feel like our backs are in the corner and it's all or nothing this time, with the only choices after the votes are counted being to accept things or not.
I'd say it's a hell of a time for NRA to be preoccupied with internal matters except, in truth, they have largely been the ones turning blind eyes and greasing the skids on compromise. No, we can follow an organization's lead when it makes sense, but relying solely on them, or some hoped for a billionaire benefactor or a president who seems uninclined to be the 2A champion he pledged to be is a sure-fire formula for nothing.
It's up to us. You. Me. It always has been. That's what the Founders intended.
What do you think "we" should do, first to address the immediate threat and then to implement long-term solutions?
---
About David Codrea: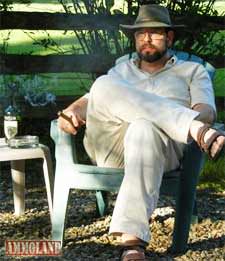 David Codrea is the winner of multiple journalist awards for investigating/defending the RKBA and a long-time gun owner rights advocate who defiantly challenges the folly of citizen disarmament. He blogs at "The War on Guns: Notes from the Resistance," is a regularly featured contributor to Firearms News, and posts on Twitter: @dcodrea and Facebook.