Rex reviews the Palmetto State Armory Gen II Freedom AR-15 Rifle.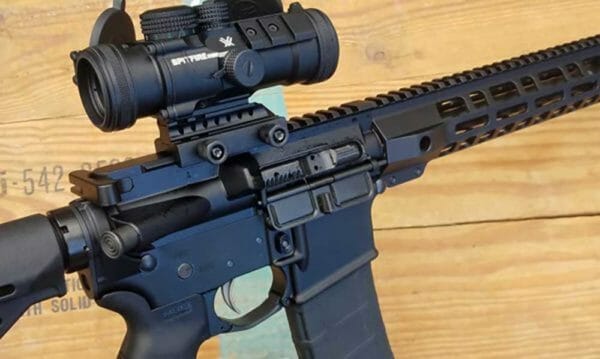 U.S.A. –-(Ammoland.com)- Palmetto State Armory (PSA) is ringing in the New Year in typical PSA fashion, by shipping out rifles by the hundreds.  A while back PSA sent a rifle for me to review, one of the variants of their "Gen II Freedom AR-15" line-up.  So let's celebrate the new year by exercising (and defending) our God-given freedom, and let's check out the specs on this Gen II Freedom AR.
Palmetto State Armory Gen II Freedom AR-15
Tech Specs:
PSA Gen2 16″ Mid-Length 5.56 NATO 1/7 Nitride 13.5″ Lightweight M-Lok Upper With BCG & CH – ~$250
Barrel Length: 16″
Gas System: Mid-Length
Barrel Profile: A2 Style
Barrel Steel: 4150V Chrome Moly Vanadium Steel
Barrel Finish: Nitride Black, dimpled for low-profile gas block set screws
Muzzle Thread: 1/2-28
Chamber: 5.56 NATO
Twist Rate: 1:7
Barrel Extension: M4
Diameter at Gas Block: .750
Gas Block Type: Low profile
Gas Tube: Black Nitrided Stainless Steel Gas Tube
Muzzle Device: A2 Flash Hider
Receiver Material: Forged 7075 T6 Aluminum
Receiver Type: M4
Hand Guard Type: PSA 13.5″ M-Lok Lightweight Rail w/ Anti-Slip Set Screws
Bolt Carrier Group Included: Nitrided Toolcraft BCG
Bolt Steel: Carpenter 158
Bolt Carrier Profile: Full-Auto Profile
Charging Handle Included: Yes, 7075 T6 Aluminum Charging Handle
PSA AR-15 MOE Lower Receiver with Two-Stage Nickel Boron Trigger, Black – No Magazine – $199
Machined from Aluminum Forgings 7075-T6
Hardcoat Anodizing: MIL-A-8625F, Type III, Class 2
Milspec diameter Receiver Extension
Magpul MOE Stock
Magpul MOE Grip
Staked M4 Lock Nut
Standard Carbine Buffer
2-Stage Nickel Boron Fire Control Group
Caliber: Multi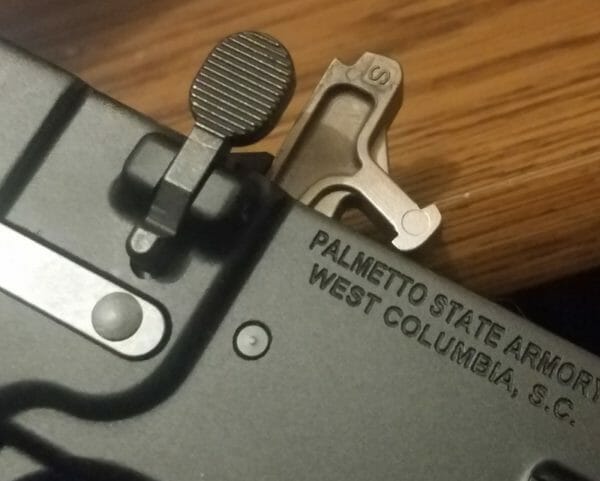 PSA has been calling attention to their Gen II specs, some of which are being adopted across their entire lineup, such as their double staked castle nut.  Said castle nut is staked properly, with the same being true for the gas key on the bolt carrier group.  A quick bench check shows everything that isn't staked is torqued properly and well put together.  The gun also passes the "eyes and ears" test, with no visible deformities or blemishes, nor any excessive rattle or noise.  I slapped on a Vortex Spitfire 3x optic that also was due for range time and headed out.
I brought out a pair of Norma ammunition offerings, their Tactical 55 gr ball round, and their Match 77 gr Sierra Matchking HPBT round.  I tossed out a couple of mags full to start the process of turning a new rifle into a smooth-running machine, while also getting a rough "range expedient" approximation of a zero, so when I got down to shooting groups I knew I'd be close on paper.  I let the rifle cool while I carried my CTS target stand out to the 50-yard line.
I started off with Norma's Match ammo, knowing that it has a reputation as being accurate. The groups at 50 yards were a little wider than expected, averaging around .85″.  Figuring this meant bad news for the 55 gr ammo, I swapped mags and found that the lighter bullet fared significantly better, with the best two groups coming in at .58″ and.63″, both with a flyer included.  I wanted to get some 100-yard groups in, but a large group of plinkers and blasters showed up, ending my grouping session early.  I was still able to work on the clay pigeons I'd laid out at 100 yards, and had no issue punching one after another in quick succession.  I'll be back out soon to get more groups done, with the Norma ammo as well as testing a couple of different ammo loads from Black Hills and Federal.
PSA's Gen II Freedom rifle handles well.  I especially like the trigger, which has a smooth take-up and a crisp break.  I've taken to two-stage triggers in nearly all of my AR's, and this one keeps that standard going while not costing nearly as much as some of the higher-end fire-control groups I've bought.  In fact, the whole lower costs less than some fire control groups, making this a really economical way to try out a two-stage trigger in an AR for yourself.  It's hard to go wrong with using parts sourced from Magpul and Toolcraft for a factory build (or parts kit),
So far, so good with thePalmetto State Armory Gen II Freedom AR-15 Rifle.  Fit, finish, and assembly are on point.  Accuracy out of the box is good, and if my experience is any indication, only going to get better once it sends a few more rounds downrange.  The price is right there with PSA's usual modus operandi, meaning comparatively inexpensive for the features and quality provided.  Coming in right around $449 for the combined packages, Palmetto State Armory is making it easy to add another rifle to your collection, or to give the gift of Freedom to another.  Check it out!
---
About Rex Nanorum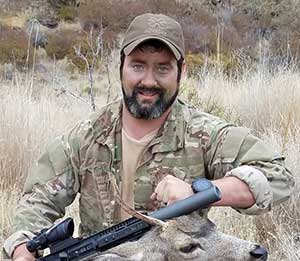 Rex Nanorum is an Alaskan Expatriate living in Oregon with his wife and kids. Growing up on commercial fishing vessels, he found his next adventure with the 2nd Bn, 75th Ranger Regt. After 5 tours to Afghanistan and Iraq, he adventured about the west coast becoming a commercial fisheries and salvage SCUBA diver, rated helicopter pilot instructor (CFII) and personal trainer, before becoming a gear reviewer and writer."
Disclosure: Some of the links below are affiliate links, meaning at no additional cost to you, Ammoland will earn a commission if you click through and make a purchase.