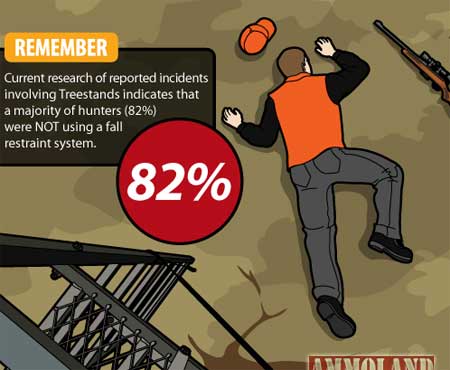 DANVILLE, Ala. – -(AmmoLand.com)- Hunter Safety System, the leader in treestand safety equipment, is pleased to announce the winners of the 2nd Annual Association of Great Lake Outdoor Writers (AGLOW) and Southeastern Outdoor Press Association (SEOPA) Treestand Safety Writing Contests. The writing contests were designed to encourage active AGLOW and SEOPA media members to inform their readers, viewers or listeners about the importance of treestand safety. It was open to all active association media members. Submissions were for articles, books, broadcast shows, blogs, and other published material during the entire 2019 year. The mention of specific product brands was neither encouraged or discouraged and had no impact on judging.
In the AGLOW competition, taking first place and a check for $500 is Michael Rasmussen for his article "THE ONE – A story of a Life-changing hunt" which ran on Sept. 5, 2019, on Capitol Outdoors – Illinois Hunting & Fishing Resource website.
In a very close second place, with prize money of $250, was Larry Whitley's article "After the Fall – Saying Goodbye" which ran in August in the Conservation Federation of Missouri Magazine, Outdoor Guide Magazine and on Share the Outdoors blog. In third place and prize money of $100 in a new category entry comes Brenda Potts' new book Hunter's Honor #add where she cleverly references treestand safety throughout the book, pgs. 195-197, 215-216, 271-274 and 293-294.
The SEOPA competition was equally fierce with long-time SEOPA member John Sloan claiming the top honors with his article Time to Avoid the Fall in the September 18, 2019 edition of the Wilson Post. Ken Cook submitted several articles, but his article Time to Start Thinking About Treestand Safety that ran in the Georgia Herald on July 3, 2019 got him a second place in the contest. Don't Fall – But Don't leave Yourself Hanging When It Comes to Safety and Treestands by Ken Perrotte took third place. This ran on September 26, 2019 in the Fredericksburg Free Lance-Star and on the Outdoor Rambler website.
"We had so many incredible submissions from the writers in both organizations" said Jay Everett, HSS marketing manager. "Each of these articles, blogs, posts and books reinforces the message of the importance of wearing a harness and staying connected from when your feet leave the ground until they return.

"We at Hunter Safety System sincerely thank each and every outdoor influencer that submitted to these writing contests. Without your help, we could not educate hunters fast enough about treestand safety. Because of what each of you are doing, treestand accident numbers are going down. Thank you."
---
Hunter Safety System
Founded in 2001 and headquartered in Danville, Ala., Hunter Safety System is a leading designer and manufacturer of innovative deer hunting gear and hunting equipment for the serious hunter. The company has exclusive rights for use of ElimiShield in the hunting industry. For additional information, write to: The Hunter Safety System, 8237 Danville Road, Danville, AL 35619; call toll-free 877-296-3528; or visit www.hssvest.com.