USA – -(AmmoLand.com)- To celebrate President's Day 2020 Brownells has a supper package sale on the BRN-180 16″ Complete Upper with a Vortex Sparc II Red Dot for just $799.99!!
Thinking about a build, or just a new upper receiver? Thinking about getting a new Red Dot Sight? Brownells has a deal for YOU! We have paired our popular BRN-180™ 16" Complete Upper Receiver with the Vortex Sparc II Red Dot Sight! Designed in conjunction with PWS & FM Products, the Brownells BRN-180™ Complete Upper Receiver is inspired by the Armalite® AR-180 of the 1960s. Developed as a successor to the original AR-15, the AR-180 was a civilianized version of the AR-18, itself an upgrade on the M16 platform. The BRN-180 incorporates many of the AR-18/AR-180 improvements – including its robust and reliable gas piston operating system. (Yes, the originators of the AR-15 / M16 eventually embraced a piston!) Like the original, the BRN-180™ bolt carrier rides smoothly on a PAIR of guide rods. The carrier is buffered at the rear by a built-in polymer buffer with a molded-in steel plate that captures the guide rods. The bolt replicates the original AR-180 bolt design, right down to its use of a standard AR-15 extractor. Wait – we know what you're dying to ask. Yes, the BRN-180™ upper receiver is fully compatible with any standard, mil-spec AR-15 lower receiver. The 16″" barrel is machined from extra-strong 4150 carbon steel, with a hard Nitride finish that really resists surface wear.
The BRN-180 is chambered in .223 Wylde – for extra flexibility in ammo choice – with 1-8″" rifling, so it handles both .223 Remington and military-type 5.56mm NATO ammo with equal aplomb. Upfront there's a replica of the AR-180's unusual three-prong flash hider: the hemispherical bottom prong helps prevent the muzzle blast from kicking up a dust signature when shooting prone. Standard ½-28 tpi muzzle threads let you swap on a modern AR-15 muzzle device should you be bitten by the customizing bug. Ultra-reliable AR-180 piston operating system Compatible with current mil-spec AR-15 lowers Machined 7075 T6 aluminum receiver & handguard – hard coat anodized finish 16″" barrel with matte black Nitride finish .223 Wylde chamber Button rifled bore; 1-8″" twist ½""-28 threaded muzzle Replica 3-prong AR-180 flash suppressor Molded polymer ejection port cover Total weight: 4.65 lbs Also brought over from the AR-180™ design is the ease of removing the BRN-180 upper's handguard. The recoil guide rods inside engage a U-clip that retains the handguard. When the bolt/carrier group is removed and the guide rods are pulled to the rear, the U-clip can be pulled down and the free-floating handguard assembly slid off! With some effort to retain a period look, our BRN-180 handguard has modern M-LOK® slots and a full-length Picatinny top rail that matches seamlessly to the receiver's MIL-STD 1913 rail. The BRN-180™ ships with a standard Piston Cup pre-installed. This Piston Cup is optimized for unsuppressed use. Also included is a Suppressor Piston Cup. When first shooting the BRN-180™ suppressed, you'll want to try the Upper with the Suppressor Piston Cup installed. It vents gas earlier and in greater volume than the standard Piston Cup, and will smooth out the action. Some Suppressors and ammo combinations may run better with the standard Piston Cup, so give each a try.
The Brownells BRN-180 Complete Upper Receiver delivers a unique combination of ""Retro"" nostalgia and a robust, reliable, AR-15 platform with the latest 21st Century upgrades. It's proof that when you wait long enough, the old truly does become new again! In addition to an awesome Complete Upper Receiver, get on target fast with the SPARC II from Vortex. Ultra-compact and lightweight, the SPARC II (Speed Point Aiming for Rapid Combat) is equally at home mounted on an AR-15 or shotgun. Digital rear-facing controls for powering on/off and adjusting the 2 MOA daylight bright red dot brightness at ten intensity levels—automatically returning to the last dot intensity used when powered up. Rugged single-piece body machined from aircraft-grade aluminum is o-ring sealed for waterproof and fogproof performance.
*While supplies last. Prices & availability subject to change without notice. Some Restrictions Apply. All federal, state, and local laws and ordinances apply.
---
About Brownells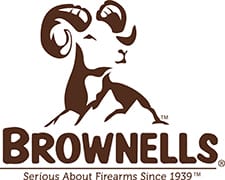 Serious About Firearms Since 1939™, Brownells is the world's leading source for guns, gun parts and accessories, ammunition, gunsmithing tools and survival gear. With a large selection of both common and hard-to-find items, and an extensive collection of videos, articles, and gun schematics, Brownells is the expert for everything shooting-related. Committed to maintaining our great traditions, Brownells has more, does more and knows more – and guarantees it all, Forever. For more information or to place an order, call 800-741-0015 or visit Brownells.com. Stay up-to-date with Brownells on YouTube, Facebook, Twitter and Instagram.
Some of the links on this page are affiliate links, meaning at no additional cost to you, Ammoland will earn a commission if you click through and make a purchase.