U.S.A. –-(Ammoland.com)- The Steelbanger Series is Swagger Bipod's innovative take on the standard bipod system. Featuring Flex Ready Technology, long extendable legs, and lightweight materials, Steelbanger bipods are a modern twist on a simple and classic design. Working with retired Green Beret and Special Forces Sniper and Sniper School Instructor, Scott Ford, Swagger has some tips for shooters who want to gain the best advantage and shoot with Swagger.
"A good shooting position is solid and stable," Ford says in a video shot in collaboration with Swagger Bipods. Stability is critical to maintaining point of aim for a follow-up shot or to keep an optic on target to track bullet impact. The key to increasing stability is to have multiple points of contact with the rifle. Ford comments that standard bipods don't work well to elevate his rifle above obstacles when on the hunt, but his Swagger Stalker QD72, used with other objects in his environment, allow him to build a shooting position that is solid, stable and rises above obstacles.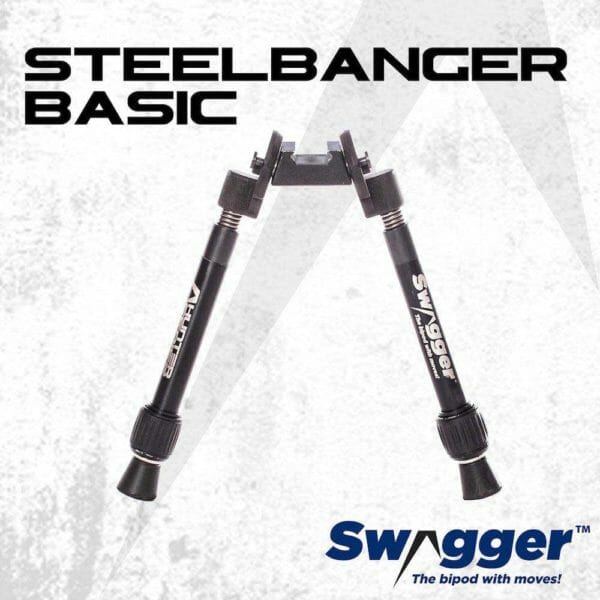 While working in the field, Ford recommends using a field pack to help build a shooting position. Using a pack to elevate a rifle above grass or brush, along with a quality bipod, utilizing a sitting or kneeling position and multiple points of contact, Ford stresses the importance of working with the environment to get on target, absorb recoil, and prepare for a follow-up shot.
Once a shooting position is established, and the rifle stabilized, Ford recommends "loading the bipod." Loading the bipod is when a shooter leans into their bipod and applies pressure on the legs to help further stabilize the rifle by applying force that helps reduce movement and absorb recoil. Loading can only happen with a bipod. Ford notes, "with Swagger bipods, we can set up a stable position and load our bipod while we're over the grass" or other obstruction. This is an added and unique benefit of the Stalker design since the Stalker 72 can extend up to seventy-two inches, critical for the shooter who wants stability over obstacles.
Ford also covers high angle shooting and reminds shooters to use laser range finders, ballistic software, and even an inclination angle compass on the rifle's buttstock. Once again, the versatility of Swagger bipods helps Ford build a reliable and stable shooting position, this time aiming downhill at a high angle to reach his target.
Swagger Bipods is proud to have worked with former Green Beret, Scott Ford, to demonstrate the flexibility and versatility of the Stalker Bipod. To view all the videos featuring Ford, visit Swagger's Facebook page or the videos section of their website at www.swagger.com.
---
About Swagger Bipods
Made in the USA and equipped with numerous unique high-performance features, we at Swagger are confident that our bipods will do for you what no bipod has ever done before. We back claim that with our Limited Lifetime Guarantee.
Swagger bipods are also covered by our Shoot With Confidence Guarantee. If your Swagger bipod does not give you more shooting flexibility and more shooting confidence, send the product back to us within 30 days of purchase, with proof of purchase from an authorized dealer, and we will buy it back.
For more information, please visit WWW.SWAGGERBIPODS.COM