Rifle,CO -(AmmoLand.com)- Colorado is a beautiful state. Between the rolling hills and snow-covered mountains stretching into the clouds, the picturesque landscape has been a go-to skiing destination for decades. And while the state has been red or purple for nearly as long, the last election proved that its citizens are prepared to vote Democrat if only as a referendum against President Trump.
Which is remarkable if only because Colorado Springs was once considered the fourth most conservative city in America. But shifting demographics of the state as a whole, and the disdain many of its Hispanic voters have for Trump and his yet-to-be-built-wall, sounded the death bell for the Republican Party in CO when Governor Jared Polis was elected. The anti-Second Amendment Polis has a long history of championing liberal cause célèbres even when doing so runs contrary to The Constitution, so it was no surprise when he backed Red Flag laws back in April of 2019.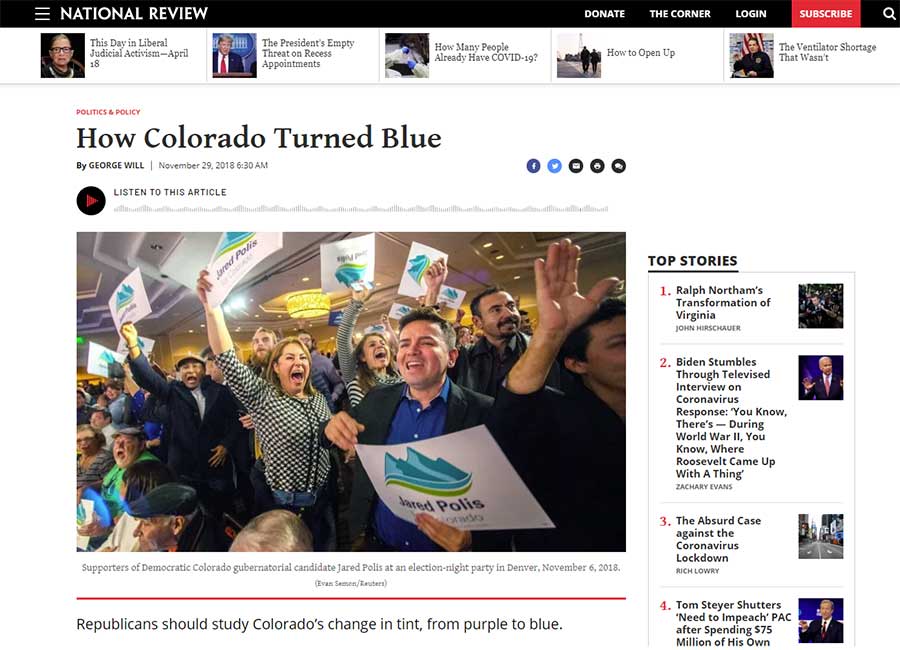 The fact that Polis was electable at all flies in the face of previous voting trends in the state. Since CO was one of the few non-deep-red states to vote overwhelmingly against Obamacare. With new elections coming soon, the Republican party has decided to push a new face to the forefront of Colorado's upcoming House of Representatives' vote – Lauren Boebert. Interestingly enough, Boebert's politics seem to be staunchly in toe with that of the President's original campaign promises. The full details are below.
Lauren Boebert, the conservative candidate for the United States House of Representatives, earned the top placement of the Colorado 3rd Congressional District June 30th Republican primary ballot today and in doing so relegated 5-term Congressman Scott Tipton to the bottom of the ballot.

"I am thrilled to earn the top line on the Republican primary ballot," said Lauren Boebert. "I promised delegates when I started my campaign that I would work hard to earn their vote and I couldn't be more proud to have earned their trust and support."

After Lauren Boebert spent only two months of campaigning, Congressman Scott Tipton, who previously spent 8 years as Chairman of the 3rd Congressional District, chose to bypass Republican delegates and the assembly process in January and instead chose to buy his way on to the ballot using paid signature gatherers.

"I'm going to win the Republican primary because I'm the true conservative in this race. Mr. Tipton has voted alongside Nancy Pelosi far too often, granting millions amnesty, wasting billions of taxpayer dollars, and cuddling up to the likes of Jared Polis to push green new deal types of energy schemes. I'm motivated by freedom, will defend the Constitution and fight for our conservative principles every day I'm in Congress. I'll help send President Trump better bills, drain the swamp and build the wall."
How this election will turn out is anyone's guess. But hopefully, the birthplace of Magpul will return to its former glory and propel the state in a more libertarian, not socialist, direction.
---
Jim is a freelance writer, editor, and videographer for dozens of publications who loves anything and everything guns. While partial to modern military firearms and their civilian counterparts, he holds a special place in his heart for the greatest battle implement ever devised and other WW2 rifles. When he's not reviewing guns or shooting for fun and competition, Jim can be found hiking and hunting with his wife Kimberly, and their dog Peanut in the South Carolina low country.