U.S.A. –-(Ammoland.com)- Naturally 95% of the Product Reviews I do are on items that are relative to what I like to do. But, as an Outdoor Writer I have to branch out now and then so as to cover a wider reader base. That will be the case today in the Product Review for the Outdoor Edge MINIBABE. Unfortunately, one of my buddy's that is a young macho guy stopped by today. While he and his wife were here, I whipped out some omelets, potato cakes and sausage for a late brunch. He happened to see the Outdoor Edge MINIBABE laying on the counter still in the package and said "Wow! Never figured you'd be the kind of guy to carry a pink Minibabe knife Tom!"
So before anyone else writes in wondering, it's not for me. This Product Review is for the females in our reading audience. When I'm done testing the Outdoor Edge MINIBABE believe me, it will never enter my pocket again! In the meantime, I just hope I don't have a car wreck and have on a pair of dirty underwear and a pink MINIBABE in my pocket! The second that I'm done testing it out, I will give it to my daughter or wife.
Most girls don't really seem to favor big Rambo knives. At least my girls don't. Or come to think of it, maybe I just never have bought them a big Rambo knife. Maybe they do want one. But regardless, let's get on with the Product Review.
I just finished a Product Review on an Outdoor Edge Trailblaze. The MINIBABE almost mirrors the Trailblaze but it does have a few different tweaks. The spine is slightly higher than the handle as did the Trailblaze, which I like. The back of the spine has thumb grooves and when pushing against it you have a firmer grip since the spine rises as it goes towards the tip of the blade. I like this feature and wish more knives had it.
With the thumb grooves, the elevated blade and the finger groove, even for such a small knife I feel like I have a pretty firm grip on it. It also helps that it has a lanyard that your little finger wraps around. The back of the handle slopes down and has grooves on the top. I don't really feel that these grooves help any due to the sloping back. So, I think they're more of a placebo than anything else. But they might help in a small woman's hand.
Like I said above, it has a hole for a lanyard and also comes with a pink, sparkly lanyard which further damaged my manliness in my buddy's eyes.
Like the Trailblaze it is a lockback knife. It has thumb studs for left or right-handers but I wasn't able to rapidly deploy it. Maybe a woman with smaller hands could.
The MSRP on the Outdoor Edge MINIBABE is $20.95 and as is usual, we will close with the specs and a short description from the manufacturer.
Blade: 2.2 in / 5,6 cm
Overall: 5.1 in / 13,0 cm
Steel: 8Cr13Mov Stainless
Rockwell-C Hardness: 57
Handle: Rubberized TPR
Weight: 1.4 oz / 40 g
These fully-functional mini-knives are perfect for the pocket, key chain, or handbag. Each knife features a 2.2-inch 8Cr13MoV stainless blade that is precisely heat treated and hand finished shaving-sharp for superior edge retention and performance. The double-sided thumb-stud allows easy, one hand blade deployment. Rubberized TPR handle scales are mounted to sturdy stainless-steel liners for unparalleled strength and a secure, nonslip grip even when wet. Each knife includes a nylon lanyard. Available with black, blaze-orange or pink handles.
---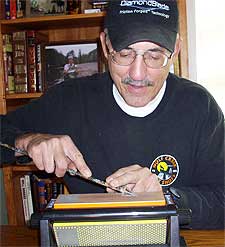 About Tom Claycomb
Tom Claycomb has been an avid hunter/fisherman throughout his life as well as an outdoor writer with outdoor columns in the magazine Hunt Alaska, Bass Pro Shops, Bowhunter.net and freelances for numerous magazines and newspapers. "To properly skin your animal, you will need a sharp knife. I have an e-article on Amazon Kindle titled Knife Sharpening #ad for $.99 if you're having trouble."