U.S.A. –-(Ammoland.com)- Ok, I'm big into knife sharpening by hand. I conduct Knife Sharpening seminars from Texas To Alaska and in those seminars I only promote knife sharpening by hand. So, it may seem strange to you for me to digress and write an article about sharpening knives with an electric grinder but today I want to write a Product Review on the Smith's Mesa Electric Sharpener.
An old buddy called me a while back and asked me to come help him get his company hitting on all eight cylinders. Little did I know (or did anyone) that the Chinese Bat Eating Virus would hit America and throw his company into being classified in the Tier One category Critical Infrastructure Industries that our fellow Americans and families rely on for products throughout the pandemic response. One of the many precautions being taken by the company is to restrict travel. So, I have been stuck over in SD for five weeks and probably for another 1-3 weeks.
Here's why I say all of the above. The company gave me an apartment to use while here. I had been flying in for two weeks and home a week. In the kitchen is a pile of DULL kitchen knives. I hate to be a whiner but I hate sharpening kitchen knives. I guess the reason is, by the time I ever get around to sharpening my kitchen knives there is always a pile of them and it tires out my hands to sharpen that many.
So, with all of the above said, I got a Smith's Mesa Electric Sharpener to sharpen the knives. This week we lost 200 employees out of one department so it has been nearly 13 hrs./day, six days/wk. So, the last thing I wanted to do was drag back to the apartment and sharpen knives for 1-2 hrs. Which is why I got a Smith's Mesa Electric Sharpener.
So, if you're the proud owner of a pile of dull kitchen knives and don't have the time or desire to attack sharpening them by hand, then read on.
This is just me but when sharpening my kitchen knives, I just want to quickly slap on an edge and be done. I don't care if it is a 25, 22 or 19 degree angle. I just want them sharp enough to do the job and get thrown back into the woodblock.
To operate the Smith's Mesa Electric Sharpener is super easy. Set it on a smooth service with the Smith name facing you. Turn it on with the button on the back of the grinder. Place the heel of the knife on the grinding wheels and pull the blade back towards you.
Slightly press down the blade steadily on the wheel as you pull it out. Don't press too hard or you'll bog down and stop the grinder. On the backside of the grinder, the frame has a sloping decline into the grinder. By holding your blade on the sloping backside, it will have the knife blade enter the grinding wheels at the correct angle.
The big deal is not to apply a lot of pressure. The goal is to hold it against the stones all the way down the grinding wheels. It shouldn't take but 5-8 proper drags through the sharpener to achieve your desired edge. I like to make doubly sure that the last few drags through are perfect.
Then if you want to fine-tune the edge, run it a couple of strokes over a Smith's Ceramic rod or a smooth steel. It is that simple. Your knife is now sharp. Wipe the metal shavings off the blade before storing for the next use.
The Smith's Mesa Electric Sharpener comes in either white or black. The MSRP is $69.99 and as is usual, we will close with the specs.
Features & benefits:
Quick, precise knife sharpening
Guarantees correct sharpening angle
Synthetic abrasive wheel delivers quick and precise sharpening
Rubber feet for stability & safety
Blade guides hold knife at correct sharpening angle
Safe to use on all straight-edge knives
---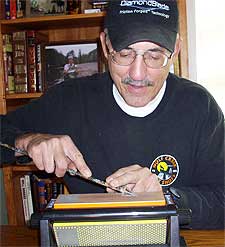 About Tom Claycomb
Tom Claycomb has been an avid hunter/fisherman throughout his life as well as an outdoor writer with outdoor columns in the magazine Hunt Alaska, Bass Pro Shops, Bowhunter.net and freelances for numerous magazines and newspapers. "To properly skin your animal, you will need a sharp knife. I have an e-article on Amazon Kindle titled Knife Sharpening #ad for $.99 if you're having trouble."
Disclosure: Some of the links below are affiliate links, meaning at no additional cost to you, Ammoland will earn a commission if you click through and make a purchase.