U.S.A. –-(Ammoland.com)-  Holsters are a very personal piece of gear, nearly as much so as the gun they hold.  A shooter with an inferior holster is a perpetually unhappy creature: constantly concerned with the comfort and condition of their equipment.  Juxtapose that with one who carrier their defensive firearm in a quality holster and you'll see a model of comfort and confidence.  This is why I'd constantly seeking out new holsters to try out as a reviewer when I as a private citizen already have a setup that I consider excellent.  Knowledge is power and the more sources you have to learn about different brands, the more informed a choice you can make when selecting your own setup.  I was only vaguely familiar with Tenicor when a trusted source gave them an extremely positive recommendation.  I needed to see for myself what they had going on, so after a couple of minutes at the keyboard, I had the Tenicor ARX OWB holster in the mail for my Glock 43x.
ARX: latin for Ctiadel, Stronghold, Fortress.  A good name, if it fits.  Let's run the tech specs on this thing and then break down my hands-on time.
Specs:
Models:  Glock 19/23, 17/22, 48, 43/43x
Orientation:  Both right and left hand available
Loop size:  1.5″
Style:  Mid-rise sweat guard
Material:  Thermoplastic
Compatible with most slide-mounted red dot rights, suppressor height night sights and threaded barrels.
Lifetime Warranty
One of the first things I noticed out of the box was that the Tenicor ARX is incredibly simple.  There's far less hardware and adjustment points compared to other holsters that use modular belt loops and multiple points of adjustment.  If you really believe in the K.I.S.S principle, now is the time  to really pay attention.  The only part that you might fiddle with is the adjustable retention screw, hardly a complex or high-wear piece.  Out of the box, the ARX came well-adjusted, providing ample resistance without being excessively burdensome to start your draw.
The shape of the Tenicor ARX caught my eye as well.  The sweat guard runs a little higher than I'm used to, but surprised me with it's comfort.  Nobody likes the side of the pistol slide digging into their tactical flesh padding, which the ARX avoids.  The inner side of the holster (body facing) really looks uncomfortable angular.  I was ready for some discomfort during my first 12-hour carry period!  Color me happy, the ARX carries tight to the body, and is a dream to wear.  Not only was it a solid performer while out in town, in and out of vehicles and at the range, it was comfortable enough I was able to lay down on my right (draw) side for an  hour or so without trouble, despite a 43x being strapped to my belt.  In the weeks since then, the ARX has replaced my trusty Safariland holster as my go-to.
Ok, it's comfy, we get it.  It's also effective.  Between the 10° forward cant and the Goldilocks-approved carry height, draws from the Tenicor ARX are smooth, intuitive and fast.  This is a very simple, straightforward design and that translates to success on the range.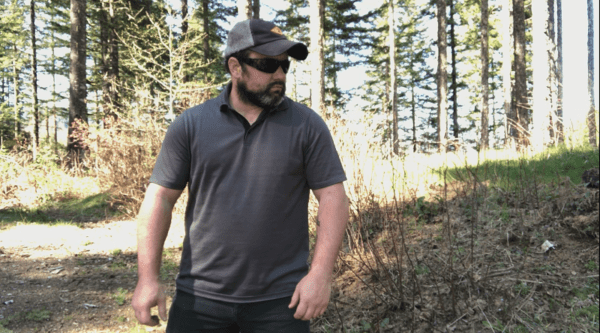 With no excess hardware to fail, and utilizing proven-tough thermoplastic in its construction, the ARX offers up a no-frills concealment solution that's got to be appealing to the discerning shooter.  The Tenicor ARX runs $87, which isn't too steep a deal for a potential life-or-death piece of equipment.  There are cheaper holsters around, but for my money I don't know if there's better.  Check em out and see for yourself!
---
About Rex Nanorum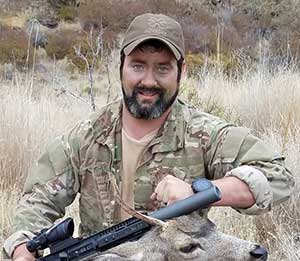 Rex Nanorum is an Alaskan Expatriate living in Oregon with his wife and kids. Growing up on commercial fishing vessels, he found his next adventure with the 2nd Bn, 75th Ranger Regt. After 5 tours to Afghanistan and Iraq, he adventured about the west coast becoming a commercial fisheries and salvage SCUBA diver, rated helicopter pilot instructor (CFII) and personal trainer, before becoming a gear reviewer and writer."
Disclosure: Some of the links below are affiliate links, meaning at no additional cost to you, Ammoland will earn a commission if you click through and make a purchase.