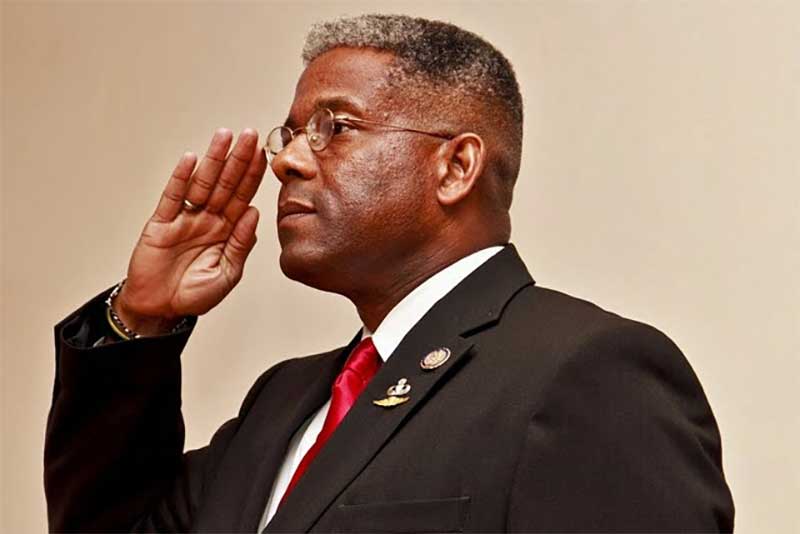 WACO, TEXAS –-(Ammoland.com)-Lt. Col. Allen West is recovering at home after doctors released him from the hospital after being involved in a serious motorcycle accident Saturday night outside of Waco, Texas, in the town of West.
The conservative icon and frequent TV guest was riding his motorcycle home from the Texas Freedom Rally that took place in Austin at the state Capitol. The rally focused on the reopening of the Lone Star state from the shutdown caused by the novel coronavirus (COVID-19) pandemic. Around 5 PM, a car cut off two motorcycles on Interstate 35. The vehicle caused West to hit his brakes on his bike to avoid the vehicle. The second motorcycle clipped the back tire of the motorcycle West was riding, causing both riders to be thrown from their bikes.
EMTs arrived on the scene of the crash and determined West and the other motorcycle rider needed to be airlifted to a local trauma center. A medical flight crew flew him to Baylor Scott and White hospital, where doctors treated his injuries. The emergency doctors admitted him for non-life-threatening injuries. Hospital doctors released West on Monday. The Texas community met West with an outpouring of goodwill and well wishes upon his release.
West suffered a concussion, several fractured bones, a dislocated shoulder, and cuts all over his body. He emerged from the hospital with an arm in a sling, and the other arm bandaged up. He had visible injuries to his face. West prayed with his supporters outside the hospital and gave a brief statement to the gathered press. The Veteran took the opportunity to thank military members that sacrificed their lives to protect our country. He noted that the hospital discharged him on Memorial Day.
West moved to Texas from Florida after serving in the U.S. House of Representatives. He represented Florida's Congressional 22nd district. He lost his reelection bid to Democrat Patrick Murphy after redistricting made the already liberal-leaning area even more staunchly left-leaning. It was the most expensive House race in history to that point. He is currently running for the chair of the Republican Party of Texas.
During his military career, West would earn various medals for his service in and out of Iraq. He would be awarded the Bronze Star; Meritorious Service Medal (two Oak Leaf Clusters); Army Commendation Medal (three Oak Leaf Clusters, one Valor Device); Army Achievement Medal (one Oak Leaf Cluster); Valorous Unit Award; Air Assault Badge; and the Master Parachutist Badge. West would return to war as an advisor to the Afghan National Army. In August of 2019, the Texas Guard swore him in as a lieutenant colonel.
In his first interview since the accident, West told Fox New's Brian Kilmeade that he felt lucky to be alive and joked about crashing in a town named "West." He also says he never lost consciousness and even joked with emergency medical personnel that if he were to die that they would not record his death as COVID-19.
West says he plans to keep fighting for Texas and America. He says he takes his oath to the Constitution seriously.
West is expected to make a full recovery.
---
About John Crump
John is a NRA instructor and a constitutional activist. He is the former CEO of Veritas Firearms, LLC and is the co-host of The Patriot News Podcast which can be found at www.blogtalkradio.com/patriotnews. John has written extensively on the patriot movement including 3%'ers, Oath Keepers, and Militias. In addition to the Patriot movement, John has written about firearms, interviewed people of all walks of life, and on the Constitution. John lives in Northern Virginia with his wife and sons and is currently working on a book on leftist deplatforming methods and can be followed on Twitter at @crumpyss, on Facebook at realjohncrump, or at www.crumpy.com.