STACHEVILLE, dB — -(AmmoLand.com)- Round Three of the American Suppressor Association Silencer Stache Competition is officially underway!
Last week, the lip rug tournament was trimmed down to 16 personalities from around the industry going face to face to answer the age-old question: who can grow the best stache?!? After hearing from you, the voter, the winners have advanced to the Moder-8 Round.
This week we added a layer to the competition by adding the Teddy Roosevelt Consolation Bracket, giving each team that is eliminated (and provides ASA with a new "Proof of Stache" pic) a chance to whisker their way back into contention. When all is said and done, the winner of the Maxim Winner's Bracket (the Sultan of Silence) will take on the winner of the Roosevelt Consolation Bracket (the Muffled Mustache) in the Final Stachedown!
Prior to the competition, we gave all the Mustache Men a simple way to earn additional votes: Each round, any team that posts two ASA suppressor related infographics on their company social media will receive 1,000 extra votes in that round.
This proved to be the difference-maker for several teams who advanced in the contest! The real winner though is suppressor advocacy – the more people who learn the facts about suppressors, the more likely we are to affect positive change.
The Moder-8 Round will conclude at 11:59 PM EDT on Thursday, May 21st. Votes will be tallied, and winners will advance to the Quiet Quattro. Be sure to do your civic duty and vote on your favorite stache now! Visit www.SilencerStache.com to cast your ballot!
---
ASA Silencer Stache Competition Vote for AmmoLand! www.SilencerStache.com.
---
About The American Suppressor Association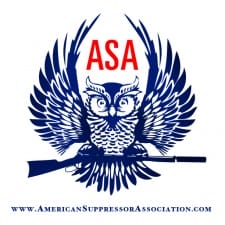 The American Suppressor Association (ASA) is the unified voice of the suppressor community. We exist for one reason and one reason only: to fight for pro-suppressor reform nationwide. The ability of the American Suppressor Association to fight for pro-suppressor reform is tied directly to our ability to fundraise.
Since the ASA's formation in 2011, 3 states have legalized suppressor ownership and 18 states have legalized suppressor hunting. Much of this would not have happened without your support. For more information on how you can join us in the fight to help protect and expand your right to own and use suppressors, visit www.AmericanSuppressorAssociation.com.