U.S.A. –-(Ammoland.com)- If you're in the market for a heavy-duty EDC then look no further. The SOG Flash AT fills the bill. Due to the half-serrated edge, I'd also recommend it for rafting and boating and as a camping knife. The blade is thick and should stand up to a lot of abuse. My knife came from the factory sharp.
One thing that I liked right away with the SOG Flash AT is the full firm grip I felt when holding the knife. At first glance, you may think that the handle is a little large for the blade since it is only 3.45-inches long. Don't make that mistake. Your hand is still the same size whether the blade is 2" or 6". It puzzles me why knife manufacturers make smaller handles that impossible to get a firm grip on. SOG didn't make this mistake.
Once you pick up the Flash AT you'll understand why I am raving about the feel of the grip. It has a finger groove and thumb grooves so you can obtain a firm grip. I love it.
The blade is of a drop point design but the spine slightly slopes down so you have a definite point for your stabbing jobs. It has 1 1/8" of serration on the hilt.
I love the safety features of the SOG Flash AT. I love the modern spring assisted opening folders but am scared to carry them because what if they accidentally flipped open in your pocket. They are super sharp and could do some damage before you knew it. The Flash AT has an Ambidextrous spine mounted safety. Push it down and the blade is locked closed. Flip it the other way and a red dot will indicate that it is free to open. I feel safe carrying this one.
It has a thumb stud to help activate opening. Another feature that I love is the Assisted-open AT-XR lock on the side of the handle. Slide the switch back and it unlocks the blade so you can close it and then lock it in position. I am so used to folders with liner locks that it still takes me a minute to remember to use the switch on the side of the handle to close the blade. This is going to take me a while.
I hate to gush over a knife but I really like the safety features of the SOG Flash AT and think it would make a nice heavy-duty EDC.
The SOG Trident AT comes in a choice of three blades to choose from. A tiger stripe color which is kinda cool looking, a plain edge or a combo plain/serrated. The cheapest version has an MSRP of $74.95 and goes up from there. And as is usual, we will close with the specs.
BLADE LENGTH – 3.45″
WEIGHT – 4.49 oz
BLADE STEEL TYPE – Cryo D2
BLADE THICKNESS – 0.12″
HANDLE MATERIAL – GRN
HANDLE COLOR – Blackout
FINISH – Titanium Nitride
LOCKING MECHANISM – AT-XR
SAFETY – Ambidextrous Spine-Mounted Safety
OPENING MECHANISM – Assisted Thumb Stud
COUNTRY OF ORIGIN – Taiwan
EDGE TYPE – Partially Serrated
BLADE SHAPE – Straight Back
---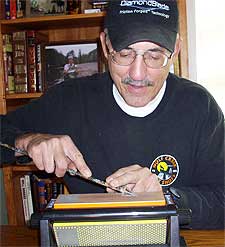 About Tom Claycomb
Tom Claycomb has been an avid hunter/fisherman throughout his life as well as an outdoor writer with outdoor columns in the magazine Hunt Alaska, Bass Pro Shops, Bowhunter.net, and freelances for numerous magazines and newspapers. "To properly skin your animal, you will need a sharp knife. I have an e-article on Amazon Kindle titled Knife Sharpening #ad for $.99 if you're having trouble."