AmmoLand's own in house reverend, Brian (Rev) Norris, reviews the Springfield Armory Hellcat 9mm Micro Compact Pistol w/ Shield RMSc.
U.S.A. –-(AmmoLand.com)- It feels like just yesterday that options for deep concealment micro pistols were quite limited. People would debate between Seecamp, Kel-tec, J-frames, and the G26.
On occasion the Beretta Tomcat, Colt's 1903 and 1908 models would enter into the conversation.
Later, Kahr came on the scene and broke new ground. Bringing single stack, lightweight, striker-fired options to the table. Though it took time others have followed.
I'm no fan of Keltec (or any other toy-like feeling firearm) but I must admit that there was a time when a little Keltec road in a Kydex holster from Aholster in my pocket around the mountains of East TN. I could be heard saying asinine things like "any gun is better than no gun."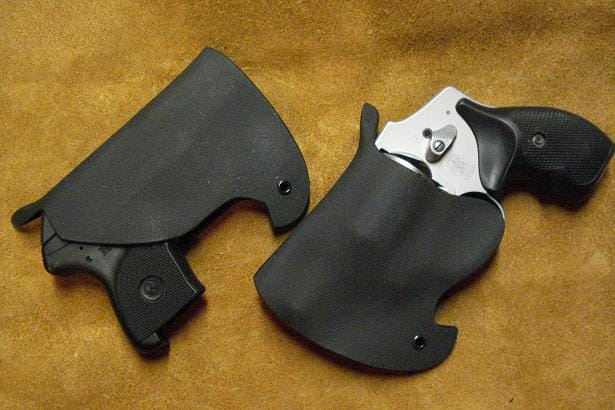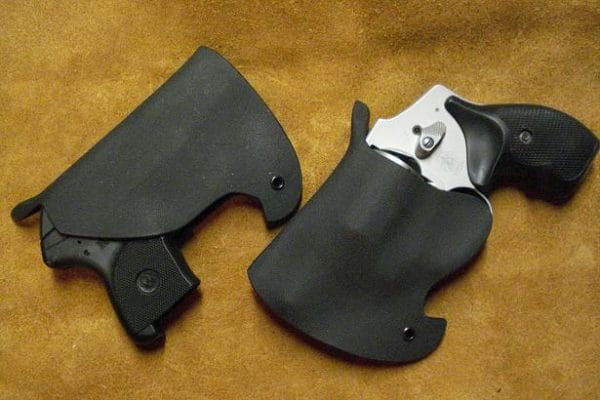 With time comes more wisdom and more opportunities. I'm not claiming to be wise (a bit wiser perhaps) but I definitely have more opportunities when it comes to micro guns, and so do you.
The one sitting on my desk today is one of the more remarkable options breaking new ground in our current market. The Springfield Hellcat is an interesting offering indeed.
Springfield's marketing department's claim captures what makes this little gun so remarkable— "the world's highest capacity micro-compact." That statement says a lot. This claim nears our industry's space race. Companies clamor for that title.
In 2002 if you told me I'd be holding a twelve shot polymer-framed gun with these dimensions, that actually ran I'd have laughed at you. If you told me it would be 2019 or 2020 I may have imagined some futuristic design. Well, I guess we're living in the future. This pocket gun does have a red dot on it for goodness sakes.
Let's cut through the noise and get down to business.
I headed out to the range with a number of types of ammunition. One particular training and defensive load from Fort Scott Munitions was of particular interest. So far their 9mm 115GR TUI has run reliably and accurately in all the handguns I've shot it through. Fort Scott has an interesting concept and I'm enjoying the round so far.
The package:
Since this size pistol is designed to be both comforting and comfortable my test version has ridden around in a Crossbreed Founder's Series Reckoning IWB Holster on Crossbreed Crossover Gun Belt or on a 1791 Gunleather Gun Belt. More often it's been riding on my ankle in either a Crossbreed Ankle Holster or a Galco Ankle Glove.
Reliability
I've shot 500 rounds from various manufacturers through this gun with zero malfunctions. I know, I know, that's not enough ammo to claim reliability. I agree, send me your ammo and we'll fix that. They tell me we're in a global pandemic. The particular environment that we're in is unique. I'm still going through my regular everyday motions but that doesn't mean no personal conservation is needed.
Dimensions & Capacity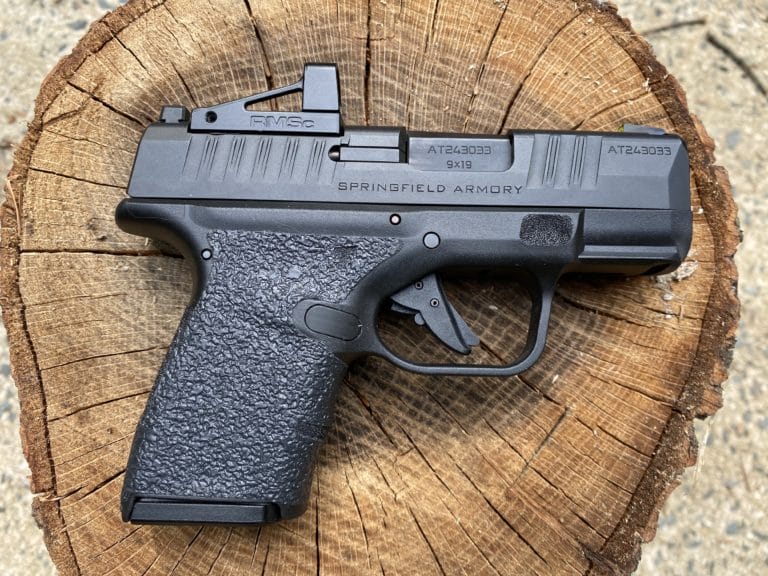 You can read all the stats anywhere but I'll supply the crucial ones for convenience so you don't need to google away. This micro-gat is six inches long, four and a quarter inches tall, and less than an inch wide. It holds 11 + 1 with the standard mag and 13 + 1 with the included extended mag. It's a bit larger than some of the micro guns mentioned above but it's much smaller than others and it has more capacity than them all.
Features
Springfield boasts of the flat trigger, reversible mag release, loaded chamber indicator, light rail, top slide serrations, and hammer-forged barrel. The pistol certainly delivers a feature-rich design. We normally lose many of these features as they are sacrificed on the altar of deep-concealment.
I like the overall form factor. It's a good looking gun. My example is the optics ready model with RMSc optic installed. The slide is smooth and snag-free (sans the red dot of course). The grip is positive and engaging. It's easy to maintain a high grip and the grip angle is reminiscent of the venerable 1911. The Fudds out there can imagine that's a beavertail if they try hard enough.
The grip is neither too aggressive or too anemic. I'm not sure we need to make a big deal out of it but it's a good solid grip and it does its job well. I have some Talon grips on mine. The gun didn't need them but it didn't hurt either and to be honest— the guys at Talon are good dudes and I like to give them a shout out from time to time. They didn't pay me a dime to say so but they did look me in the eye, shake my hand, and thank me at SHOT. In my world, that goes a long way.
Though the mag release is relatively smooth, it's tactile enough and let's remember the intended purpose of this handgun. The magazine release suits that intention. Obviously, I like the magazines themselves. What's not to like. They're metal, they seat well, and they run. Flawlessly so far.
I really like the factory sights on this gun. The positive shelf on the rear sight is useful. I could take or leave the rear u shape but it does the job. The tritium front sight is outstanding! It's a night sight reminiscent of Trijicon HD, Night Fision, or even XS's front sight. That's high praise, particularly for a factory sight. In a world where people that use their guns are resigned to buying a brand new gun only to immediately buy a new set of sights this is a breath of fresh air.  Who wants to replace and throw away brand new factory sights so frequently?
In this regard, may Springfield's tribe increase.
Springfield Hellcat Performance
It's as accurate as a little gun like this needs to be and probably a bit more. This example had an average trigger pull of just over 6lbs from on my Lyman trigger gauge from Brownells. It averaged 6lbs 3 ounces to be exact. Personally, I found the trigger to be an average striker-fired trigger and had no problem getting good consistent hits with it.
I shot it back to back with my friend's SIG P365. Since neither gun is a gun I typically carry, they shot about the same for me. My friend, the owner of GunKing, a firearms dealer in Oakboro, NC, favored his P365.
Compared to offerings of yesteryear in this size— this new class of micro-gats manages recoil quite well. If your unfamiliar with the type, please remember that smaller guns are harder to shoot with precision. There's a reason why they are called "get off me guns" and not "win the competition guns."
This is all opinion and therefore relative. By this time it should be clear that my opinion of the Hellcat is favorable thus-far.
I think the name Hellcat feels like it's trying too hard but so what… if Dodge can do it, why not Springfield.
As is always the case, I'd encourage you to shoot what you plan to buy before purchasing if at all possible. Don't worry about how it feels in hand. Go shoot the gun at a range and make an educated decision.
For my taste, I'd prefer the trigger to be positioned at a more upright angle. This trigger leans back like a teenage driver on summer break, with tinted windows rolled down, and music blaring. I imagine that in a rush, a person with shorter fingers than I could bind the trigger. In that case, a trigger press that would normally result in a pushed shot would result in a slower shot at least.
That being said, Laura, my wife, has small hands and didn't have trouble. She's a good shot and a relatively experienced shooter. When I asked her to rush and pay less attention to fundamentals she saw what I meant.
In the end, this may provide a training service that breaks the shooter of bad habits but it's something to be aware of nonetheless.
The trigger safety needs to be engaged directly, coming straight back.
I understand that's a safety feature. It didn't prove problematic at all for me. Still, if you have smaller hands and less experience you should become confident with this trigger before relying on it to save your life. Once you get through the take up to the wall I like the flat trigger angle.
Getting confident with the trigger before relying on the handgun should go without saying as it applies to all features on every gun. However, things that should go without saying still need to be said in our microwave society.
Experience has proven that a lot of people buy a gun, load it, and put just put it away. They mistakingly believe that they now possess a magic wand that will get them out of trouble should trouble arise.
Make an educated purchase, buy ammo, and get reputable training!
Though I have an Shield Sights Compact Reflex Mini Sight (RMSC) on my Glock 48 I'm not sure that I'd want a red dot on a pocket gun like this one. For me, it makes it less svelte, and to be honest, I think I'm still as quick with standard sights as with red dots at this point. However, if you have the optics ready version you simply have more options. There's a plate that fills the optic slot if you choose to forgo it. I think that as I get older I may appreciate a red dot optic more but only time will tell.
Springfield Armory Hellcat 9mm Micro Compact Pistol: Overall Impression
I feel like an old geezer when I look at this new class of micro-compact handguns I think, well I'll be— we are living in the dagum future and what an amazing future it is! Give the svelte little Springfield Armory Hellcat 9mm Micro Compact Pistol a run at your local range— I bet she'll bring a smile to your face. After each range session, I'm certainly grinning from ear to ear!
---
About Brian (Rev) Norris: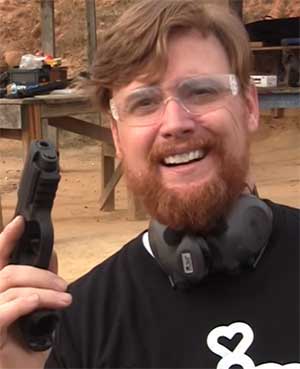 Brian (Rev) Norris, in addition to writing and talking guns and gear via video, is a pastor (hence the "Rev") who specializes in mentoring young men in the urban context. If he catches a moment of free time, you'll likely find him enjoying his family or heading to the range on his motorcycle. Brian has enjoyed the shooting sports since his father introduced them to him as a child. He's an outdoorsman who enjoys life to the full.
Disclosure: Some of the links below are affiliate links, meaning at no additional cost to you, Ammoland will earn a commission if you click through and make a purchase.