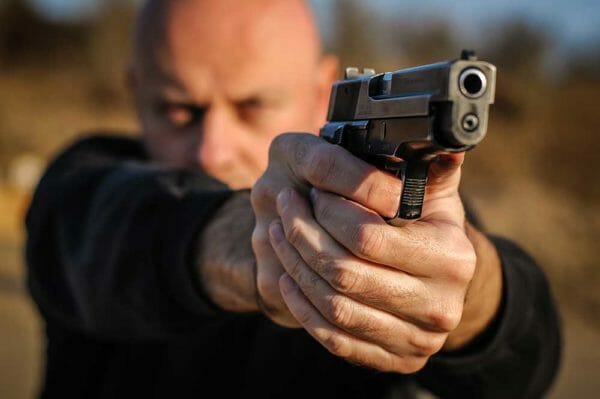 U.S.A.– (Ammoland.com)- You didn't see this news covered by the mainstream media, but again this week, responsible gun owners defended themselves and the people they love. Firearms instructor Andee Reardon O'Brion joins the Self Defense Gun Stories Podcast to look at four new examples. Were these gun owners lucky, or were they well trained? (19-minute audio)
These victims saved lives because they had a gun and good habits.
Kwethluk, Alaska- You hear the village fire alarm. The volunteers in your village start to show up and then you hear screams and gunshots. These volunteers are also the village police officers, and you know they are unarmed. You have your rifle with you, though the news story doesn't say if the rifle was in your truck or in your home. You grab your gun and walk toward the sounds of gunfire. You take cover and point your rifle at the armed attacker who is shooting at the village police. You talk the attacker down without firing a shot. The Village police officers take the attacker into custody. State police officers arrived a half hour later.
The attacker wanted to commit mass murder and broke into the village warehouse to steal guns kept in the evidence lockers. He was wearing body armor and a helmet. The police said thank you, and you went back to work.
Fort Worth, Texas- It is after dawn on Sunday morning. You hear voices outside. A minute later, you hear someone pounding on your front door. You grab your handgun and see three men in black clothes smash through your front door and enter your home. They move toward you and you shoot them. They turn and run.
You stay in your home and call the police. You make a brief statement. The police catch two of your attackers on the street nearby. The police catch your third attacker when he seeks medical treatment for a gunshot wound.
Panama City, Florida- It gets hot in Florida, and you're working on a project in your garage as the sun comes up. A stranger walks down the street shouting and cursing. The stranger sees you, and comes up your driveway screaming. You retreat into your home and lock the doors. The stranger smashes your glass front door and knocks your wife to the ground. You are in your 70s and your attacker is in his 30s. You dash to your bedroom to get your gun. The attacker is hitting your wife and you shoot him. Now your attacker stops. You go to your wife and call 911.
You put your handgun on the counter as the police arrive. EMTs take your wife to the hospital. They pronounce your attacker dead at the scene. You make a brief statement for the police.
Des Arc, Arkansas- You walk up to your Heating, Ventilating and Air Conditioning shop. You have an old car parked next to your building that you and your son's work on. You see someone sleeping in the back seat of the car. He isn't wearing normal clothes. That is when you remember that the sheriff is looking for two escaped convicts. You draw your firearm and shout for your dad to come outside with his gun as well. Your dad calls the police as you hold the inmate at gunpoint. Police arrive in minutes. You step back and holster your firearm as the police approach you. They take the inmate into custody.
The day before, two inmates attacked two guards at the county jail. This inmate was being held for murdering his girlfriend.
Links and text of the discussion at the podcast webpage.
---
About Rob Morse
Rob Morse writes about gun rights at Ammoland, at Clash Daily, and on his SlowFacts blog. He hosts the Self Defense Gun Stories Podcast and co-hosts the Polite Society Podcast. Rob is an NRA pistol instructor and combat handgun competitor.
Contact Andee Reardon O'Brion at EastCoastSchoolofSafety.com and on her facebook and Instagram pages with the same name.