U.S.A. –-(AmmoLand.com)- When naïve people ask why I think we need guns I always answered, because we live in a dangerous world. And that statement was made before the current crisis of looters posing as protesters had occurred. Like many groups during times of unrest, it appears that if the normal protesters don't self-regulate then they get shanghaied by terrorist groups such as ANTIFA, which are just anarchists.
While no one in their right mind wants to shoot anyone, neither does anyone in their right mind want to helplessly set by wringing their hands watching while their loved ones get raped, pillaged and plundered. You're nuts if you think the government is going to protect you. At the current rate, cops are not even going to be allowed to protect themselves.
All the above brings us to today's Product Review. After you make the decision to buy a gun to protect yourself and your loved ones the next big decision is which ammo should you use. All ammo is not created equal. This is a big decision.
We know from big game hunting that we want the bullet to penetrate the hide, break through the ribs, and then start expanding and do maximum damage in the vitals. Use the same thought process when choosing your ammo while factoring in that humans don't have thick hides like a moose or thick bone structure like a brown bear. Yes, thick coats can throw a kink in your plan but the morale to this paragraph is, you don't want a thin jacketed flimsy bullet but you don't want a solid core bullet either.
Most likely when a murderer attacks you, it will be in a suburbia type of setting. So you don't want solid core bullets in your .44 mag. Likely you'd shoot the bad guy and the bullet could pass through him, your sheetrock walls and hit someone in another room or even a neighbor.
So choose your self-protection ammo carefully. Over time and many hunts, we've discovered how cheap ammo doesn't perform. In the past, I've shot up to five deer/day so I've got to evaluate what works and what doesn't. On self-protection ammo though, that's not the case so we have to see what the experts recommend, investigate their testing/experimentation methods, and try to come to a rational conclusion when it comes time to make your choice.
I'm looking at changing my self-protection ammo and wanted to check out the Hornady Critical Duty 45 Auto+P 220 gr. FlexLock ammo. I've owned a pistol since I guess the 7th grade. You'd think as much as I've shot one that I'd be a good shot but I'm not. So it's not fair for me to include in this Product Review what kind of groups I shot with this ammo. But from past experience with their rifle ammo Hornady has always performed in the upper ranks as far as being accurate and performing well in all of my rifles
So that we know how the bullet performs I'm going to include some of the Hornady info on their testing.
Designed to meet the needs of those who demand superior barrier penetration and prefer a full-size handgun for their personal protection. Critical Duty is loaded with the tough Hornady FlexLock bullet that delivers "barrier blind" performance when shot through common urban barriers.

The FlexLock bullet incorporates two revolutionary Hornady features to deliver superior barrier penetration and consistent performance in FBI tactical handgun ammunition tests (FBI Protocol).

The patented Hornady Flex Tip design eliminates clogging and aids bullet expansion. A large mechanical jacket-to-core InterLock band works to keep the bullet and core from separating for maximum weight retention, excellent expansion, consistent penetration and terminal performance through all FBI test barriers.

Bright nickel-plated cases simplify chamber checks in reduced light. Additionally, all Critical Duty ammunition is loaded with low flash propellant to help preserve night vision in low-light firing.
FBI Tested and Selected
FLEXLOCK BULLET: Incorporates two revolutionary Hornady features: the no-clog, patented Flex Tip design and the heavy duty jacket-to-core InterLock band.
INTERLOCK BAND: Works to keep the bullet and core from separating for maximum weight retention and proven terminal performance through all FBI test barriers.
CORE: Made of high-antimony lead making it extremely tough, delivering controlled expansion for unparalleled terminal performance consistency through all FBI test barriers. It's also more economical than similar bonded bullets.
NICKEL-PLATED CRIMPED CASES: Nickel plating resists corrosion and greatly enhances low-light chamber checks. The cannelured bullet with crimped case ensures no bullet setback during feeding.
I don't have the MSRP but at a local retailer, their price on a box of Hornady Critical Duty .45 Auto+P ammo is $25.99.
---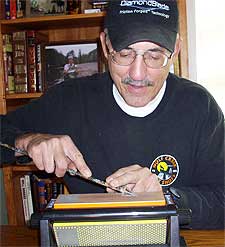 About Tom Claycomb
Tom Claycomb has been an avid hunter/fisherman throughout his life as well as an outdoor writer with outdoor columns in the magazine Hunt Alaska, Bass Pro Shops, Bowhunter.net, and freelances for numerous magazines and newspapers. "To properly skin your animal, you will need a sharp knife. I have an e-article on Amazon Kindle titled Knife Sharpening #ad for $.99 if you're having trouble."