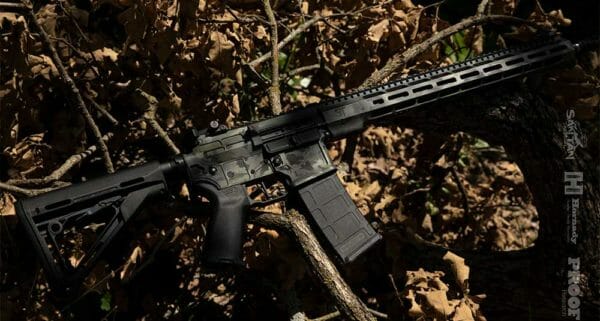 U.S.A. –-(AmmoLand.com)- San Tan Tactical, Hornady Mfg, and Proof Research have partnered up on the San Tan new 6ARC rifles. San Tan's innovative high-quality firearm systems and unparalleled performance in combination with Hornady's New 6ARC round originally developed for a specialized group within the US DoD, and Proof Research premium carbon fiber barrels take the AR15 platform to a whole new level!
STT-15 6ARC RIFLE
The San Tan Tactical STT-15-6ARC rifles are a superb example of industry-leading technologies from companies pushing the envelope with a desire to achieve more! With the other wildcat caliber's coming to market over the recent years, the recent 6.8 military requirement, all in an attempt to pursue the maximum output from the AR15 platform.
The Hornady 6 ARC cartridge combined with its variety of projectiles currently available allows a significant increase in capability above and beyond what is currently available in the AR15 platform. The capability to weight savings is seen in our STT-15-6ARC-Lite, the slick sided billet matched receiver set without signature lightning pillar cuts. Removing as much weight as possible without sacrificing strength and performance.
STT true matched pillar billet sets, hand-finished, matching serial numbers. The upper is cut from a single solid 7075T6 Certified Aerospace Aluminum. Propriety special burnished bore that gives a compacted internal surface, resulting in a much smoother surface finish. The bore, receiver extension face, barrel nut threads, and barrel extension surfaces are all machined in one operation ensuring that they are perfectly concentric and perpendicular to the barrel assembly.
San Tan Tactical STT-15 6ARC Rifle Features:
STT Suppressor Optimized Enhanced Bolt carrier group
STT 6 ARC HPT MPI Bolt, Crane O-ring Upgrade
Proof Research 18" Carbon Fiber 6ARC Barrel
CMC Triggers 3.5lb Single Stage Match Trigger
MagPul MOE plus Grip
MagPul CTR Stock
MagPul MBUS Pro
STT 15 16" MLOK Rail
Precision CNC machined from billet 7075-T6 certified aluminum
Propriety special burnished bore that gives a compacted internal surface, resulting in a much smoother surface finish
Type 3, class 2, deep black, hardcoat anodized black
Features extended feed ramps
Ambidextrous Mag and Bolt release controls (ambi version only not Lite)
CERAKOTE options are available for additional cost
Proof Research 6ARC Carbon Fiber Barrel
The STT-15-6ARC and STT-15-6ARC-Lite both are configured with industry-leading Proof Research Carbon fiber barrels.
Known synonymously for their quality, ultra-lightweight characteristics, and superior accuracy. Featuring a 6ARC Chamber,18" Length, 7.5 Twist, Rifle gas, .750 diameter gas block.
The Hornady 6ARC Round
Hornady Mfg a leading ammunition manufacturer provides world-class performance in a 6ARC factory-loaded cartridge. The high-performance, match-accurate round features an excellent cartridge-to-chamber relationship and shoots exceptionally well. The 6ARC is commercially available in 108gr ELD-MATCH, 105gr BTHP BLACK, and 103gr ELD-X -Precision Hunter loads. The ELD-Match round boasts a G1.536BC.
6mm ARC Advanced Rifle Cartridge… Advanced. Versatile. Efficient. Effective.
Tested, selected, and fielded by a specialized group within the US DoD for its multi-purpose combat rifle program, the 6mm ARC is an extremely versatile cartridge that does everything much larger cartridges can, and everything that smaller cartridges can't. Designed to meet the demanding needs of the world's toughest critics, the 6mm ARC is a truly advanced cartridge capable of utilizing high BC, efficient 6mm bullets for unprecedented levels of performance from such a compact platform.
Features match accurate Hornady bullets that are held to the tightest tolerances in our test lab.
Low recoil
Flexible
Utilizes an efficient propellant charge and bullet weight combination.
Self-spot impacts on or off-target to make rapid adjustments.
Less felt recoil than larger short action-based (308 Win family) cartridges.
Factory ammunition offerings in a variety of bullet styles may be complemented by the handloader who has a multitude of 6mm bullets to choose from for specialized applications from varmint and deer hunting to match shooting needs
---
About San Tan Tactical
American Made, through and through is the core value at San Tan Tactical.