U.S.A. –-(AmmoLand.com)- I had just received a Spyderco Endura FRN Black Combo knife to test and the very next day I was going to run over to Oregon fishing. I was going to take my 12' Jon boat, which on a good day spooks most people and when the wind kicks up my fishing partners really dwindle. I've been washed ashore a few times and pretty much filled the boat with water a couple as well. After one particular hairy bowfishing trip in which we barely made it back to shore, Ron Spomer nicknamed it the Edmond Fitz Terror. I even didn't think that we were going to make it back that day. The waves were a good 3-foot high (According to Ron they were 20-ft) and if we'd of swamped, we'd of been blown into a thick patch of willows which would have been easy to get hung up in. We had nearly a mile to go. That was a close one.
The scenario that is particularly worrisome to me though is when it is anchored in back. I've only got about 3" of clearance anyway and being anchored down, if a wave comes crashing over the back of the boat then the weight of the water drops the boat even lower and then one, maybe two more good waves and I'm now the proud occupant of a submarine.
In instances like above, you have seconds to cut the anchor rope loose or you go under fast. I found this out the hard way once. Some yahoo in a bass boat shot by me going 90 mph. His first wake came over the back of my boat which dropped me down a little further. The second wave came rolling over and if I hadn't of gotten the anchor loose fast the third one would have filled the boat and that'd of been all of the fishing for that day! Luckily I got out of that one semi-dry. More than once I've washed up on shore full of water.
So with the above said, you can see why when boating I am super particular about which knife I carry. It has to have a few features:
Be readily available.
Be easy to activate into action.
Have at least a partially serrate edge so I can quickly slice through an anchor rope or cut lose a snagged life jacket.
Not have a slippery surface.
Let's briefly cover why I think that the above four requirements are met by the Spyderco Endura FRN Black Combo. This knife has a reversible pocket clip so you can clip it to your pocket or the strap of a life jacket for easy access.
If you're familiar with Spyderco folders, then you know about their signature oversized thumb hole. A lot of people really like this feature which aids in one-handed opening.
I'm a big fan of straight-edged knives and never really liked serrated edges. I'm not on a SWAT team or Search & Rescue team. I'm slow to switch over on things but over the last few yrs. for boating/rafting I find myself now favoring a partially serrated blade. They seem to slice through items that you'll encounter in crisis situations like ropes on anchors, hung up life jackets etc.
Then lastly, I feel like that I have a firm grip on the Spyderco Endura FRN Black Combo for three reasons:
The surface on the handle is aggressive.
The back of the blade is about ½-inch higher than the handle which means your thumb is pushing into the back of the blade. On top of that there are some aggressive thumb grooves as well.
There are 3 finger grooves on the bottom of the handle and the handle is a full-sized handle.
Due to the above features I like this knife and will be carrying it again tomorrow in the Edmond Fitz Terror. The MSRP on the Spyderco Endura FRN Combo is $125.00 and as is usual, we will close with the specs.
Overall Length – 8.75″ (222mm)
Blade Length – 3.75″ (96mm)
Steel – VG-10
Closed Length – 5″ (127mm)
Edge Length – 3.438″ (88mm)
Weight – 3.6.oz (103g)
Blade Thickness – .125″ (3mm)
Handle – FRN
Clip Position – Ambi
Tip Carry Position – Tip-Up/Down
Lock Type – Back Lock
Grind – Saber
Sheath – N/A
Origin – Japan
---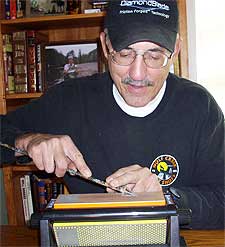 About Tom Claycomb
Tom Claycomb has been an avid hunter/fisherman throughout his life as well as an outdoor writer with outdoor columns in the magazine Hunt Alaska, Bass Pro Shops, Bowhunter.net, and freelances for numerous magazines and newspapers. "To properly skin your animal, you will need a sharp knife. I have an e-article on Amazon Kindle titled Knife Sharpening #ad for $.99 if you're having trouble."