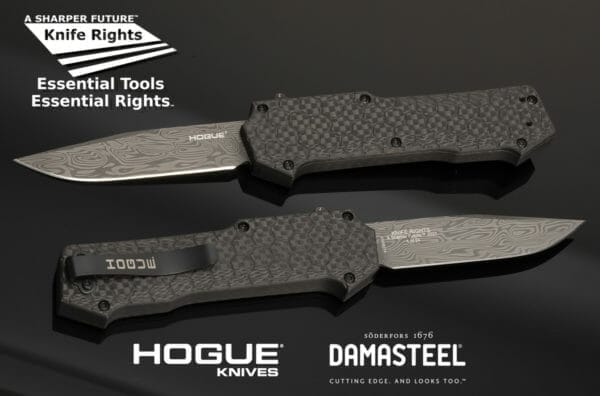 U.S.A. –-(Ammoland.com)- Hogue Knife Rights, America's foremost advocacy organization for knife owners, is proud to announce that Hogue Knives, this time with support from Damasteel, has taken it up a notch with their fifth limited edition $1,000 Donation Bonus Knife generously donated for Knife Rights' Ultimate Steel™ Spectacular annual fundraiser. Each donor who contributed $1,000 in the Ultimate Steel™ before the limited edition of 24 were gone, will receive one of these extraordinary knives.
Knife Rights Founder and Chairman Doug Ritter said, "we sincerely appreciate Hogue Knives' continued generous support for Knife Rights and welcome Damasteel to our family of industry partners who are making a difference by helping us continue to forge a Sharper Future."
This year Hogue created a unique version of their lightweight "Compound" OTF (Out The Front) Automatic Knife with a 3.5″ Clip Point Blade of Loki™ pattern Damasteel® Damascus patterned stainless steel. This knife serves as the world introduction of their new "Loki" pattern by Damasteel. A truly spectacular blade for the Ultimate Steel™ Spectacular.
This Compound OTF has a Matt Diskin/FiberSmith LVA Carbon Fiber® case (handle) with internal 6061-T6 Aluminum Type III hard anodized chassis. It also features Hogue's newly introduced Tritium Night Fision™ trigger. It is fitted with a reversible Black PVD Coated Stainless Steel tip-down deep carry pocket clip.
This Compound OTF was generously 100% donated to Knife Rights by Hogue and Damasteel.
While these $1K donation bonus knives are all claimed, you can still make a donation for a chance to win from over $120,000 in spectacular prizes in the Ultimate Steel. That includes over $18,000 in Tail End Bonus prizes that only those who donate now can win. Donate now and get two chances to win! Support Knife Rights, get chances to win incredible prizes and and help us forge a Sharper Future™. View all the prizes at Link in BIO or go to: www.UltimateSteel.org
Hogue Knives/Damasteel Knife Rights 2020 Limited Edition Compound Specifications:
Blade Length: 3.5″
Blade Style: Clip Point
Overall Length: 8.4″
Closed Length: 4.9″
Blade Thickness: 0.125″
Blade Material: Loki™ Pattern Damasteel® Stainless Patterned Steel
Hand Sharpened and Honed Edge
Locking Mechanism: Double Action Out-The-Front Automatic – Ambidextrous Trigger Deployment & Retraction – Tritium Night Fision™ Trigger
Frame: Black Carbon Fiber Case with Internal 6061-T6 Hard Anodized Aluminum Chassis
Pocket Clip: Black PVD Coated Stainless Steel – Ambidextrous Tip-Down Deep Pocket Carry
Weight: 3.6 oz
---
About Knife Rights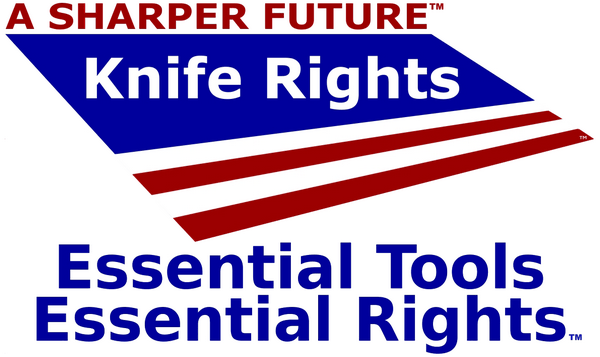 Knife Rights (
www.KnifeRights.org
) is America's foremost advocacy organization for knife owners; Rewriting Knife Law in America™ and forging a Sharper Future for all Americans™. Knife Rights efforts have resulted in 32 bills enacted repealing knife bans in 22 states and over one hundred cities and towns since 2010 as well as numerous victories in courts throughout the nation defending the civil rights of knife owners.
About Hogue
Hogue Knives (www.hogueinc.com) are built upon precise engineering and stringent manufacturing practices that yields exceptional performance. Hogue, Inc. is a family owned and operated business that was founded in 1968 by Guy Hogue. Guy's legacy of innovative, high-quality American engineering and craftsmanship has been carried forth under the leadership of his sons Aaron and Patrick, his grandson Neil and by Hogue Tool and Machine president Jim Bruhns.
Hogue Knives are designed by former Marine Recon, martial artist and custom knife-maker Allen Elishewitz. Partnering with Elishewitz as the minds behind Hogue Knives is Master Tool Maker Jim Bruhns. Their design and engineering talents ensure that every knife delivers the best possible fit, finish and function.
With their long history of tool making experience, entering the knife industry was a natural addition to the Hogue Incorporated manufacturing business. They unveiled their initial releases in 2010. Their line has grown dozens of models with over 200 variations, along with sheaths and pouches to fit most every need.
About Damasteel
Damasteel (www.damasteel.se) produces stainless Damascus patterned steel, as well as other specialty steels, made using the latest gas-atomized powder metallurgy technology, resulting in extremely clean and fine-grained steel. This process gives the steel incomparable toughness and strength combined with excellent edge retention and corrosion resistance. The forge has been located in the small mill town of Söderfors, Sweden since 1676.