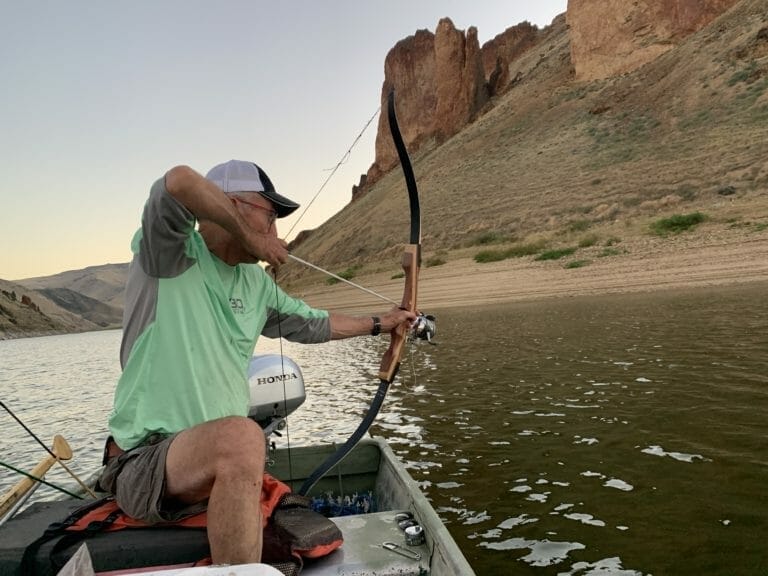 U.S.A. –-(AmmoLand.com)- Katy and I bought a Little Jon boat a year after we got married. All these years all we've ever had on it was an electric trolling motor which works great until the battery dies or a, big wind comes up. Over the last 35 yrs. we've had our trials & tribulations with trolling motors. They're great for when you get to your destination but you can wear out your battery getting there and back, much less after fishing all day. A few times I've gotten right back to the boat dock and the battery died and I got blown away. So after all these yrs. of fighting through the struggles of using a trolling motor, last weekend we got a Honda BF2.3 boat motor.
Katy and I went fishing Monday & Friday. Monday I also took the electric motor, Friday I left it at home. Why even carry it? The battery weighs 48 lbs. and the trolling motor weighs 18 for a total of 66 lbs. The Honda BF2.3 only weighs 29.5. It is a lot easier to pack around, clears out the Little Jon boat and we set higher in the water.
Right away we fell in love with the little Honda BF2.3 motor. How could we not? It pushes the Jon boat along about 3x's faster, weighs less so we set higher and you don't have to always be worrying about conserving your battery. You can also take off for destinations afar whereas before you were on a short lease. I can't believe I've allowed myself to be tortured for this long.
I won't be able to go over all of the features but I'll skim over them right fast. To begin, it is a four-stroke engine so you don't have to mix oil with the gas. Nice. It surprised me but they said you can even run 86 octane gas which I believe is 10% ethanol. I don't, I'm running ethanol-free gas in it as I do in my chain saw, four-wheeler lawn mower and all of my other toys.
So how do you start the Honda BF2.3?
Fill the tank with a gas tank that holds .29 gal. which doesn't seem like much but Honda claims that it can run for one hour at full throttle on a tank. I carry a small one-gallon gas can with me to refill as needed. On the two trips that we've taken this week we've fished for 4-5 hrs. and came back with plenty of gas due to only running it intermittently. There is a throttle grip friction knob which you can tighten in position so that you don't have to hold it constantly.
To start the engine make sure that the kill switch is in place. Flip the fuel valve lever to the On position and open the fuel cap vent knob. Place the throttle in the start position, pull out the choke, and then pull the starter cord.
It has a centrifugal clutch which engages the prop when the throttle gets turned above the idle speed. Let off the gas and the prop disengages and you glide to a halt.
It's a forced air-cooled engine which means you don't have to worry about water pump problems. In a few reviews that I read on the Honda BF2.3 everyone was lamenting that the motor was way too loud and they had to wear ear protection. I was worried about this for two reasons.
My wife has supersonic hearing.
I do a lot of bowfishing and you need to be able to quietly glide along for shots.
After firing up the motor for the first time I don't know what they were talking about, I think it is quiet. Maybe a competing boat motor company wrote the reviews. They recommend storing it in two positions. Either upright like when mounted on the boat or on the right side.
For the testing assignment, I was supposed to try it out while bowfishing. Of course, I do my bowfishing in the spring while they're up in the shallows spawning but while crappie fishing the summer we've been seeing quite a few schools of carp skimming along the surface sucking in moss or something. So Katy and I ran over to where we've been crappie fishing to try a little bowfishing. Unfortunately for whatever reason, the lake is stirred up and we couldn't spot any carp feeding. I took some old tortillas and tore off little pieces to throw out and get them feeding. Nada.
Time to shift gears so as to get a good test. We'd thrown in the crappie gear so we switched over to our crappie mode. The first trip the wind was blowing a bit so it made it hard to hold over our hot spot. By the time you reel in a fish, unhook it and the wife's fish we'd blown 50-75 yds. With the trolling motor it takes five minutes to get back into position, with the gas motor I'm back in 1-2 minutes. Nice.
The way I crappie fish on this lake is to start at the upwind side of a spot and letting the wind push us over the top of them. They may be strung out over a 150 yd. area. Then I fire up and run to the upwind side and repeat. The Honda BF2.3 allows me to spend less time getting into position. So Monday we only caught 114 and Friday we landed 141. We fished the same amount of time both trips so obviously it increased our catch ratio.
I love the little Honda BF2.3 and plan on wearing it out over the next couple of months. I couldn't find the MSRP but in talking to Louise that works at Idaho Marine where I picked up the motor she said the retail is $1,143.00 and they sold them for $986.50. And as is usual, we will close with the specs.
Engine Type 4-Stroke OHV, 1 Cylinder/2 Valves
Displacement 57.2 cc (3.49 cubic in)
Bore & Stroke 1.8 x 1.4 inches
Full Throttle RPM Range 5,000-6,000 RPM
Rated Power 2.3HP
Cooling System Forced Air
Ignition System Transistorized
CARB Rating (California) 3-STAR, ultra low emission
Fuel Unleaded 86 octane
Fuel Tank Capacity .29 US gal
Starting System Recoil
Exhaust Under Water, Above Propeller
Lubrication Oil Slinger System
Trim Range 4-Stage: 5°, 10°,15°, 20°
Tilt Range 75°
Drive Gear Ratio 2.42:1
Steering Angle 360° pivot
Propeller 3-Blade Plastic
Diameter x Pitch 7.25 x 4.75 inches
Dimensions

Overall Width 11.2 in
Transom Height S Type 16.5 in

Dry Weight S-Type 29.5 lbs
---
About Tom Claycomb
Tom Claycomb has been an avid hunter/fisherman throughout his life as well as an outdoors writer with outdoor columns in the magazine Hunt Alaska, Bass Pro Shops, Bowhunter.net, and freelances for numerous magazines and newspapers. "To properly skin your animal, you will need a sharp knife. I have an e-article on Amazon Kindle titled Knife Sharpening for $.99 if you're having trouble."