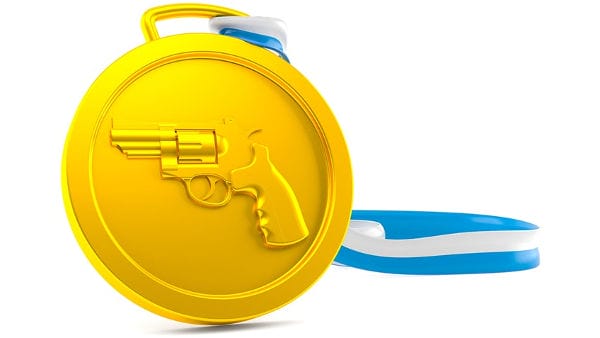 USA – -(AmmoLand.com)- With so much happening for patriots these days. AmmoLand News wants to leave you with some highlights or wins on the battleground for 2A rights, and a few other patriot efforts,,, with our Friday round-up of Second Amendment Wins-of-the-Week.
Please share this page or these wins on your social media and help red pill your friends and family.
Utah Legislature Passes Resolutions On Critical Race Theory, 2nd Amendment Sanctuary:
"House and Senate Republicans passed resolutions against the teaching of critical race theory in Utah schools and supporting the idea of declaring the state a "Second Amendment Sanctuary."
The Gun Buying Boom Means Huge Windfalls for Wildlife, State Agencies:
"State wildlife agencies are facing something many haven't seen for years, even decades. A 64 percent increase, all due to more guns and ammunition being manufactured and the law-abiding citizens that purchase them. "
Bloomberg & Everytown's Chinese Communist Party Connection Exposed:
"Breitbart News published an exclusive article detailing Mike Bloomberg and his buddies working hand in hand with the Chinese Communist Government. It's no secret the Chinese government is not a fan of the 2nd Amendment."
Missouri Lawmakers Tout Missouri Passage Of Second Amendment Preservation Act:
"With less than 24 hours left in the Missouri legislative session, Senate lawmakers gave final passage to a controversial bill that would nullify federal gun laws in the state."
How a Gun Patent Attorney Undercut Anti-Gunner David Hogg's Big Venture:
"A Donald Trump-supporting attorney announced he filed a trademark for Good Pillow before gun control activist David Hogg—and suggested it is "a good brand to put on pillows with a pro-gun civil rights message."
South Carolina Governor Mcmaster Signs Open Carry Law:
"Under the law, CWP holders can openly carry a concealable weapon on them or in their motor vehicle unless there is signage explicitly stating otherwise."
Today, I signed the Open Carry with Training Act into law! I will proudly support any legislation that protects or enhances a South Carolinian's ability to exercise their 2nd Amendment rights, and that's exactly what this bill does.

Here's what this means for you: pic.twitter.com/MjewBtrgB2

— Gov. Henry McMaster (@henrymcmaster) May 17, 2021
Supreme Court Closes Fourth Amendment Loophole That Let Cops Seize Guns Without Warrants:
"In a unanimous decision, the U.S. Supreme Court on Monday refused to give police "an open-ended license" to enter homes and seize firearms without a warrant."
Armed Washington State Man Shoots, Kills Attacker Targeting Neighbors:
"A Washington state man used his own gun to save his neighbors, by shooting and killing a man who police say was going on a violent rampage armed with a metal baton."
These are just a few of the best wins of the week. Did we miss some? Include your Second Amendment Wins of the Week in the comments below.