GRINNELL, Iowa – -(AmmoLand.com)- Brownells customers can enter for their chance to win a $1,000 Brownell's gift card and get access to Brownell's exclusives on special products from popular brands like Geissele, Daniel Defense, and Law Tactical during the annual Black Rifle Friday Event.
Customers can enter their cell phone number now for a chance to win one of four $1,000 gift cards at the Brownells Grand Giveaway entry page.
The Black Rifle Friday Event deals and exclusives begin on Friday, November 26. Starting Friday, customers will have access to doorbuster pricing on both overstock and new products, unique bundle deals, and gift card specials.
One of the highlights will be a new addition to the very popular Brownells BRN-180 line.
Customers will also get an opportunity to purchase a unique, one-time-only product created through a collaboration between Sons of Liberty Gunworks and Geissele.
Other specials include Law Tactical folders in a new, exclusive color, along with deals on items from Holoson, Aero Precision, Foxtrot Mike, MDT, Timney, and Apex.
The grand finale of the Black Rifle Friday Event will be Cyber Monday, November 29th, 2021. On Monday, Brownells will unveil additional special deals and exclusives, giving customers one more chance to buy an extra special holiday gift or claim an exclusive product.
Starting Friday, November 26, customers will be able to see all the special deals on the Black Rifle Friday Event page.
---
About Brownells
Serious About Firearms Since 1939, Brownells is the world's leading source for guns, gun parts and accessories, ammunition, gunsmithing tools, and survival gear. With a large selection of both common and hard-to-find items, and an extensive collection of videos, articles, and gun schematics, Brownells is the expert for everything shooting-related. Committed to maintaining our great traditions, Brownells has more, does more, and knows more – and guarantees it all, Forever. For more information or to place an order, call 800-741-0015 or visit Brownells.com. Stay up-to-date with Brownells on YouTube, Facebook, Twitter, and Instagram.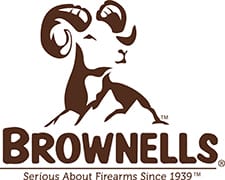 Some of the links on this page are affiliate links, meaning at no additional cost to you, Ammoland will earn a commission if you click through and make a purchase.