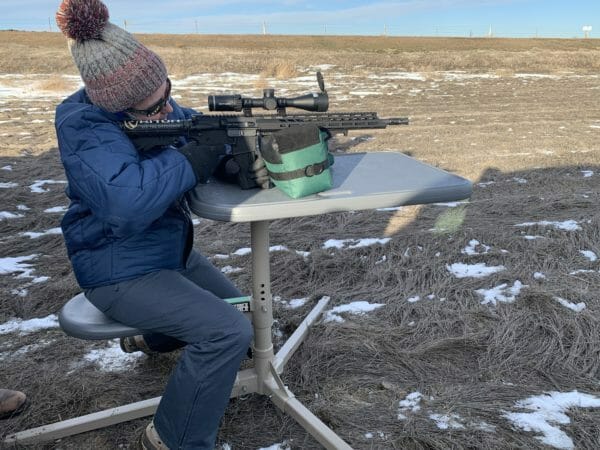 U.S.A. –-(AmmoLand.com)- I was doing a consulting deal over in South Dakota and had an apartment that I was working out of. I had six Umarex airguns that I was testing over there and then had also grabbed an Anderson Mfg. AM-15, M-LOK, 5.56 NATO, 16″ RIFLE and was tricking it out.
With all of the guns that I had to sight in, I needed somewhere decent to shoot. Even though there's a good bit of public land around where I was, I needed a shooting bench to shoot off of. I have a Caldwell Stable Table Lite at home and it works great for me to run out on the high desert and shoot off of. It folds up and yet it is stable so I get maximum performance while shooting. So for shooting in South Dakota I thought I'd try out his big brother, the Caldwell Stable Table.
The Caldwell Stable Table is heavier than the Caldwell Stable Table Lite, so it's a little more awkward to handle. The Lightweight version collapses down and is a little easier to store. So, you have to decide which route you want to go.
With the above all said, now let's focus on the Stable Table model. The first time out of the box you will have to do some one-time assembly procedures. First, attach the seat to the seat arm using the two supplied bolts. You'll need a ½" wrench to do this. From now on you will leave the seat bolted to the seat arm.
Next, you have to screw the Table Mounting Bracket to the tabletop with the six included bolts using a 3/16" Allen Wrench. From now on this plate will remain bolted to the tabletop. This completes all of the permanent assemblings that is required.
To put it together is easy. Just follow the instructions. Put the legs in the Central Hub then put the Center Support Tube into the Central Hub but first put the Nylon Bearing (gasket) on the end of the Support Tube so it rotates easily. While assembling these pieces you will use the supplied metal pins to hold everything in place. So I don't lose the pins I place them in the hole while in storage. Or you may rather keep them in a bag.
After the initial assembly (screwing in the Table Mounting Bracket and seat) it won't take you but a few minutes to slap up your Caldwell Stable Table from here out. I'm going to get a couple of bungee straps to hold the metal pieces together so nothing gets lost.
I've heard of some guys using the Stable Table to hunt off of, and you could if you're prairie dog hunting in Wyoming. If you've ever hunted there then you know that you can set-up and shoot for an hour in one spot. Here in Idaho, I could see it being a viable option for shooting whistle pigs or rock chucks. But the reason that I got it is because I wanted a stable shooting bench for sighting in my rifles. And it works perfectly for my desired purpose.
The height of the seat is adjustable (from 16-22") which is a must. The seat and the table can rotate 360 degrees in tandem so you can shoot from whatever angle you desire. It has a bolt in one leg so you can make adjustments on unlevel ground so the table top is parallel with the horizon. So, the Caldwell Stable Table fits the bill for what I was looking for. A steady shooting bench to sight in my rifles.
And it has one last little feature that is nice. The table has two slots in it in which you can stick in two cleaning forks, like what you have with your range box so you can clean your gun out in the field. This is a nice feature for two scenarios.
Sometimes when I'm sighting in a rifle, I need to clean it to tighten my group.
If you use it for prairie dog hunting and are getting 400-700 shots per day it allows you to properly clean your rifle in the field in a hot second and get back to shooting.
If you're looking for a shooting bench that is stable and yet portable, then you ought to check out the Caldwell Stable Table. The MSRP is $259.99 and as is usual we will close with the company Features.
FEATURES:
HIGHLY DURABLE, WEATHERPROOF 34″X23″ SYNTHETIC TABLE TOP
QUICK-RELEASE PIN FOR EASY SEAT HEIGHT ADJUSTMENT
TABLE TOP AND SEAT PIVOTING CAN BE LOCKED
PERIMETER RAIL KEEPS AMMUNITION FROM ROLLING OFF THE BENCH TOP
TWO CLEANING FORKS ARE INCLUDED, ONE FOR FORE-ENDS AND ONE FOR BUTTSTOCKS
---
About Tom Claycomb
Tom Claycomb has been an avid hunter/fisherman throughout his life as well as an outdoor writer with outdoor columns in the magazine Hunt Alaska, Bass Pro Shops, Bowhunter.net, and freelances for numerous magazines and newspapers. "To properly skin your animal, you will need a sharp knife. I have an e-article on Amazon Kindle titled Knife Sharpening #ad for $.99 if you're having trouble."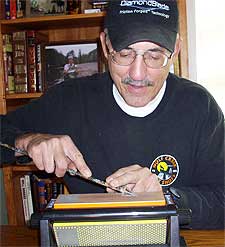 Some of the links on this page are affiliate links, meaning at no additional cost to you, Ammoland will earn a commission if you click through and make a purchase.