U.S.A. –-(AmmoLand.com)- Heritage manufacturing makes some of my favorite fun guns. Why exactly? Well, they make 22 LR weapons that are light, handy, reliable, and fun to shoot. The Heritage Rough Rider is one of the foundational handguns for new shooters, and the Rough Rider is Hertiage's flagship firearm. Oh, did I mention Heritage also makes affordable firearms? If something is fun and cheap you can't go wrong with it. Heritage Manufacturing recently broke into an entirely new realm for them with the Rancher Carbine.
Well, almost new ground. As far as I know, it's the first rifle they've ever produced. However, it clings to that proven Rough Rider design. The Rancher Carbine took the Rough Rider and added a rifle stock and 16-inch barrel to create a revolving rifle. Like the Rough Rider, the Rancher Carbine is a 22 LR or 22 Magnum gun. Shooters can swap cylinders to fire 22 Magnum, and the cylinders cost about 30 bucks on average.
The Rancher Carbine is an interesting design. Revolving rifles have been around forever, but they tend to be rather obscure technology that is not necessarily beloved by many.
Revolving Rifles
Revolving rifles offered repeating capability to muzzleloading weapons back in the day. They've been produced for hundreds of years, but they never took off in any significant numbers. Like all revolvers, the gap between the barrel and the cylinder emits a blast as the gas ignites and turns to hot gas.
This makes firing one either awkward or painful. Back in the days before metallic cases, these weapons also risked a chain fire. In this situation, all five or six cylinders would ignite at the same time and would turn a revolving rifle into a grenade. This made them not so popular with troops, even though they saw use in numerous American wars.
The Rancher Carbine still has the muzzle blast problem but makes handling easy due to its lightweight and rimfire design. The short and light design makes it easy to hold with both hands behind the action. Sure it's a little awkward, but the lightweight design keeps the gun feeling balanced. Plus, 22 LR recoil isn't exactly fierce or tough to deal with, so the odd stance and firing grip isn't a big deal.
That odd stance has you pushing your support hand around the firing hand and using a rear spur to better grip the gun.
Breaking Down the Rancher Carbine
As far as repeating 22 LR rifles go, the Rancher Carbine is one of the lightest rifles on the market. At 4.12 pounds, it's lighter than Ruger, Mossberg, or Marlin rifle. It makes the Rancher quite handy, and with a length of 31 inches total, the Rancher is compact.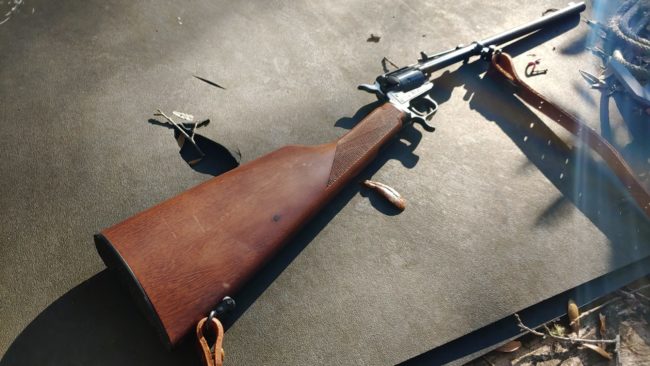 I've seen the length of pull listed as 14.25 inches, but when I measured from the rear of the trigger to the end of the stock, I got 12 inches, making it perfectly sized for kids. The barrel is 16.125 inches long. Included with the Rancher is a little leather sling, which is plenty cute and also useful for over-the-shoulder carry.
Plinking Time
The Rancher comes adorned with buckhorn sights. This is the first time I've ever used them, and the internet certainly helped teach me their ins and outs. Their height and open design make them useful for snapshots up close, and you can get low and behind the sights to be more precise.
A single-action trigger provides a very short and crisp trigger pull. The rifle is accurate enough. It's not a 1 MOA gun by any means, and at 50 yards, I can produce a 2-inch group in a quasi-supported position. Finding a way to support the Rancher is difficult due to its odd design, but with patience and a sandbag, I made it mostly work. If I needed to destroy some soda cans, I could with ease. It won't win any competitions, but you'll ring a gong if you try.
Holding it with both hands to the rear feels abysmally unnatural, and my left arm earns to reach forward and grab the gun near the front sling point. I tried it a few times, and a little burn will occur. You won't lose an arm, but you'll develop a flinch. Still, I can control and shoot the gun easily enough with the two-handed rear hold.
The gun does have this habit of sending unburnt powered rearward and into your face. It stings, hurts, and is downright annoying. At least once a cylinder, my face will get by debris and take a good sting but that is the trade-off for owning unique one-of-a-kind guns.
The Fun Factor
Don't get me wrong. The Rancher is a very fun gun. The novelty of a revolving rifle makes it a unique experience. I like the silly little Rancher carbine and enjoy it immensely. It might hurt on occasion, might be a bit awkward, but it's still fun to plink with. Obviously, you better wear your eye protection and watch your arm, but the Rancher is a light, handy, and fun rifle. Plus, the MSRP is 333.80, and the street price seems to be right around $250 bucks.
That's a little change for a very fun and unique little gun. I grabbed one quickly because revolving rifles barely ever stick around. It's become one of my regular plinking guns and will likely continue to be so.
Manufacturer: Heritage Manufacturing
Model: Rough Rider Rancher 22 LR
UPC: 727962703922
Availability: In Stock at Kentucky Gun Company
Price: $266.99
---
About Travis Pike
Travis Pike is a former Marine Machine Gunner, a lifelong firearms enthusiast, and now a regular guy who likes to shoot, write, and find ways to combine the two. He holds an NRA certification as a Basic Pistol Instructor and is the world's Okayest firearm's instructor.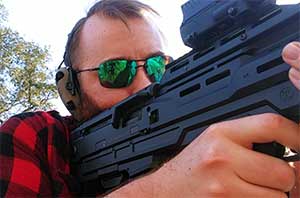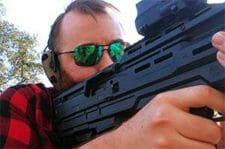 Some of the links on this page are affiliate links, meaning at no additional cost to you, Ammoland will earn a commission if you click through and make a purchase.