U.S.A. –-(AmmoLand.com)- I'm what you call a contrarian. When someone asks me to talk about my favorite AR, I can go in numerous directions. The AR as a platform is fantastic but kind of boring. As such, when someone doesn't specify AR-15 when they ask me my favorite AR, I'm going with the AR-18, well, the semi-auto AR-18; well, Brownells take on the AR-18: the BRN-180. Armalite kinda killed the AR-18 early on, brought it back, and again killed it. The gun was never the runaway hit the AR-15 was.
However, Bronwells saw a time and palace to bring it back, and they did so brilliantly. The BRN-180 takes the AR-18 pattern and modernizes it. Instead of using proprietary lowers, the BRN-180 uppers can drop onto standard AR 15 lowers, which are everywhere at every price point. Besides that, the BRN-180s would come with free floated M-LOK handguards, pencil barrels, and flat-top upper receivers.
Other than that, it's still a short-stroke gas piston rifle that uses recoil springs housed inside the upper receiver. We also have a right-hand charging handle in the famed 'Dog-Leg' design. The BRN-180 uses an adjustable gas block and doesn't come with iron sights but can easily make use of any AR-15 sights.
Why a Brownells BRN-180?
Why would this be my favorite? I mean, I used an M16A4 for years in the military and shot one for years after my time in the Marine Corps. They just kind of bore me. If you send me back to war, I'd gladly take an M4, M16A4, or whatever and not complain. When I go to the range, though, I find myself grabbing the BRN-180 way more.
It's something different. It handles a little differently, shoots a little differently, recoils a little differently. Just different enough to be enjoyable and fun. I'm not saying one is better than the other. I'm saying I enjoy the BRN-180 a bit more. I find the gun to be extremely smooth. The dual recoil springs help soak up recoil and make the BRN-180 a smooth shooter.
It's also proven to be a very capable and accurate rifle. I've only taken it to 300 yards, and at that range, it's a tack driver for all practical purposes. It's no sniper rifle, but for a 5.56 semi-auto rifle, it's more than enough to score accurate hits on 10 to 12-inch gongs.
Plus, these dual recoil springs eliminate the need for a receiver extension inside the stock. You can use a folding stock or a standard AR-15 stock should you so choose. Brownells even included a little 'bumper' on the side of the receiver to allow for safe side-folding stocks.
Barrel Length Matters
The BRN-180 comes in various barrel lengths, including shorties, carbine, and the like. I went with the 18.5-inch model. Why an 18.5-inch barrel? The original AR-180 series utilized an 18.5-inch barrel, and I liked the OG characteristics.
Also, .223 Remington works best in 20-inch barrels. The closer you get to 20-inches, the more comfortable the experience. Seriously, if you've never fired anything but carbines, you don't know what you are missing out on.
The gun remains lightweight due to the pencil barrel design. It's a nice change from the government profile barrels, and the extra length grants additional velocity and increased comfort. I don't intend to clear rooms anytime soon, so I don't care that the barrel is 2.5 inches longer than a standard carbine.
Lower Options
These days Brownells has a sweet BRN-180 lower with a 1913 rail for attaching stocks. I didn't have that option when I grabbed this setup. Instead, I used an Aero Precision lower and a KNS 1913 adapt. The Aero has a threaded pin detent hole. I needed that spring held in there because my KNS adapter didn't come with the flange to cover it, and the flange variant was sold out everywhere.
That being said, the Aero makes rock-solid lower receivers. They are in spec, well made, well finished, and function perfectly with the BRN-180. Aero makes some nice upgrades lowers, but this is a basic model. To it, I've attached the aforementioned KNS 1913 adapter and a SIG Sauer MCX stock.
This gen one stock is all metal, rigid, cold, and unforgiving. It's not a nice stock, but folds with ease and provides a comfortable surface for my shoulder, but a sad surface for my cheek. It's not painful, it just doesn't provide much or a cheek weld.
Seeing Further In the Dark
I've attached two accessories to make the BRN-180 easier to see regardless of the time of day. First is the Cloud Defensive OWL. OWL stands for Optimized Weapon Light, and the OWL mixes a high lumen count with a blisteringly high candela rating to cast light further than most other weapon lights at the market. You can establish PID well beyond a hundred yards.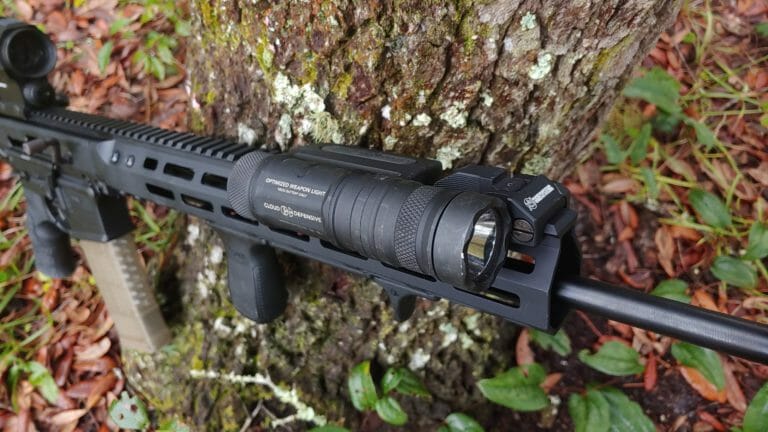 Optically I went with the Swmapfox TriHawk. I like prism sights, and I don't feel ashamed. The TriHawk is a 3X prism sight complete with a BDC-type reticle and complete illumination. What sets the TriHawk apart is the massive 52-foot field of view at 100 yards. It's massive and class-leading. Other than that, the TriHawk provides a bright and clear picture, an easy-to-use the reticle, and more at a fairly friendly price point.
My Favorite AR: Brownells BRN-180
I'm not the type to do things simply or easily. When you ask me what's my favorite AR, you might get an answer you don't expect. Regardless of my contrarian nature, I can't help but appreciate the BRN-180 for what it is and how it performs. It's a fantastic option and a great AR-15 alternative.
---
About Travis Pike
Travis Pike is a former Marine Machine Gunner, a lifelong firearms enthusiast, and now a regular guy who likes to shoot, write, and find ways to combine the two. He holds an NRA certification as a Basic Pistol Instructor and is the world's Okayest firearm's instructor.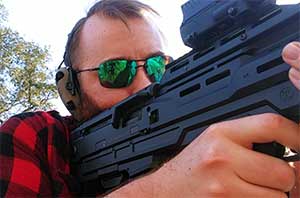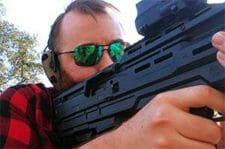 Some of the links on this page are affiliate links, meaning at no additional cost to you, Ammoland will earn a commission if you click through and make a purchase.